As a fan of the Borderlands franchise, I was completely surprised by the release of Tiny Tina's Wonderlands. I had missed all of the marketing leading up to its release. It was, however, a welcome surprise, something that's very rare today.
When jumping straight into the game, there's a sense of familiarity fans have from the rest of the series — more than just the well-established thick border art style, the humour from the narration, the levelling up of guns and amour, fast-travel and loot. Most of the mechanics still exist as from the rest of the franchise. The gravity-deprived environments still exist, allowing characters to jump from tremendous heights without suffering any damage (still a welcome approach).
Where Tiny Tina's Wonderlands attempts to differentiate itself from the rest of the Borderlands series is its new story.
In Tiny Tina's Wonderlands, you'll take up the role as one of the characters from a Dungeons and Dragons-style boardgame where the dungeon master is Tiny Tina herself. As she guides your character through the Wonderlands via her narration, you'll quickly learn that irrespective of the scenario, the rules rarely apply, and are sometimes made up.
The world brings with it magic, spells and shootouts aplenty. You're required to level up your character, weapons, shields and more as you traverse the board, which includes magic-laden cities, tree-filled forests, castles and bunkers. Did I mention that there's plenty of loot along the way? Well, there is.
But, where have we seen all of this before? Ah, yes, Tiny Tina's Assault on Dragon Keep. This was a DLC to the 2nd instalment from the main series, Borderlands 2. The events here took place after the conclusion of the campaign where Tiny Tina and the Vault Hunters take a break after saving Pandora from Handsome Jack. The boardgame is called Bunkers and Badasses, which is this world's version of Dungeons and Dragons, where Tiny Tina takes up the lead role as Bunker Master.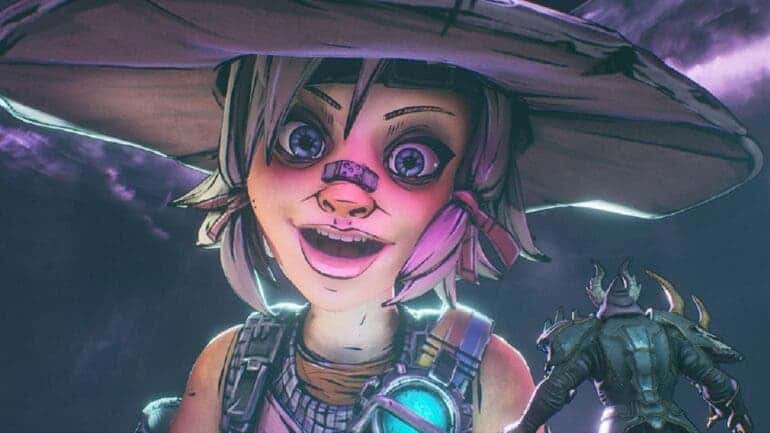 Tiny Tina's Wonderlands brings with it a few additional elements atop the base game. These include magic spells and new characters types. Certain types of characters will be more effective against the baddies, along with the type of gun and spells to add more critical hit damage. This becomes more and more important as you progress, but never to the point where not focusing on it will warrant you useless. They do, however, make things a lot easier.
Levelling up follows the same structure in the series. Higher tiered weapons can only be used when you've reached a certain level, while you're always on the hunt for more powerful weapons. I spent far too much time, looking back, on deciding which weapons would be preferable to add to my inventory, those that you can use later, once you've levelled up.
Back to the loot. I did mention there were plenty, didn't I? Apart from the money to allow you to purchase better equipment, you also find ammo, amour, power boosts and more in Tiny Tina's Wonderlands. You'll find these around almost every turn, under every mushroom, on top of rooves, in dead bodies and pretty much every corner of the map. It becomes something of a pain at times looking for loot just to make sure you've not left anything behind that would aid your progression. Once the main campaign has been completed and you take another run-through the map, you'll be able to spot the remaining loot much easier.
With all your new-found loot, levelling up and powerful guns, you can breeze through the different stages of Tiny Tina's Wonderlands. Cleaning out a ransacked town of its demons, zombies and general bad guys isn't that much of a challenge once you've settled into your rhythm of play, from the type of gun, armour and spell to be used. However, while you enjoyed honing your skills on these low-level antagonists, each boss presents much more of a challenge. Here you'll need to jump, dodge, bop and roll. One cannot simply stand your ground and do damage, as your amour will quickly be depleted with a series of powerful hits that leave you exposed. The tiki taka approach may work best in these situations. A few critical hits, some evasive action to restore your armour and then another go at it. Although, not as easy as stated.
Again, for those familiar with the original series, the humour presented in Tiny Tina's Wonderlands is more of the same. There's a lot of hit and miss, along with some had-to-be-there moments relating to previous titles or certain events you'll need to be familiar with. It's still funny for the most part, however. If you're not laughing, you're at least snickering from the poor attempt, so it's not all lost effort.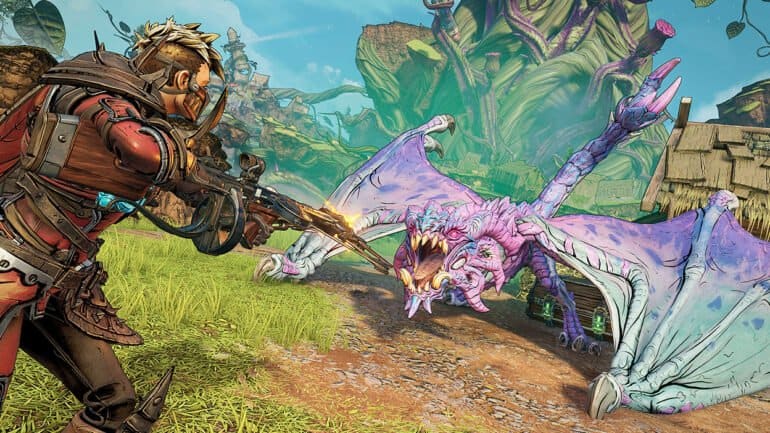 The main campaign in Tiny Tina's Wonderlands is quite short. You're expected to complete the first run-through in under 15 hours, which isn't much. But the campaigns are meant for its replay value as you switch to online multiplayer mode where you'll take on the adventures together. Much in the same vein as the previous titles, there's a lot more fun to be had in this way.
This also opens up the speed of the game. When you're playing in the single-player mode in Tiny Tina's Wonderlands, you often spend too much time overthinking, hiding out, collecting every piece of loot on site and monotonously picking apart every section of the map. Switch to multiplayer mode and you're dashing from town to town to attack the next wave of baddies. You unlock more fun this way, acting more on reflexes than picking each point of entry and dealing with enemy fire one at a time.
Overall, Tiny Tina's Wonderlands is an enjoyable game. More so in smaller doses, as opposed to spending hours at a time grinding accomplishments to unlock new levels. While all roads lead to the final encounter with the Dragon Lord, there are plenty of side quests as well, as long with a few mini-games thrown into the map for good measure. It isn't so much deserving of a standalone game, but somewhere between that and a very detailed DLC.
This is a title especially for Borderlands fans.
The Review
Tiny Tina's Wonderlands
Tiny Tina's Wonderlands is the expansion of the DLC found in Borderlands 2. While the game has a sense of familiarity about it, it still provides quick, mindless fun with quite a lot of guns, amour and spell upgrades.
PROS
Easy to pick up and play
Fun in small doses
Humorous at times
Plenty of guns, upgrades and more
CONS
Short main campaign
Similar to Tiny Tina's Assault on Dragon Keep
Review Breakdown
Gameplay

0%

Graphics

0%

Replay Value

0%

Sound and Music

0%

Story

0%