Ask any kid what they'd like to be when they grow up and you'll inevitably end up with at least half of them wanting to become swashbuckling pirates. I mean, what is better than sailing the seven seas, digging up buried treasure and engaging in open sea battles? Tiny Epic Pirates tries to take all these aspects and cram them into one very (very) small box.
But is Tiny Epic Pirates a hidden treasure or more like a bad rum induced hangover?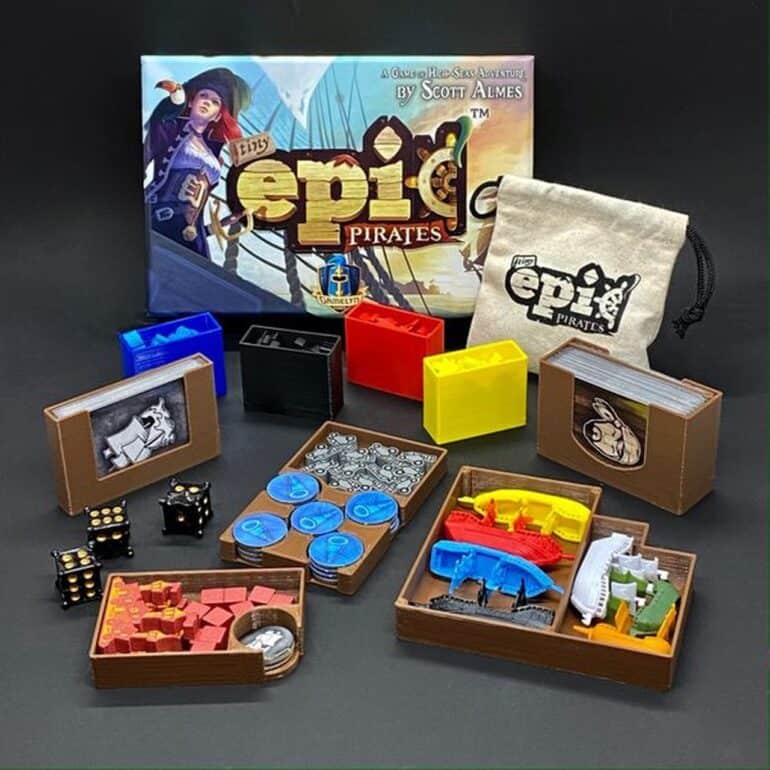 What's in the box?
As with all the board games in the range, Tiny Epic Pirates comes packed into a small rugged box adorned with some great looking visuals. Inside the box, you'll find quite a few high-quality components. These include cardboard tokens, pirate-themed meeples (tiny wooden figures for those not familiar with the term), some metal doubloons (pirate speak for gold) and even some plastic miniature ships.
There is a lot of care put into the components and art. From the aptly named Pirates' code rulebook to the tiny wooden cannons, each component helps bring the pirate theme to life. All the components and art do a great job of putting you into the buckled shoes of a pirate.
From the moment I took out the little pirate meeples in Tiny Epic Pirates, my kids were already adding "Arrgh" to all of their sentences. That speaks to just how great the theme is.
I can continue complementing the components the whole day, but great looking components does not a great game make (pirate talk, I guess).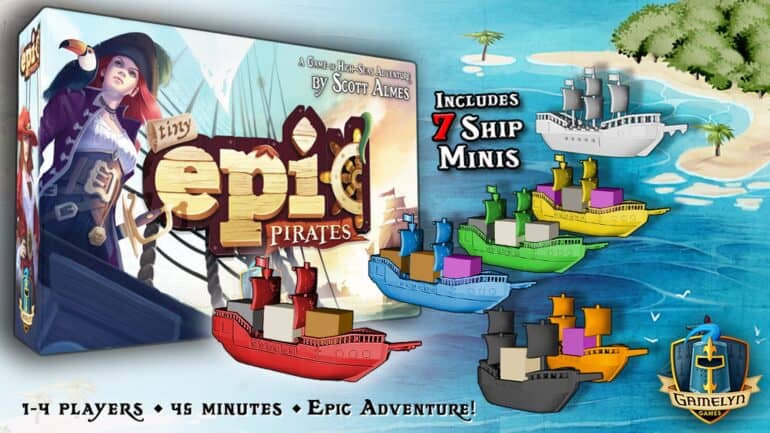 How do you play it?
For a game that comes packed into such a small box, there are quite a few mechanics to come to grips with when starting a new game. But, simply put, Tiny Epic Pirates is a pick-up and deliver game.
Once players have stopped gawking at the game's components, you can shuffle the map cards and lay them out in a 4×4 grid. Then the search tokens are shuffled and one is placed on each map card.
After the map has been constructed, the crew cards are shuffled and three of the cards are placed face-up next to the deck.
Then the market mat is placed in reach of all players, with a cube of each colour placed randomly on the four spaces on the left side of the mat.
In Tiny Epic Pirates, each player is then given a helm and legend mat along with the various tokens they'll be using throughout the game. Players will each get a random captain card, which is placed next to their mats. As a newly chosen pirate captain, you'll start with 1 gold and the lowest rank on the legend mat — which is "Sea Dog".
The goal of Tiny Epic Pirates is to bury your treasure. Of course, this means amassing all the gold you can get your grubby hands on. In order to find gold, you'll have to raise your legendary level, which gives you certain bonuses.
On a player's turn, they will move their captain meeple, sail their ship and take an action. Depending on various factors players could even get an extra bonus action.
A player needs to move their captain one space clockwise around the helm mat. If a player wants to move their captain more than one space they need to spend their deckhands. This means removing the deckhand meeples from your "deck assignments" and "repair" spaces and placing them on the spaces you have skipped/moved.
After moving your captain (and sacrificing deckhands), players then move their little plastic ship. This is where your legendary level comes into play as a player can only move their ship equal to the level you are on the legendary mat. Of course, you can add deckhands to your rigging which will also increase your movement but this means you'll have fewer deckhands to use in future.
Some spaces in Tiny Epic Pirates will have storms on them which will get your ship jostled. This means you'll need to move a deckhand to the "repair" section on your helm mat. A player must take deckhands from their other assignments first before taking them from the helm wheel.
After the captain has moved, and the ship has sailed, players then take one action that corresponds to the space their captain is on the helm wheel. These actions could be plunder, trade, crew up, search hide or attack.
Plunder: A player can ransack a settlement. This will give them either one or two cubes (which they randomly draw from a bag) that they place on their ship. I there is no more space a player must then decide which cubes to discard overboard.
Trade: Plundering settlements isn't the only way in which to acquire gold. Player's can also trade at the marketplace. Any of a player's cubes can be traded for gold at the market.
Crew Up: A pirate captain is only as strong as his crew. If players require more crew members they can Crew Up and choose one of the three face-up crew cards from the crew market. A player is only allowed four crew cards, after which they must decide which crew member to fire to make space for the new crew member.
Search: As the name implies this action sees a player picking up a search token from the map tile they are currently on. They then immediately get the indicated reward.
Hide: If a player finds themselves in trouble they can hide their ship in an empty cove space. This ensures that the player is protected from all attacks until the end of the turn.
Attack: Lastly, there is the attack action that lets a player attack either a fellow player's ship or a merchant ship using two to three dice.
Players also get gold for each deckhand assigned to extort action.
So, when do you get to bury the treasure you have accumulated? Well, a player's captain can only use the burry treasure action if they are on a spot marked with a treasure chest and the navy isn't present. It costs up to 13 gold to bury your treasure and only one player can bury their treasure at a specific spot.
Once a player has buried three treasure chests the last round is triggered and the player who has buried three treasure chests at the end of the last round is victorious and crowned the pirate king.
What did we think of Tiny Epic Pirates?
Tiny Epic Pirates is quite a deceptive game on many levels. First off, it packs a lot into a tiny box. Secondly, it has a lot more mechanics to master than I initially anticipated. It is by no means a complicated game, some might say it's a bit on the lite side, but it can take one or two playthroughs before you grasp the mechanics of the game.
That said, the game does what it says on the box. It gives you the experience of being a pirate sailing the open seas. It's not the best pirate-themed game out there but it does scratch that itch.
Tiny Epic Pirates is probably one of the more successful games in the series and, if you love any of the other Tiny Epic games and are looking to plunder some booty, then you should give Tiny Epic Pirates a try.
For more information on Tiny Epic Pirates, visit solarpop.co.za.
The Review
Tiny Epic Pirates
Tiny Epic Pirates might not be the best pirate themed board game out there put it still packs a lot of punch into one small little package.
PROS
Pirate themed components
Everything fits into one tiny box
Oozes theme
CONS
There are quite a few mechanics to learn
Review Breakdown
Gameplay

0%

Components

0%

Complexity vs. Depth

0%

Theme

0%