Red Dead Redemption 2 has been out for a few weeks now, enough for players to really get stuck in. Part of what is so enjoyable about this game is not just the shoot-outs and train robberies and bar brawls you get caught up in while playing as the old west outlaw Arthur Morgan, but the tiny things that you only notice hours into the game, or the things you only notice after hearing about them and actively seek out in-game. 
Predictably, it advances on the previous game in almost every way, with a breath-taking level of detail, nuanced and believable characters, and a million things-to-do. Rockstar have clearly gone into this with the desire to produce a world you can get lost in and, in my opinion, they have more than succeeded. Surprisingly, in the world of triple-A games rushed to the market by publishers, Red Dead Redemption 2 took it's time with development, spending over 8 years getting everything right, and it more than lives up to the inflated expectation, coming out to rave reviews.
The first thing you should know going into this humongous game is a little backstory to the first one. The first game actually takes place after the second, and follows John Marston, one of the members of Dutch's gang in Red Dead 2.
It begins with his wife Abigail, and child Jack being kidnapped by crooked law-men in order to force John into hunting down his old gang pals and Dutch himself. This all takes place shortly after the conclusion to Red Dead Redemption 2. First John hunts down Bill Williamson, one of the senior guns in Dutch's gang, only to be shot and left for dead, later to be rescued by a local Rancher called Bonnie McFarland. After recovering, Marston tracks Williamson down to Mexico where he is hiding out with Javier Escuela, another member of Dutch's gang you can interact with in Red Dead Redemption 2. If you haven't played the first game, I would definitely recommend a play-through. Knowing the fate of certain gang members makes your play-through of the second game all the more poignant.
One of the things Rockstar have done to show clear advancement from previous games is to have ramped up and added to the available mini-games. The first Red Dead was already noted among its contemporaries for the sheer number and quality of fully functional games-within-the-game. These would allow you to take a break from the main story and spend some time kicking back playing Poker, Blackjack, horseshoes and others. Red Dead Redemption 2 has included all of these and added more games with more detail, even allowing you to play them with members of the gang who will talk about the outcome of the games for days after. Even the fishing in Red Dead 2 could be a fully functioning game in its own right with some commentators expressing the belief that it's more detailed than some actual fishing simulator games.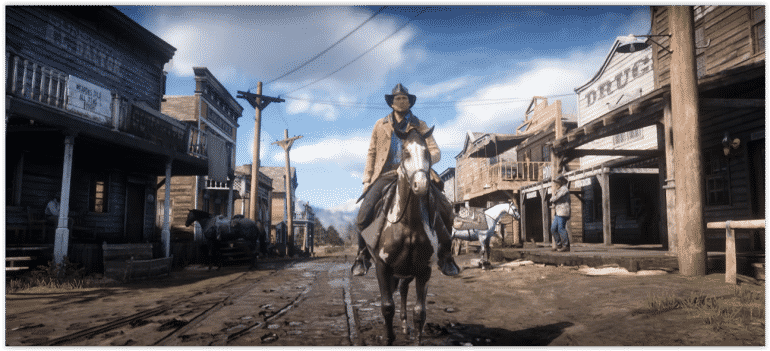 The little things
The sheer level of detail and effort put into this game is close to absurd. Nothing in this lovingly rendered homage to the Old West feels cookie cutter. Every building feels completely individual, the trees are also seemingly individual and not just copied and pasted into the world. Even the people will have different reactions to things like being robbed. Here are a few examples of the tiny things that make this game so immersive, some of which you may not know about even if you have been playing the game non-stop since release. So without further ado:
Shopkeepers and train station attendants will be bandaged correctly if you have previously attacked them. For example, if you shoot them in the arm the next time you see them they will have a bandage, be nursing their arm and reference the attack while being somewhat less patient or even outright hostile to the main character.
If you shoot holes in canoes or row-boats they will begin to fill with water and sink, if you shoot more holes the boat will fill up with water faster.
In terms of the AI that make the 150+ species of animals feel almost real:
There are over 19 breeds of horses each with their own unique features, strengths and weaknesses.
Dogs will greet you enthusiastically and follow you for a short time when you enter a settlement if you have treated the dog nicely before, as if they recognise you as a friend.
Male deer found in the wild will occasionally butt antlers.
Opossum will play dead to avoid predators.
Sockeye Salmon can be found swimming upstream.
If you kill an animal and return after a few days, there is a chance that the animal carcass will still be there and will have rotted. If you return after a few more days there will only be bones left.
Easter Eggs and References – (Spoiler warning)
The Easter Eggs and references to previous games, popular movies and real-life people are uncountable, here are just a few of my favourites:
During a mission in Valentine with John Marston, Arthur will make a cheeky reference to John's inability to swim, this is because in previous Red Dead games entering water meant certain death.
You can meet an early ancestor of Trevor Phillips, one of the playable characters from GTA5, and he's even voiced by the same actor. There are rumours about Michael De Santa being in the game too, as a member of the O'Driscoll gang.
Pay attention to the false names the gang members use throughout the game, these are often the names of minor characters in previous Rockstar games.
You can find a hobbit home in-game, a strong reference to the works of JRR Tolkien.
You can also find Kaa the snake from The Jungle Book, a giant dead python wrapped around a tree.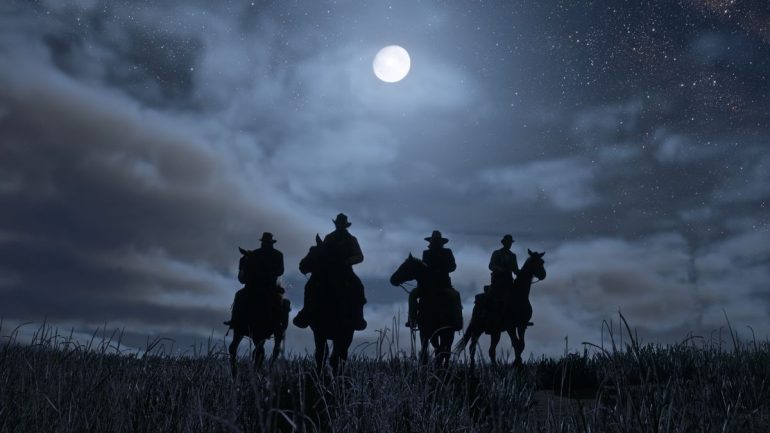 Rockstar has also kept their long-running penchant for hard to find conspiracy references, including a midnight ghost train, a bigfoot, and an alien spaceship that flies away quickly after spotting it. These are all incredibly rare and the chance you would happen upon them without actively seeking them out is close to none.
The lists could go on forever, but there is no substitute for playing the game. Nothing quite beats the feeling of coming across something entirely new after having played the game for days which is something Rockstar understands and have put the work in to deliver.
Fair warning, be prepared to spend more than a couple of hours in a single sitting as you live the outlaw life in the most detailed rendering of the Old West ever created, and quite possibly the most detailed game ever made. You may even forget that the Old West ended over a hundred years ago.