One of the unexplained mysteries of Avengers: Infinity War and Avengers: Endgame is why Thanos isn't seen with his sword. Sure, he now has the Infinity Gauntlet, but what happened to his first weapon? Well, one Marvel fan believes he has the answer.
In a world as rich with lore as the one portrayed in the Marvel Cinematic Universe, there are few things that can be left up to chance. As any Marvel fan would know, Marvel films reward careful observation, and easter eggs and hidden secrets are not unheard of in the world of the Avengers.
Fan theories abound in terms of hidden details and missing pieces in the MCU. The last two movies, in particular, have sparked some heated debate among fans — maybe because some elements of the time-travelling plot don't seem to make much sense. That aside, if there's one character with a fascinating backstory that always left more questions than answers that would be the Mad Titan himself, Thanos.
Indeed, not only was Thanos the most emblematic villain in the entire MCU, but he was also instrumental in some of the most iconic moments in the series. His lifelong quest to acquire the Infinity Stones fueled the entirety of the MCU's Infinity Saga, and the repercussions of his conquest are still felt all over the cinematic universe.
Three years after the release of Avengers: Endgame, Marvel fans are still coming up with new theories about what went on behind the scenes of their favourite group of heroes and villains. For example, some keen-eyed individuals noticed that Thanos ditched his sturdier space armour once he got hold of the Space Stone — possibly meaning that the Titan no longer needed it for deep space survival.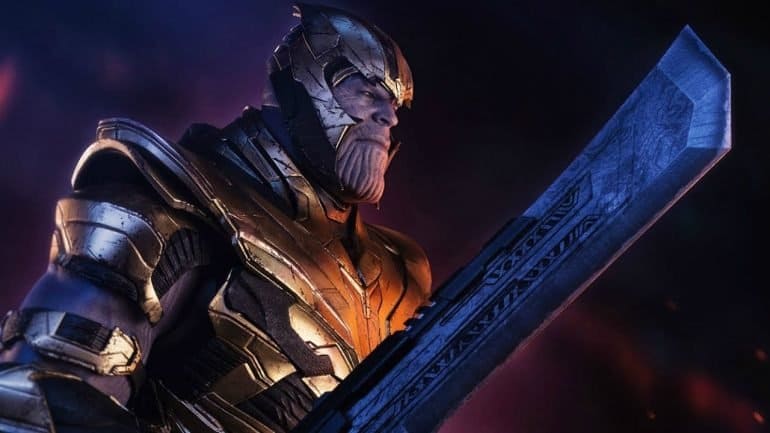 Another piece of Thanos' armament that was nowhere to be seen past a certain point in Avengers: Infinity War was his massive double-edged sword. It seems baffling that such an iconic element of Thanos' 'conqueror' design would be so unceremoniously retired, especially since it would make a comeback in Avengers: Endgame.
The question is, what happened to Thanos' sword (his primary weapon during his days as a warlord)? Where is the double-bladed weapon? There's no explanation as to why he suddenly stops using it, not even in the middle of one of the most epic fights in the history of the MCU. Some fans theorised that he might have discarded the sword once he got the Power Stone. This makes sense considering Thanos' personality: as an all-powerful conqueror, owning the Power Stone meant that he no longer needed weapons (even his greatest weapon) to overcome his enemies.
However, if that was the case, we would have seen him disposing of his sword during the film. There's another theory, however; a theory that ties the double-edged sword with the iconic Infinity Gauntlet.
The Infinity Gauntlet is not some sort of magical weapon that suddenly materialised itself once the Stones were reunited. Thanos had the Gauntlet made in Nidavellir, where Dwarves are known for forging legendary weapons.
The only Dwarf we see during Infinity War is Eitri, played by Peter Dinklage. The King of the Dwarves believed that Thanos would spare his life and those of his people if he agreed to forge the ultimate weapon for Thanos. He was wrong.
A fact that only die-hard Marvel Comics fans might know is that the Infinity Gauntlet (one of Marvel Universe's most powerful weapons) was made of Uru, which is a rare metal that can only be found in the furnaces of Nidavellir. We never have a definite confirmation of what Thanos' sword was made of, but we know that it was built using a metal that was at least as durable as Vibranium.
Knowing all this, we can theorise that Thanos allowed Eitri to melt his massive sword and its large blades — which presumably was made of Uru — to make the Infinity Gauntlet glove, using some of the last surviving pieces of Uru metal available. That would explain why he no longer had his iconic double-bladed sword (which could probably be best described as being similar to Thor's two weapons, Mjolnir hammer and Stormbreaker and Captain America's shield) and where the Infinity Gauntlet came from.
And as Redditor u/Sliightly rightly points out, "Thanos didn't just leave his sword at home".
What are your thoughts on this theory about Thanos' sword? Does it make sense?