Very few movies and TV shows have managed to get a perfect score on Rotten Tomatoes, as the critics do what critics do best and criticise. Philosophy aside, there are a couple that have actually managed it. One animated series that has managed to get a perfect rating is My Dad The Bounty Hunter with the second season making its way into Netflix's Top 10, so if you have yet to hear of it, let's take a look!
RELATED: The 8 Best Animated Movies on Netflix
My Dad The Bounty Hunter tells the tale of one of the best bounty hunters in the galaxy who lives a double life, going on missions. At the same time, his family has no idea what his job is. Thinking that he is an average dad with a tedious job, the kids hitch a ride with him, accidentally following him on a mission to outer space.
After discovering that their dad's job is anything but boring, the series follows the family's adventures as they discover each other's secrets and grow closer because of it.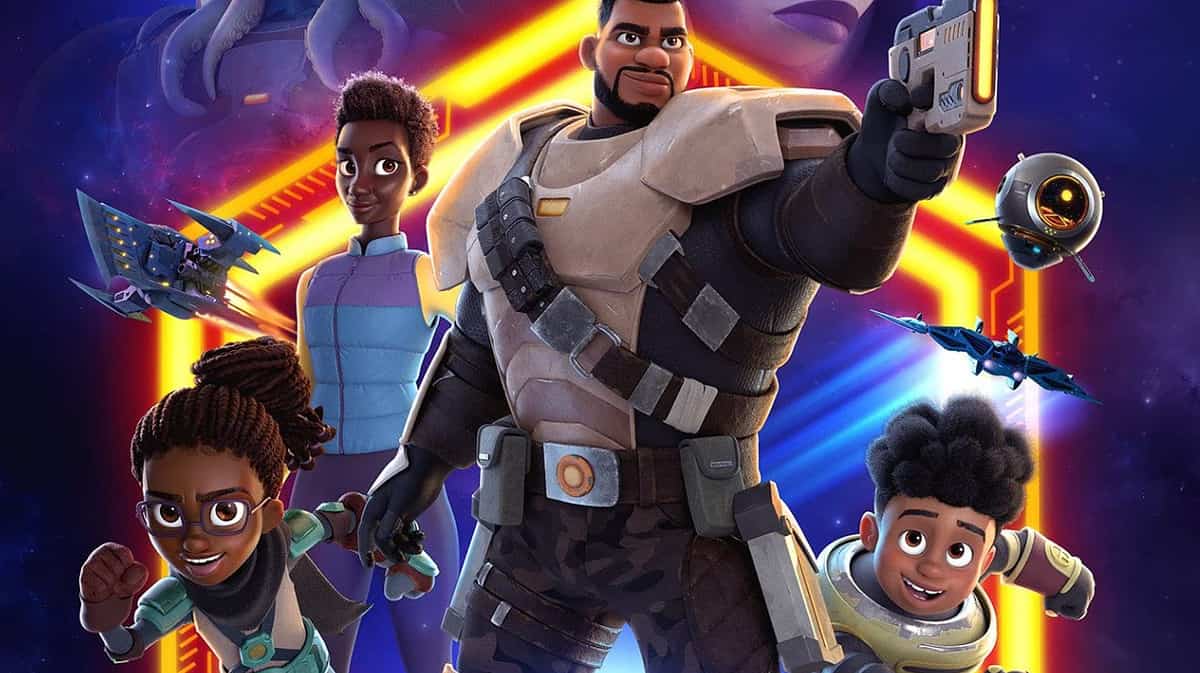 My Dad The Bounty Hunter stars voices and names like Arnie Pantoja as Zeitler, Dino Andrade as Busted Bot, Creator and Executive Producer Everett Downing Jr. as Bogdog, Jamie Chung as Vax, Jecobi Swain as Sean, Jim Rash as The Fixer, Kari Wahlgren as Lootbat, Kevin Durand as Chakulau, Laz Alonso as Sabo Brok, Leslie Uggams as Grandma, Maddie Taylor as Torga, Mara Junot as Beta, Creator and Executive Producer Patrick Harpin as Blobby, Priah Ferguson as Lisa, Rob Riggle as Glorlox, Secunda Wood as Pulgan Walla, Thando Thabethe as Adja, Yvette Nicole Brown as KRS, and Yvonne Orji as Tess as well as other incredible voices.
RELATED: The Supernatural Animated Comedy Dominating the Netflix Charts
Season 1 of My Dad The Bounty Hunter premiered on the 9th of February, 2023. It was a resounding success with both critics and audiences. Getting an ideal 100% Tomatometer from critics and even a perfect 87% Audience Score, the series has been happily applauded as a perfect animated show for the whole family, with other reviews saying that you don't even have to have children to enjoy it.
The top critic review on the first season reads as follows: "This approach to storytelling feels like a natural way to start more difficult conversations between parents and their kids – which at the end of the day, is perhaps the show's biggest feat." – top critic, Max Gao from AV Club.
The second season doesn't have a Tomatometer yet. Still, it follows suit with an 82% Audience Score, judging from how well the second season has been received since its premiere on the 17th of August, 2023. Having made its way onto the Top 10 list for Netflix, the show has over 7 million hours viewed and over 1 million views in the last week.
RELATED: The 23 Best Anime TV Series to Watch on Netflix
The top critic review on the second season reads as follows: "My Dad the Bounty Hunter Season 2 once again speaks to all ages and particularly young audiences to explore intimate family relationships and where kids fit into them. Doing that through sci-fi in an animated action-comedy makes it all the more magical." – Kate Sánchez from But Why Tho? A Geek Community.
With everyone singing its praises, if you haven't checked out My Dad, The Bounty Hunter yet, you definitely should!
Could this Netflix Animated Series get a perfect rating on Rotten Tomatoes?