The 2023 BAFTA Games Awards was a wild ride. Everyone expected God of War: Ragnarök to claim most of the awards, which it did. Everyone knew Elden Ring would be a close second, thanks to how hyped it was and how many people played it on release. These two highly-anticipated games dominated the BAFTA Awards. Still, the sleeper-hit Indie game no one expected took home the top prize, winning Best Video Game at the BAFTA Games Awards.
RELATED: Metacritic Has Announced The Best Game Of 2022, And It Isn't Elden Ring Or God Of War
Vampire Survivors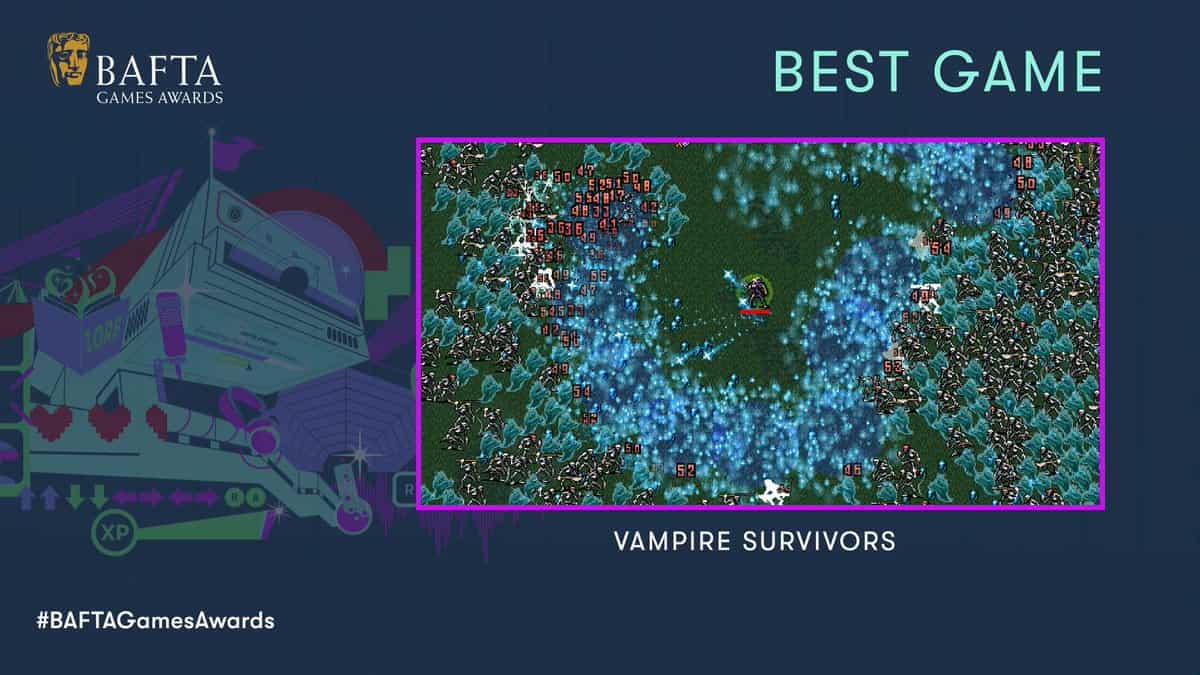 Described by the 15-person developer team as "frolics and fighting", and is an indie Shoot 'Em Up wrapped up in a casual, retro style where you fight against endless saves of creatures of the night. The whole goal of the game is to survive as long as you can, with minimalistic casual gameplay and rogue-lite elements. Gather as much gold as you can during your run to upgrade your next survivor after your inevitable death.
Everyone was shocked when Vampire Survivors won Best Video Game at the 2023 BAFTA Awards. Still, the developers say it's a success due to its addictive nature. "It's so easy to pick up. You can play it for five minutes and then it's four and a half hours later…but then you just carry on."
This indie hit was one of the most popular games of 2022 after its October release. It was created by a small team of solo developers at poncle. They were just as shocked at winning and were overjoyed. "We're just 15 developers, turning up to work nine to five and having fun." They never knew that their game would reach such success.
Players' responses to the indie game are overwhelmingly positive, and most players love the game's simplicity and how they get a sense of achievement with every single play. It shows that there is a place for indie games in the mainstream gaming world and that you don't need to be a part of a massive development team to make a game that people will love and will get the recognition it deserves.
RELATED: God of War 6: Exciting Theories About The Next Game 
God of War: Ragnarök and Elden Ring Are Still Winners
While it might not have taken home Best Video Game, God of War: Ragnarök still won six of the fourteen awards that it was running for, including Best Animation, Best Audio Achievement, and Best Music. It wasn't just the game that was winning, as two of its voice actors, Christopher Judge (Kratos) and Laya DeLeon Hayes (Angrboda), took home the awards for Best Performer in a Leading Role and Best Performer in a supporting role, respectively. While Ragnarök didn't win this one, they did win EE Game of the Year.
Elden Ring, one of the most highly anticipated games of the year, created in collaboration with the brilliant mind George RR Martin, took home two awards that evening. First, Elden Ring won the award for Best Multiplayer and Original Property.
RELATED: The Legend of Zelda Timeline: The Full Story Explained
TL;DR
Everyone expected God of War: Ragnarök to win Best Video Game at the 2023 BAFTA Games Awards, but the win was snatched from under its nose.
The winner of Best Video game at the BAFTA Games Awards was Vampire Survivors, a casual indie rogue-lite survivor game that players adore for its simplicity.
God of War: Ragnarök still won six awards at the event, despite not winning the top prize.
What do you think was the best video game of 2022?