Netflix's Arcane might be the best series you haven't seen.
As a general rule of thumb, video game movies have been kind of lacking ever since they became a thing. It's almost like gaming and film don't belong together, as evidenced by the poor quality of most movie tie-in games.
That said, Netflix has been working hard to break the seemingly unsurmountable curse that plagues video game series and films. Ever since Castlevania proved to be a massive sleeper hit, the streaming giant has been looking to acquire more gaming franchises, and turn them into Netflix Originals.
Now, the newest Netflix animated show is here, and it's already become one of the most successful animated series in the platform's history.
Arcane Season 2: What We Can Expect To See In The Netflix Sequel
A League of Its Own
Based on the characters and mythology from the ever-so-popular MOBA game, League of Legends, the Arcane series focuses on the relationship between sisters Vi and Powder. The series represents Riot Games' latest push to create a multimedia franchise centred around the many legends of Runeterra.
Set in a world where magic and technology collide, Arcane manages to be one of the most unique pieces of video game media ever produced by Netflix.
Unlike Castlevania, which was more of a retelling of the story seen in the games, Arcane offers fans a chance to explore the complex background of the game's world. Even more fascinating is that, for a show that's only purpose seems to be to provide backstory for some characters, it sure does introduce a lot of original drama of its own.
The conflict between Vi and Powder (who fans might better know as Jinx) is surprisingly effective. This is an animated show that isn't afraid of expanding upon its source material via a touching, and quite amazing, family plot.
Even though it has featured loads of backstory, League of Legends as a game has never positioned itself as a game with a thick plot. That's why Arcane, with its painstaking attention to detail and masterfully crafted characters.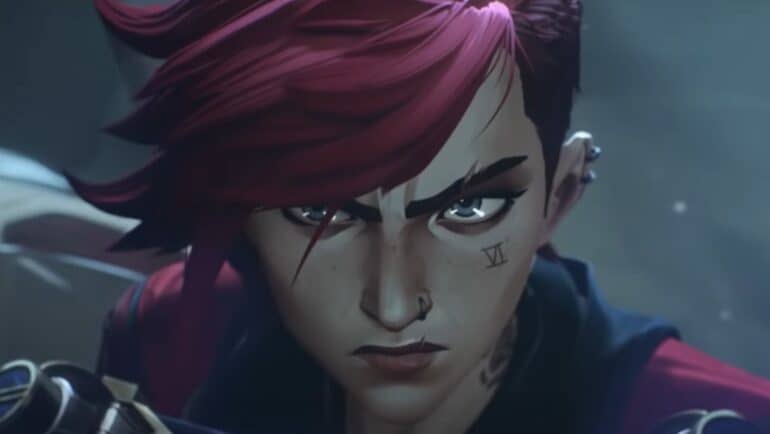 A New Standard for Animation
When it comes to Netflix animated originals, the results are always mildly predictable. These shows must be developed with an art style that isn't too demanding for animators, meaning that characters and environments are rarely too detailed.
Arcane, on the other hand, is a masterclass in animation. Not only are the environments impressively detailed: each character's design improves over their League of Legends counterparts immensely. Additionally, some of the new characters introduced in the show mesh together pretty well with the game's pre-existing mythos.
The show uses an art style that looks like the League of Legends loading screens come to life. Characters seem to be 3D models with textures plastered over them; while this technique has proved divisive in some modern anime shows – like the dreadful 2016 version of Berserk – it looks amazing in Arcane.
If this show is any indication of the way Netflix plans to release new animated shows in the future, we can hardly wait to see what new franchises get the Arcane treatment.
For now, the show seems like the best piece of media to ever come out of Riot's cross-media marketing campaign. The world of Runeterra is full of interesting stories to tell, and if a character like Jinx has this much narrative potential on her own, we can only imagine what other secrets could be hiding in the backstories of the rest of the more sinister League of Legends characters.
Netflix's Arcane Characters: Every League of Legends Champion
Tell us, have you watched Netflix's Arcane series yet?