Eve Collins has been drafted, but not into the military… well, not exactly. Instead, she's become a member of FreeAid's peace force, tasked with winning over the hearts and minds of those in the Third World. But if this is a mission of peace, then who's the enemy and why do the local villagers need to be convinced to accept FreeAid's help?
Already distrustful of FreeAid's agenda, Eve soon witnesses the exploitation of the locals by multinational corporation MultiFoods and the corruption of the organization she's serving. While the Third World struggles to gain true freedom from the oppression of the West, Eve and her platoon of misfits learn more about themselves and what they truly stand for. For some, they see a chance to help; others, however, see opportunities around every corner; but for each of them, this Third World war will affect their lives forever…
Basta!
The 1980s is generally regarded as a decade full of bright colours, MTV, synthpop, shoulder pads and Brat Pack movies. Looking at it with rose-tinted glasses and a Pollyanna attitude, it was a fun time of Ghostbusters and Goonies.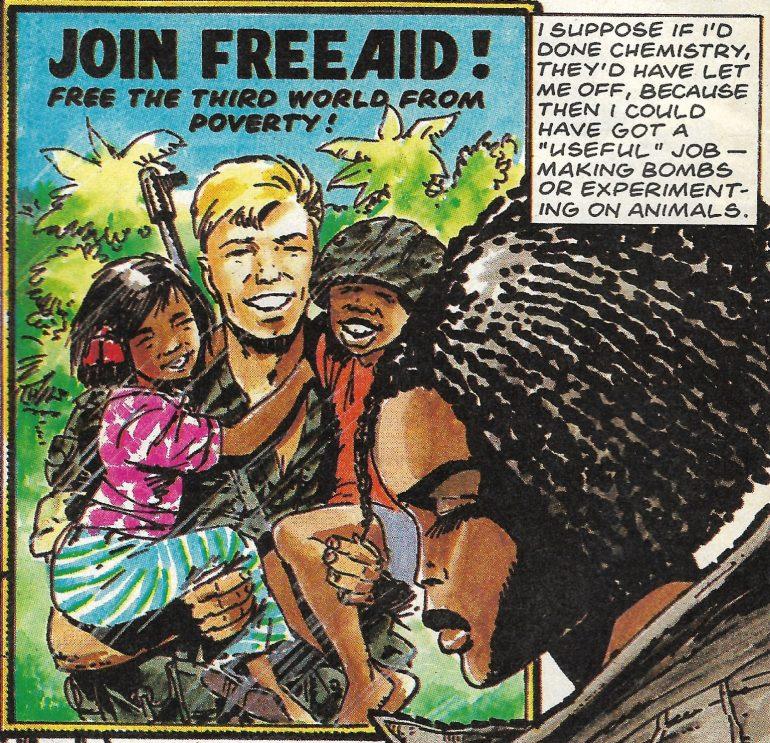 However, there's also that other side to it. The Eighties was a dark turning point in history, the decade of multinational corporations stepping out of the shadows to take hold, and developing countries suffering from crippling debt crises. It was a decade of famines and civil wars, with the global superpowers teetering on the brink of nuclear war… and people trying to take a stand to do what was right, helping those they could in any way possible. It was a decade of greed being good, but also of activism and anarchy.
And if you were a comics reader around that time, and if you were paying attention, then you may just remember Crisis. No, not DC's Crisis on Infinite Earths. The other Crisis.
Crisis was the cousin-comic to 2000AD, sharing many of the same talented artists and writers. However, unlike the satirical fascism action of Judge Dredd or the sci-fi war of Rogue Trooper, the stories published in Crisis were a reflection of the fears and politics of the time and were mostly set in the real world; practically urging its readers to action, it set out to question authority and highlight social injustices around the world… and much closer to home. The only reason why it wasn't banned in some countries, presumably, is because the authorities probably didn't even realise what it was about. Because, after all, comics are for kids, right?
Third World War was Crisis' anthology flagship story, and even the title itself was subversive and full of multiple meanings. South America is the "battleground" for Book One, and the casualties of this war are the poor and most defenceless members of society. Eve becomes a helpless pawn chronicling the continuing control of multinational corporations – in this case, the seemingly benevolent FreeAid and the fast-food chain MultiFoods – over developing nations. Caught up in events too large for her to fully comprehend, she questions the role she and her platoon have been assigned but can do little to affect change… until it's too late.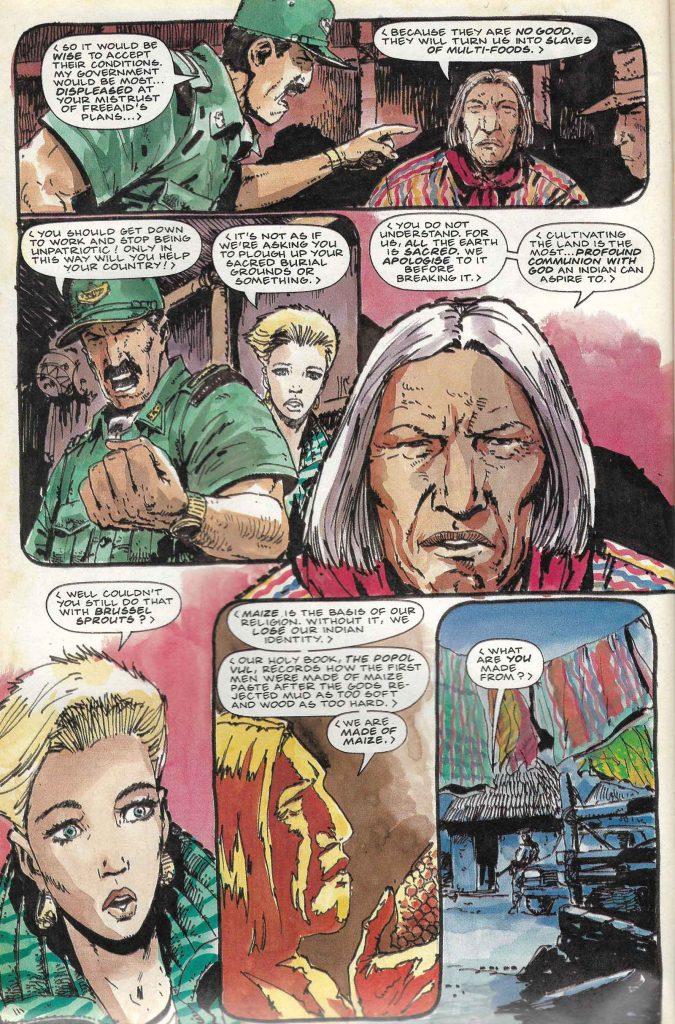 In many ways, this still holds up as the masterpiece it was at the time. It's shocking, heartfelt, and so much of it is even more relevant than it was back in the late Eighties. That last fact, in particular, is both impressive… and a depressingly tragic indication of the way society is going. What was meant as an allegory then is a blatant fact now, and we've all become like Eve. The question is, what can we do about it? Or is it already too late to change it?
The late, great Carlos Ezquerra's art drives this series forward with a drive and determination that's obvious, overcoming many of the shortcomings of the pacing. Unfortunately, the writing is not always on point and the characters can sometimes seem a bit too one-dimensional; some of it feels a little forced and very much of its time, although again it's more about the intention behind it to raise awareness of issues and struggles going on globally.
Of course, the format of the original release between instalments allowed the storytelling to build properly and for the story to simmer, while in collected form it can be a bit overwhelming. As a result, sometimes it can come across as a little preachy, but it still manages to get the message across – and successfully, too. There are also a couple of printing errors with the dialogue, too, so just be warned that it isn't perfect.
Reading this may not change the world, but it may have an impact on you and make you think a bit more about what's really happening in the world today. For those who are willing to put aside the silly superhero shenanigans for a while in favour of something a bit more serious, this is an absolute must.
The Review
Third World War: Book One
A forgotten masterpiece that'll make you think.