Sony Pictures has released the new trailer for Zombieland 2: Double Tap, the comedy-horror sequel to the surprise 2009 smash hit which became a cult classic and featured Twinkies, clowns, and, of course, that infamous Bill Murray extended cameo. The good news is that the wisecracking characters brought to life by Woody Harrelson, Jesse Eisenberg, Abigail Breslin, and Emma Stone continue to bring the laughs and carnage this time around. And, of course, lots of undead takedowns.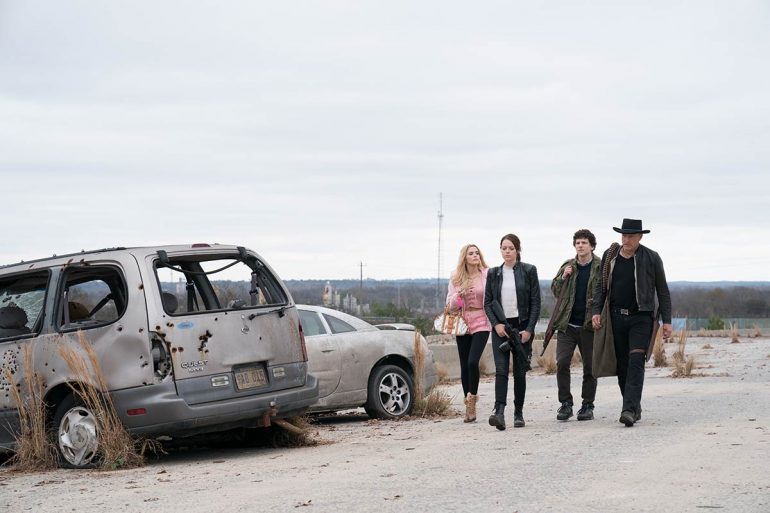 It's been 10 years since we last saw the Zombieland quartet and their post-apocalyptic exploits. But the characters remain fresh in our minds, thanks to the endless quotable lines.
Fans have been campaigning for a sequel for years, and now it's finally here.
Eisenberg confirmed that the film too will pick up ten years later, with our favourite characters making a home in the White House.
"It took ten years to make because we were just insistent that the script be great — which sounds like it should be obvious, but that's not always the case," Eisenberg explains. "Because the movie is not only popular but also beloved, people feel like it has some personal resonance for them, so we wanted to make sure that it's as good or better than the first, and it feels that way! We have two weeks left and it feels really great. Everything we've done feels very funny."
Zombieland 2: Double Tap has an October 11, 2019 release date and also stars Abigail Breslin, Rosario Dawson, Zoey Deutch, and Luke Wilson.