Tell me, have you noticed the similarities between Postman Pat and Luigi? You aren't the only one.
The world of internet fan theories created some of the wildest and most imaginative stories we've heard in recent years. Some of these ideas are even entirely plausible within the rules established by their respective universes, like the one that says that every episode of It's Always Sunny in Philadelphia starts with a date and time is because the characters are testifying against each other in the future.
It seems like the less the creators of any given franchise explain the inner workings of their worlds, the more the fans seem eager to come up with detailed hypotheses that might provide a new meaning to their favourite characters.
Understandably, some creators prefer to keep things relatively vague when it comes to the world surrounding their characters. In Nintendo's case, for example, there's been a ton of speculation and theorising about the timeline of The Legend of Zelda series. Even after Nintendo published an "official" timeline, some fans are still speculating as to where every different incarnation of Link fits in the world of the games.
However, not every fan theory is as serious or as detailed as the ones about Ocarina of Time's Link eventually becoming a Stalfos. On the opposite side of the spectrum of fan theories, the one about Postman Pat being a retired Luigi (from Redditor u/rolfebox) might take the crown as one of the most outlandish fan theories we have ever heard.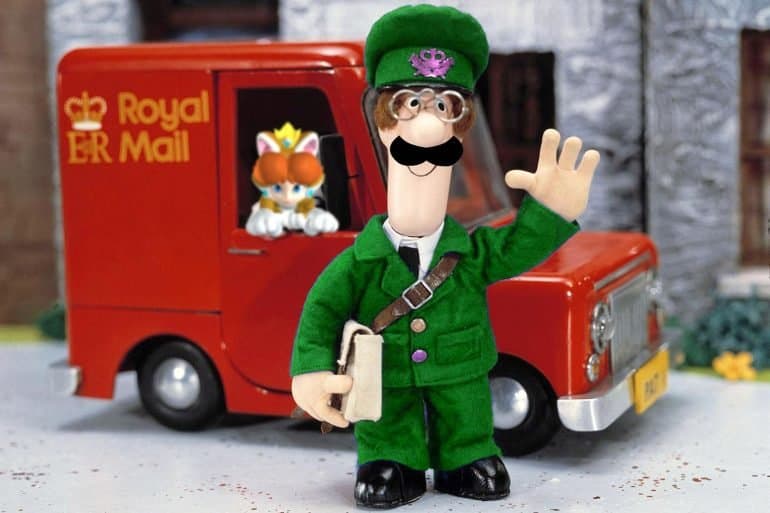 The world of the Mushroom Kingdom has been relatively shrouded in mystery pretty much since its inception. Until 2017's Super Mario Odyssey, everyone believed Mario was just a bit shorter than a normal person — but that game's New Donk City revealed that the Nintendo's iconic plumbers might not even be human.
Perpetually in the shadow of his legendary brother, poor Luigi has been neglected for years in mainline Super Mario Bros. games. Sure, he stars in his own popular spin-off series, but even there he's condemned to suffer scare after scare in increasingly spookier scenarios.
What if this overlooked sibling eventually tired of being left in the dust of his more popular brother? Would he succumb to the dark side and become some sort of villain for the franchise? No, Luigi could never do that. It's more believable that the former plumber, after years of adventuring and neglect from his own brother — not to mention from his beloved Princess Daisy — would strive for a quieter life, away from the promises of riches and princesses scattered all over the Mushroom Kingdom.
Perhaps shaving his iconic moustache would do the trick to finally shed the remnants of his past identity — the single piece of facial hair that reminded him of his relation to Mario. Now a new man, freed from the shackles of both Mario and the Mushroom Kingdom, a new man faces the world: a man people know as Pat.
Even if the theory sounds more than just a bit far-fetched, there's no denying that Postman Pat at least looks similar to Luigi if the plumber shaved his moustache. Even their enormous noses look-alike — perhaps a better fan theory would have been calling Postman Pat the third Mario sibling?
After all, stranger things have happened, even outside the realm of wacky fan theories. Let's not overlook the fact that we're living in a world where we are expected to believe that Chris Pratt is going to voice Mario in an upcoming feature-length movie. That sounds much weirder than Luigi becoming a beloved cartoon character, doesn't it?
What do you think, is Postman Pat actually Super Mario's Luigi?