We still have a full year to wait until we get to see Andrés Muschietti's The Flash. Of course, that doesn't stop us from putting together the story and debating what could happen in the DC epic. With the announcement of the arrival of Michael Shannon's General Zod in The Flash movie, fans have begun to realise that Henry Cavill's Superman might not survive the film.
It's been nearly 10 years since the release of Zack Snyder's Man of Steel and the first appearance of Henry Cavill as Superman. And yet, even after all this time, we still haven't had a true Man of Steel 2 film.
While some have blamed it on The Witcher actor's busy filming schedule, and others on Warner Bros.' interference and lack of understanding of the character, there isn't a lack of fans begging DC for a sequel. In fact, we could argue that fans want a Man of Steel 2 even more than they want Warner to #RestoreTheSnyderverse.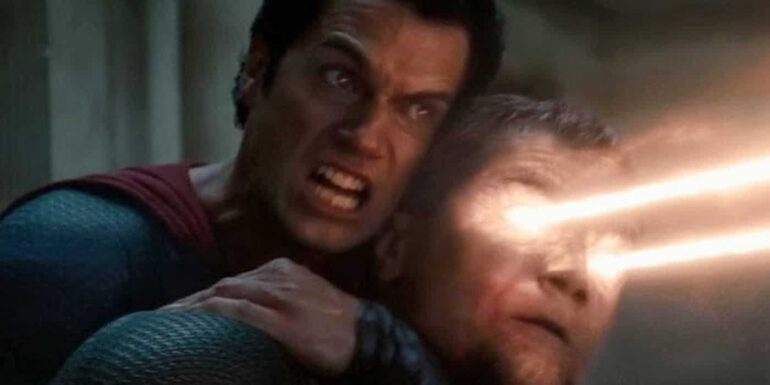 Well, the disappointing news is that Henry himself doesn't know when or if he will return as the Kryptonian. All he can really say in interviews is that his people are talking to some people who are talking to the people who make the choices.
But there's an interesting rumour going around the net, that Superman will ultimately be replaced by Supergirl in the DCEU franchise. And if this theory is true, it just might happen.
What if Henry Cavill's Superman is killed by General Zod when Flash mistakenly (or deliberately) interrupts the big fight at the end of 2013's Man of Steel? What if Barry somehow messes things up and, instead of breaking Zod's neck, Superman actually dies?
It's possible.
The arrival of Michael Shannon's Zod in The Flash movie footage shown at CinemaCon 2022 certainly casts a dark shadow on the appearance of Superman in the film. If Zod has returned, even if it's for Supergirl, he would definitely need to face off against Superman again, right? Unless this is an alternate timeline where Kal-El doesn't exist at all. That's also a possibility.
The fact is that it is very unlikely that we'll have General Zod without Superman. But seeing as how the DCEU keeps shifting and changing, things don't look so good for the Man of Tomorrow.
Let's hope Warner Bros. surprises fans and returns Henry Cavill's Superman to the DCEU to face off against Zod again in the Flash movie. That could be epic.
Tell us, do you think General Zod will kill Superman in The Flash movie? Or are we getting ahead of ourselves?