Netflix has released the first action-packed teaser trailer for the upcoming anime fantasy prequel to The Witcher series, The Witcher: Nightmare of the Wolf. Animated by Studio MIR, written by Beau DeMayo, and directed by Kwang Il Han, the spin-off film jumps back in time and is focused on Geralt's mentor, Vesemir.
As you can see from the trailer for The Witcher: Nightmare of the Wolf above, Vesemir (a main character in the Witcher canon) is a lot more charismatic. It seems that he finds a lot more joy being a witcher but still makes time for leisure activities. Basically, he is all about monster hunting and getting coin.
Funny enough, it's Vesemir's devilishly handsome looks that has most fans excited. "Daddy Vesemir is so f***ing hot. I'm at work losing my tiny little MIND," someone wrote on Twitter after watching The Witcher: Nightmare of the Wolf trailer.
The official synopsis reads:
"The world of The Witcher expands in this anime origin story: Before Geralt, there was his mentor Vesemir – a swashbuckling young witcher who escaped a life of poverty to slay monsters for coin. But when a strange new monster begins terrorizing a politically-fraught kingdom, Vesemir finds himself on a frightening adventure that forces him to confront the demons of his past."
Netflix also released a few character descriptions for The Witcher: Nightmare of the Wolf:
"Vesemir grew up as a servant on a nobleman's estate, working long days for too little coin. He yearns to break free of his social standing and to explore the Continent to find his destiny."
"Tetra Gilcrest is a powerful sorceress who is descended from one of the Continent's first mages, and believes magic connects all things of beauty. She and her followers work to keep peace on the Continent by ensuring that magic is not abused."
"Deglan was raised on the harsh, unforgiving Skellige Isles and is the hardened warrior-leader of the witchers. He is fiercely loyal to his "boys," and committed to doing whatever is necessary to protect them."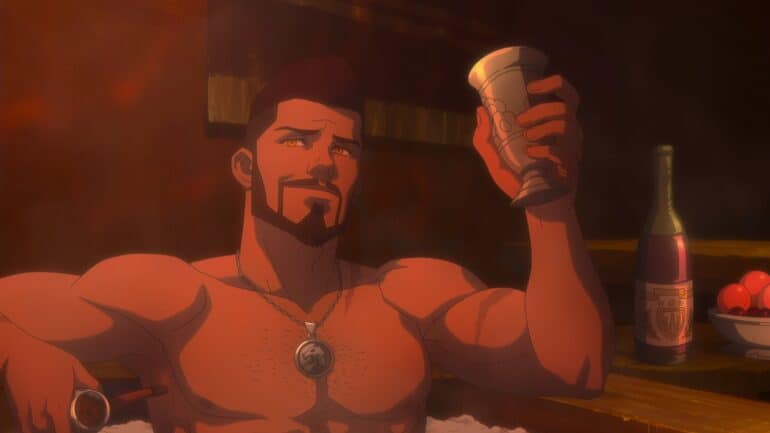 Vesemir will be voiced by Theo James (Castlevania), who played Young Vesemir in The Witcher. The show will also feature Lara Pulver (Sherlock) as Tetra, Graham McTavish (The Hobbit: An Unexpected Journey) as Deglan, and Mary McDonnell (Battlestar Galactica) voicing Lady Zerbst.
In season two of The Witcher, Vesemir will be played by Kim Bodnia.
The Witcher: Nightmare of the Wolf premieres on Netflix from August 23, 2021.