AMC has released a brand new trailer for The Walking Dead spin-off series called, The Walking Dead: World Beyond.
World Beyond expands the universe of The Walking Dead, delving into new mythology and a story that follows the first generation raised in a surviving civilisation of the post-apocalyptic world.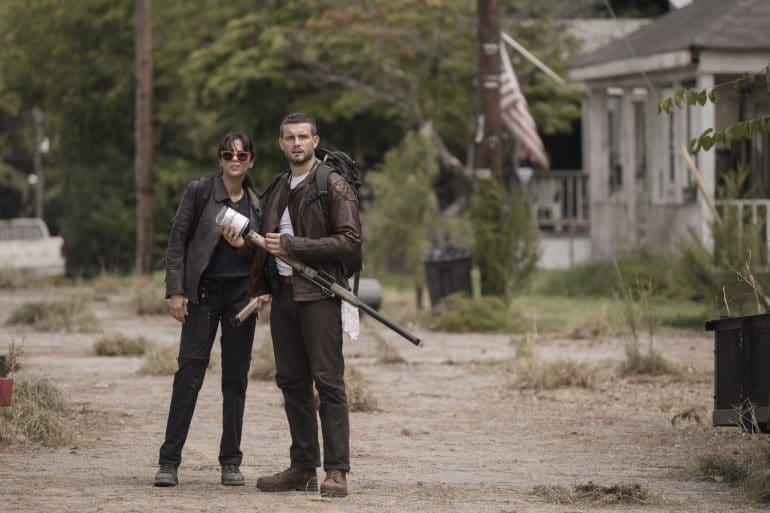 Set in Nebraska, the story follows two sisters and their friends who leave a place of safety and comfort to carry out an important quest. Pursued by those who wish to protect them and those who wish to harm them, a tale of growing up and transformation unfurls across dangerous terrains, challenging everything they know about the world, themselves and each other. Some will become heroes. Some will become villains. But all of them will find the truths they seek.
Created by Scott M. Gimple and Matthew Negrete, the post-apocalyptic horror series will consist of two ten-episode seasons before concluding. Negrete, who has written for The Walking Dead before, will serve as showrunner for the series.
The trailer, which debuted during the The Walking Dead: World Beyond panel at Comic Con@Home, features the next generation of survivors attempting to forge a new life in the zombie apocalypse – ten years after the initial outbreak.
According to series creators, Scott Gimple, Robert Kirkman and Matt Negrete, The Walking Dead: World Beyond will help to shed light on different corners of the franchise's universe – much like Fear The Walking Dead. That means the world depicted in the upcoming spinoff may have differing details which viewers aren't familiar with. For instance, "walkers' will be referred to as "empties" in the new series.
The Walking Dead: World Beyond will premiere on October 4, 2020, immediately following The Walking Dead season ten finale.