There are a few pretty dumb franchises out there that have no business being as successful as they are but are well-loved because of how bad they are, which makes them all the funnier. I'm not saying these titles are bad, but a few that come to mind are the Anaconda franchise and movies like Sharknado. Some movies are just so bad that they are good. Reading the title, The VelociPastor: A Man of the Claw, you would think that it's one of these movies, but you might be pleasantly surprised.
RELATED: Troll 2 Teaches Us That You Can't Piss On Hospitality!
The VelociPastor: A Man of the Claw
The movie was first released in 2018, with a poster that Terminator clearly inspired Jurassic park and mid-80s U.S.-produced ninja movies. As it turns out, this is all for a good reason. Like the movies mentioned above, this film features fighting for justice, dinosaurs, and ninjas…from China? This adjacent sci-fi story has no business being as humorous as it is. It has cutting-edge special effects, with intricately choreographed fight scenes that you might have missed if you saw the poster or the trailer and decided not to give the movie a chance.
The VelociPastor: A Man of the Claw has all the punch of a cult classic and can keep you entertained for an hour and ten minutes. But, unfortunately, the official plot doesn't help either because it says it as it is and makes it seem a little less worth giving a chance than it actually is. "After losing his parents, a priest [Greg Cohan] travels to China, where he inherits a mysterious ability that allows him to turn into a dinosaur. At first, horrified by this new power, a hooker convinces him to use it to fight crime. And ninjas."
RELATED: The Best Mockbuster Movies – Fong Kong Versions Of Popular Films
The Reviews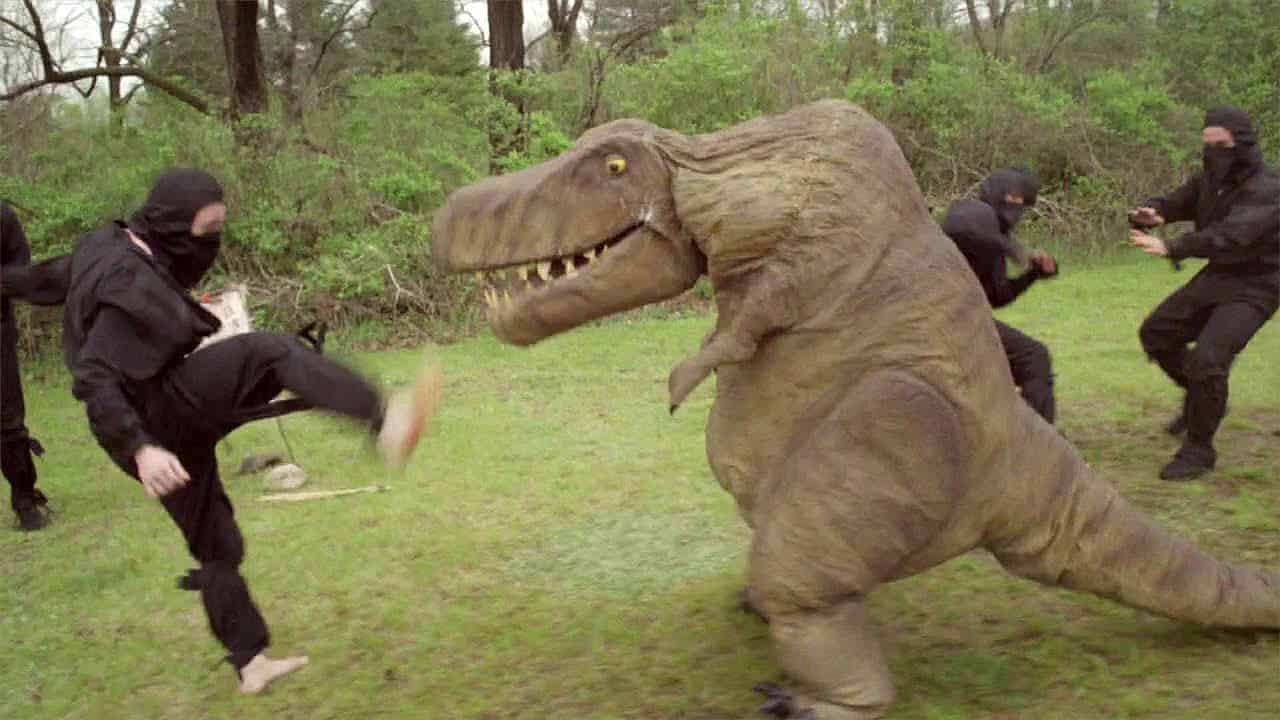 While you might look at the name, the poster, or the trailer and think this is just another low-budget dumb movie and decide to skip it, you would be sorely mistaken. Multiple reviews acknowledge this possibility, warn viewers to trust their instinctual interest, and give The VelociPastor: A Man of the Claw a chance.
Bobby LePire from Film Threat wrote that if you read the title and laugh happily at the absurdity of it, good on you. However, if you roll your eyes and decide to skip it, you shouldn't judge a book by its cover because "The VelociPastor is precisely as fun as its title suggests."
The Nerdist also chimed in, acknowledging the absurdity of the title, the poster, the trailer and the premise of The VelociPastor: A Man of the Claw (this movie really wasn't marketed well, huh?), saying, that you shouldn't feel bad for thinking that it will be "so bad it's good". However, The Nerdist says that you won't get any of that in this movie, and all for the right reasons, because the movie knows what it is, "a sincere parody that is genuinely funny." They also say that if the movie had a slightly shorter run time, it might have even been a great movie.
It might be time to give some of the absurdly titled movies of Hollywood a second chance.
RELATED: Ebola Rex Vs Murder Hornets Trailer: You're Not Ready!
TL;DR
The VelociPastor: A Man of the Claw has an absurd title, poster, trailer and premise.
It's about a priest who inherits the power to turn into a dinosaur and fights crime.
The movie is much better than it might seem at first glance.
Will you give The VelociPastor: A Man of the Claw a chance?