I really don't want to hate on the first part of CW's Crisis on Infinite Earths, but I've kind of got to.
Now, I need to admit something right off the bat: I don't watch Supergirl. In fact, I barely watch any of the CW superhero shows anymore. It isn't that I haven't tried all of them, but one by one I've given up on them. Arrow showed improvement but became more soap opera than superhero show; The Flash was more fun and lasted longer, despite its awful writing, but I abandoned it after four seasons; the others have barely sparked my interest, except for Legends of Tomorrow (much to my own amazement, given its weaknesses) which I'll be continuing with for yet another season.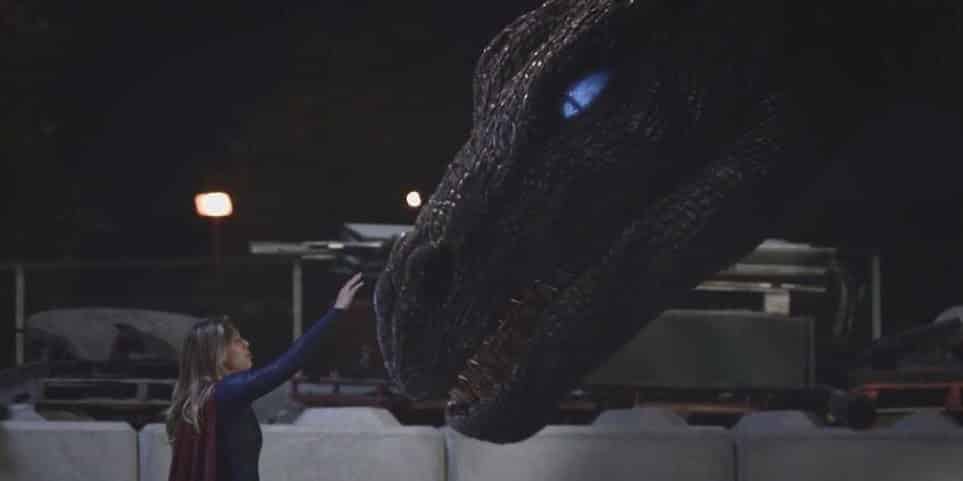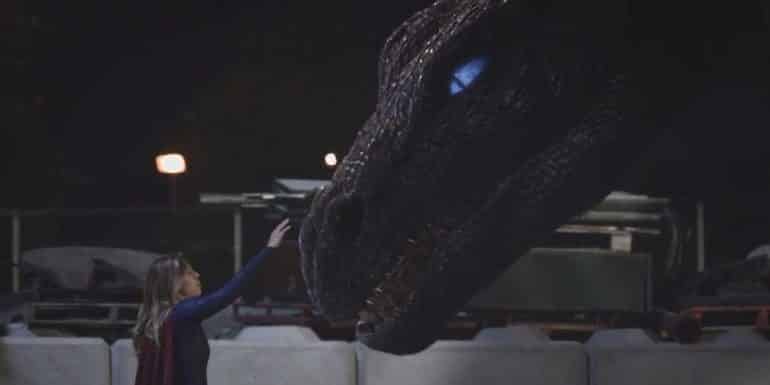 However, I LOVE comics and superheroes and have all my life. More than that, I LOVE the original Crisis on Infinite Earths comics, so this is must-see TV. Of course, not really being a fan of some elements of this event series whilst being a fan of other things about it means I'm going to be biased in all sorts of ways for and against, right from the start. I may make some harsh calls, but this is based on personal opinion and isn't a review. So… here are some of the ups and downs from part one…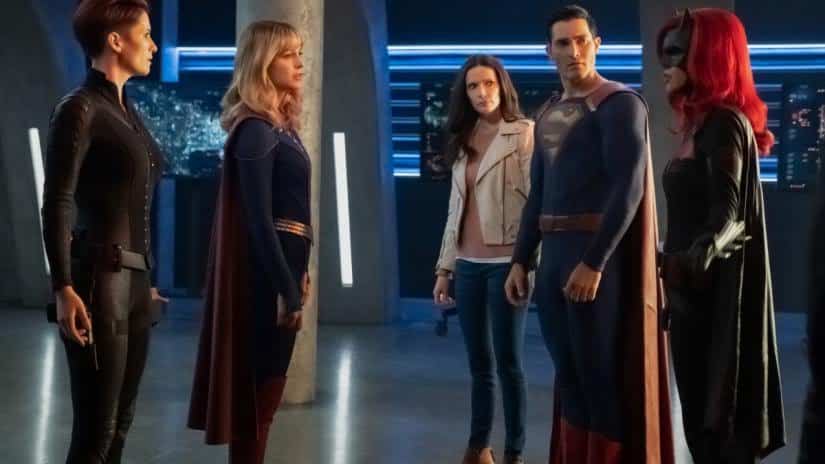 Up: Cameos!
Yeah, I'm a sucker for nods to DC's rich past of superhero shows and movies. Seeing alternate universes and timelines was always a part of what made the Crisis on Infinite Earths comics special, so seeing the TV series do the same was great. Do I want to believe that Tim Burton's Batman universe – complete with Danny Elfman theme music and Robert Wuhl's Alexander Knox – is being wiped out? No… but it's great to know it's out there. Meanwhile, I can't even describe how overjoyed I was to see Burt Ward and the world of Batman '66, and the dog he was walking was a great homage both to his own wonderful work with dogs in real life as well as Ace the Bat-Hound. Thank you!
Down: New viewer confusion!
Not having followed Supergirl too closely, I was fully prepared to not be too familiar with some of the characters and what their personal relationships are. Was that really the Martian Manhunter? And is that annoying Jeffrey Combs-like kid Brainiac 5? Even expecting it though, I was left scratching my head at some of the storylines being mentioned. Worse, nothing that was said made me want to delve any deeper in to it to find out any information. And if it's that bad for me, then imagine how entirely new viewers may be feeling.
It's hardly surprising that this event is going to play more to the fans of all the shows more than to newcomers, but would it have hurt the writers to spend an extra moment or two explaining who we're seeing on screen? Or, alternatively, to have eased off on the more show-specific elements in favour of the bigger picture?
Down: Don't contradict yourself!
Sooooo… let's back this up a bit, all the way to the first season of Legends of Tomorrow and their time-travel trip to the Star City of 2046. Given their constant rewriting of the timeline, it's pretty easy to accept that this now wasn't the future. CoIE confirmed that it's Earth-16, one of the infinite parallel earths. That's good, because the whole original appearance contradicted a future of another Legends team member. The problem is that all of it now throws all of their time-travel journeys in to doubt as actual time travel. If nothing else, it muddies the waters of what they do even further, but as usual we're meant to take all of that with a grain of salt because, hey, who cares about consistency and who watches Legends anyway?
More disturbing was Sara's reassurance to 2046 Oliver that he's a good guy, and that he's a good guy on every Earth. Um, does that include Earth X? Because I sure as hell remember just a few seasons ago there was an Oliver Queen she met who was Dark Arrow – the Nazi Fuhrer of the New Reich. Now it's fair to say that Sara probably thought best to not bring this fact up to Earth-16's Ollie, because he needed some positive reinforcement. But she said it so convincingly that it was more like the writers either forgot, or simply chose to ignore it. Both seem possible, given the storytelling inconsistencies of the CW shows in general.
Also… let's just ignore the irony that the original Crisis was meant to streamline the DCU's history by clearing up confusing storytelling.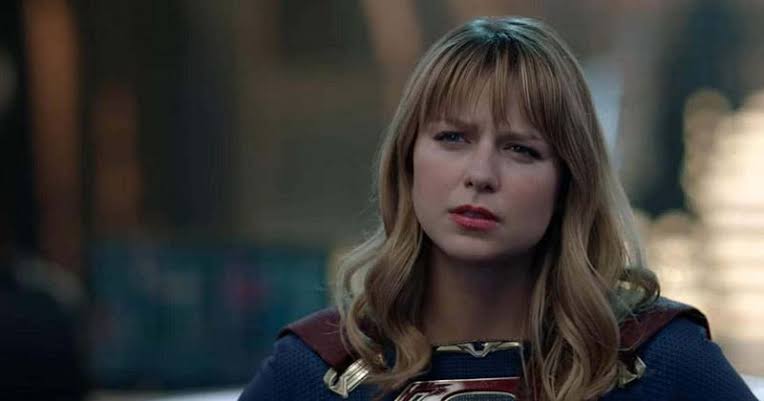 Up: The scope is so big!
Crisis on Infinite Earths is a huge story regardless of the medium used to tell it. We're talking not just talking a world or a universe, but all alternate universes here. Fans know that this is the TV equivalent of Avengers: Endgame, and all credit to the CW shows for actually being able to pull this off. Some never thought that such a huge story like Crisis on Infinite Earths would never get made in any way, because of the sheer size and complexity of it. So that it even exists is an achievement alone, and it deserves high praise for that.
Down: But… the scale is so… small!
As big as the story is though, the sad fact is that this first episode felt… small. It isn't just that the tale is so huge that it's hard to comprehend, or that this is still limited to a TV budget featuring some cosplay-level costumes and dodgy sets; it's that even the storytelling itself feels strangely limited. We're told that billions are dying, and that billions have been saved, but the numbers are only lip service. All we see are a few dozen people, and there's no connection with any of them to make it matter. We're told that the whole planet is in danger, but are barely shown any of the turmoil across the globe even on news reports. Some smarter storytelling tricks could have been used to create a far bigger feel to the proceedings.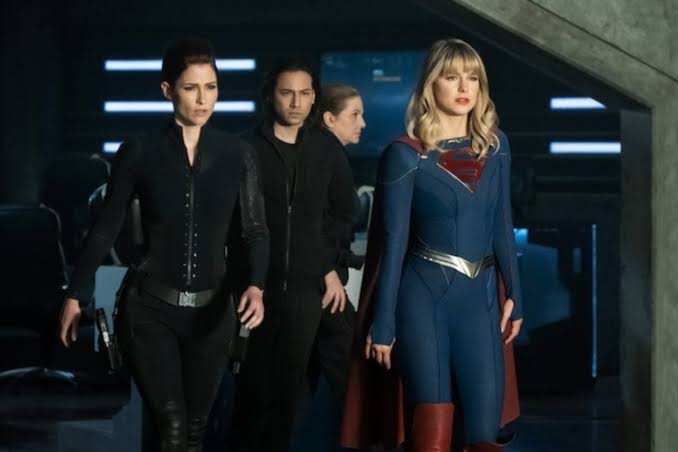 Up: Wait… this is accurate?
Fans know to not put too much faith in famous storyline adaptations for two important reasons: either they veer off from the original far too much to be right, or they're so accurate that they lose any sense of originality. Instead, the best superhero films and shows out there have been the ones which cherry-pick the best elements of the original to capture the essence of what the characters and story are about. Here, fans were treated to several huge elements from the original Crisis on Infinite Earths. The gathering of an assortment of unlikely heroes instead of the obvious ones, the shadow demons, the defending of the Monitor's tower, and even another super-baby (albeit of a different lineage) being rocketed away from a dying world are all elements of the original. So far, so good…
Down: Supergirl didn't love her mom?
Like I said, not being a regular viewer of Supergirl I have no idea what the relationship was between her and her mom Alura. But if I were to guess, I'd say… she hated her, or something? Maybe I'm wrong, but that's the impression I got from the scene in which Supergirl and Superman discuss the death of Alura and the destruction of Argo City. Supergirl didn't seem to care too much about any of it. Meanwhile, Superman seemed more about throwing himself a pity-party regarding his own failure to save them, rather than regretting their actual loss.
Maybe I just got the wrong end of it, maybe I'm just not used to these characters, or maybe it was just a badly-presented scene which didn't convey the right vibe for me. Whichever it was, Supergirl handled a presumed loved one's death in the same way as someone finding out they've knocked over a bowl of salad, while Superman's reaction was like someone who'd forgotten where he'd parked his car. I'm not after a massive outpouring of emotions here, but this felt cold.
Up: Na-na na-na na-na na-na, Batwoman!
For some viewers, all that's known about Batwoman is that the trailer for her show got panned, but she seemed okay in the last crossover. So is she the worst thing ever, or does she get a pass? Honestly, she lands just on the right side of entertaining. Yes, it makes little sense to have her be standing toe-to-toe alongside Superman and the Flash as a powerhouse hero, but then she's on a similar level to White Canary or Green Arrow. Even in the original story the initial team was an eclectic mix, which included the likes of the Ted Kord/Blue Beetle, so there's room for everyone with all sorts of abilities. While her importance and skills may have been overstated, she was a more than welcome addition.
Down: The format!
This will presumably be one of the biggest gripes as this series goes on. Even if you're a viewer who has no idea what Crisis on Infinite Earths is, odds are you'll understand what they're trying to achieve here. Splitting this over five individual episodes of five distinctly separate shows is absolutely not the way to tell this story. Even when it's ultimately put together in to one collected edition DVD, the very format they've gone with reduces what it was meant to be. It may be a crossover story, but that doesn't mean it should be a crossover series.
In an ideal world, the smart thing to have done would have been to either create a unique extended film-length version in one go – one that told its own story without all the fluff of each show getting in the way – or as a two-part miniseries (at two hours per episode) airing on consecutive nights. It's an ensemble cast tale that should be have been presented with a big picture approach. It's now a cliché but the Infinity War and Endgame format showed how it should have been done. The groundwork has been laid in the separate shows, so why limit this to them too? It should stand as its own story, and the CW made a mistake in not following that route.
Now, roll on part two of Crisis on Infinite Earths…