And so it comes to an end. The 8-issue run of one of the more creative series from DC Comics in a while has finally finished to a climactic finale in The Unexpected #8.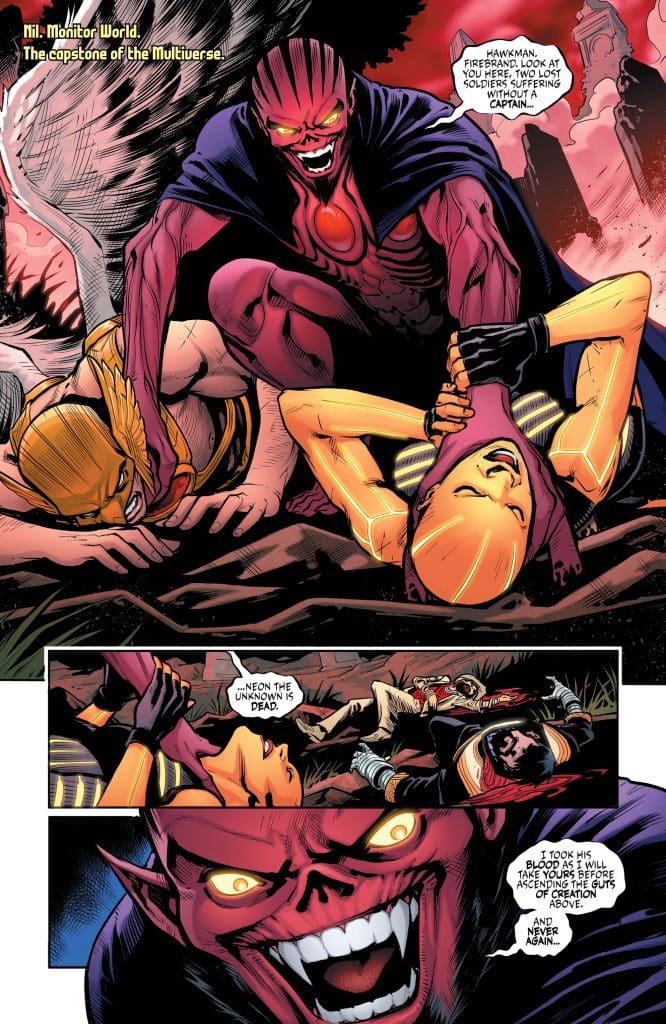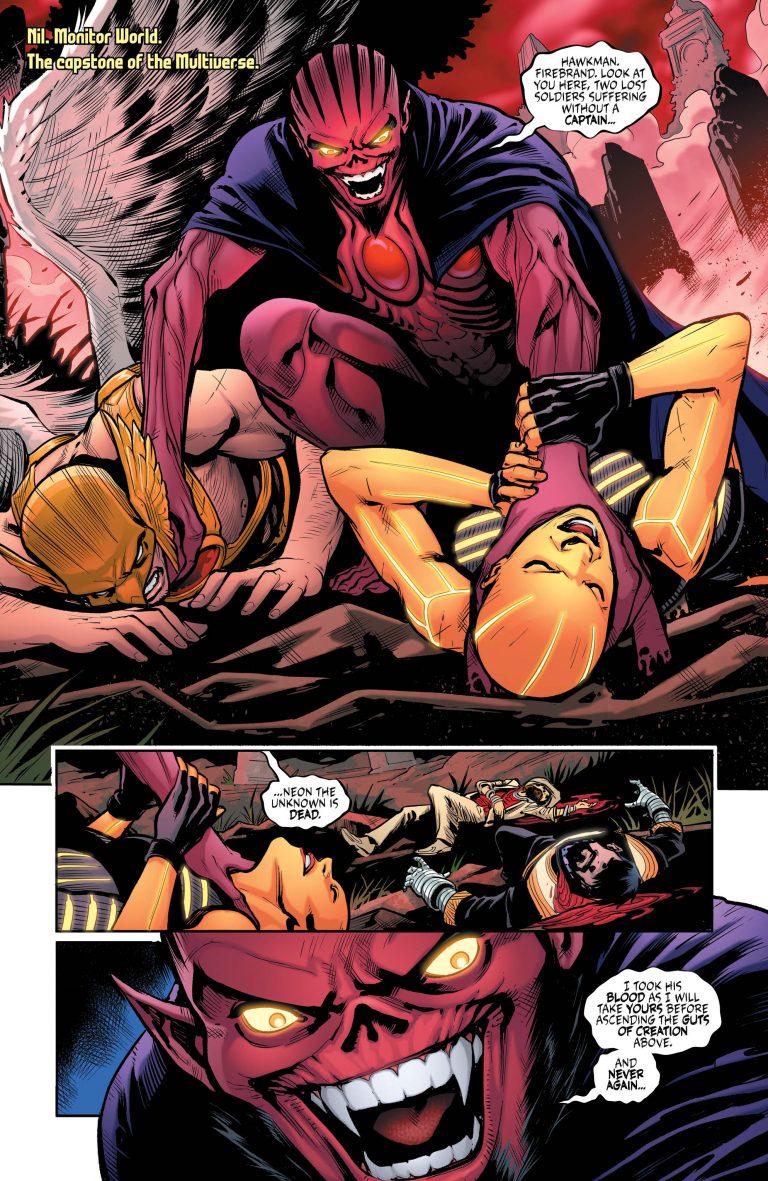 We've followed both Neon and Firebrand on their journey across the DC universe, and the multiverse, in their quest to remove the danger of the Nth isotope. Across the 8 issues, these heroes have met many of DC's famous characters and travelled to famous locations across the world. They've faced various villains including that of Synn, The Bad Samaritan and now Mandrakk, who is proving to be the most deadly of them all.
The Unexpected title has served as an unexpected change of pace, with each week providing a situation that requires acrobatics from the writing team in order to continue to move forward. This has, in turn, presented a series to us that is incredibly imaginative and visceral, with the short run creating complex characters that are relatable and sympathetic.
The Unexpected #8 pays off all of this, alongside Hawk Man, in a finale that is worthy of the rest of the series.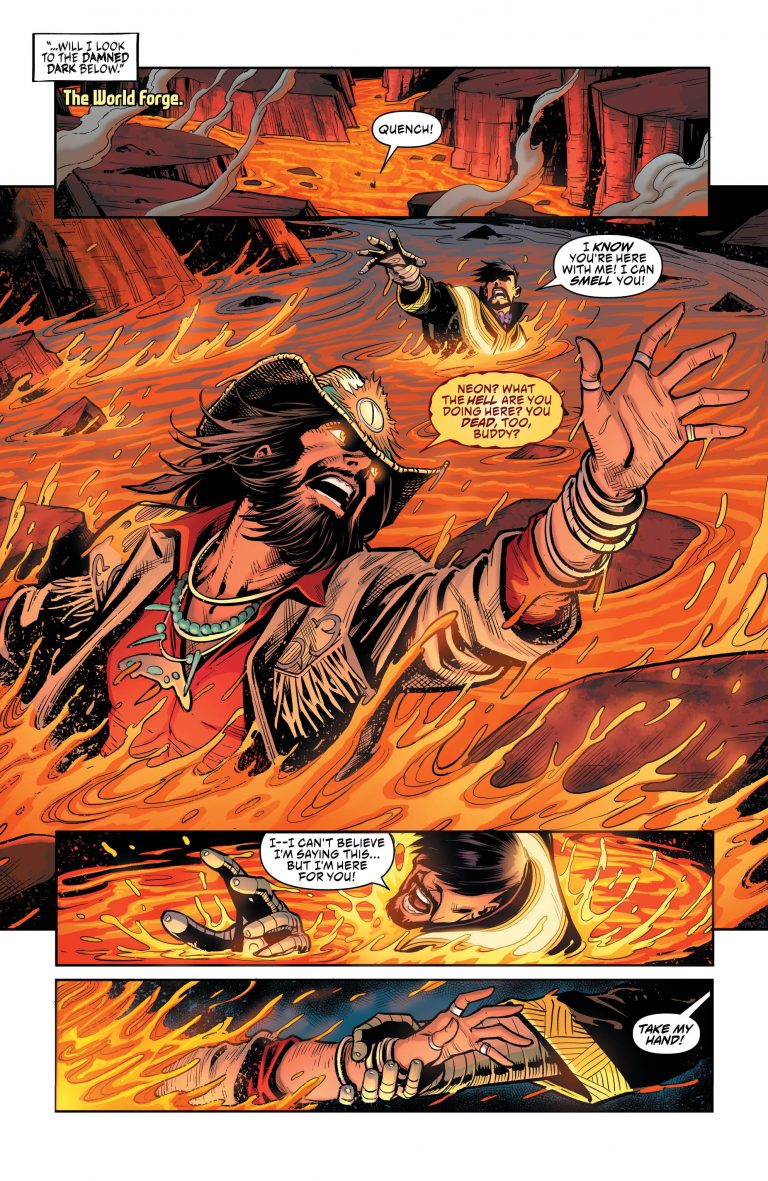 With Neon following The Bad Samaritan towards the world engine, he sets his sights on returning to the surface world with his arch-enemy beside him. As they face their potential demise, it becomes apparent that the two aren't true enemies but perhaps a balance of forces; destruction and creation both fighting against one another for harmony. This is especially apparent in those possible final moments as the two decide to stand side-by-side to face Mandrakk.
Returning to the surface world, the fight turns in their favour as Hawkman and Firebrand continue to show the selflessness that true heroes observe. It becomes clear to Neon that the only way to defeat the plague upon them is to not destroy Mandrakk but change him, turning his attention away from feeding on the light. Instead, feeding on the darkness, essentially banishing him from their world.
As Hawkman comes to terms with the adventure they have been on, we catch up on these heroes as they re-enter their normal lives. The Bad Samaritan has been unleashed into the world to find a better path, whilst Neon and Firebrand returning to what they do best.
Neon has come to terms with how his life has changed, emerging into the public eye again, using his art for charity and his powers to help those that need him. A particularly poignant moment is when he rebuilds Firebrand's hospital after it did not have the funds to start from scratch conventionally.
The heroine of this tale has arguably gone on a much longer journey and this is evident as she uses her life to help people with her special talents.
We may see these characters pop up again at some point in the future as they have made a strong impression in this run.
The Unexpected has been a joy to read and a change of pace in a cluttered world of comics. The art has been consistent across this title and the writing has been especially fun. It has been both action-packed and emotive, with moments of warmth and strong character building.
The Review
The Unexpected Issue 8
As action packed and unexpected as its title, the finale of the series lives up to its previous issues, providing a satisfying and creative conclusion.