For anyone who hasn't been following the adventures of Doreen Green, Squirrel Girl, then it's pretty simple: you've been missing out on one of the best, most important comic books on the market. And now, sadly, it's going away. The Unbeatable Squirrel Girl #50 is the finale.
It all ends here.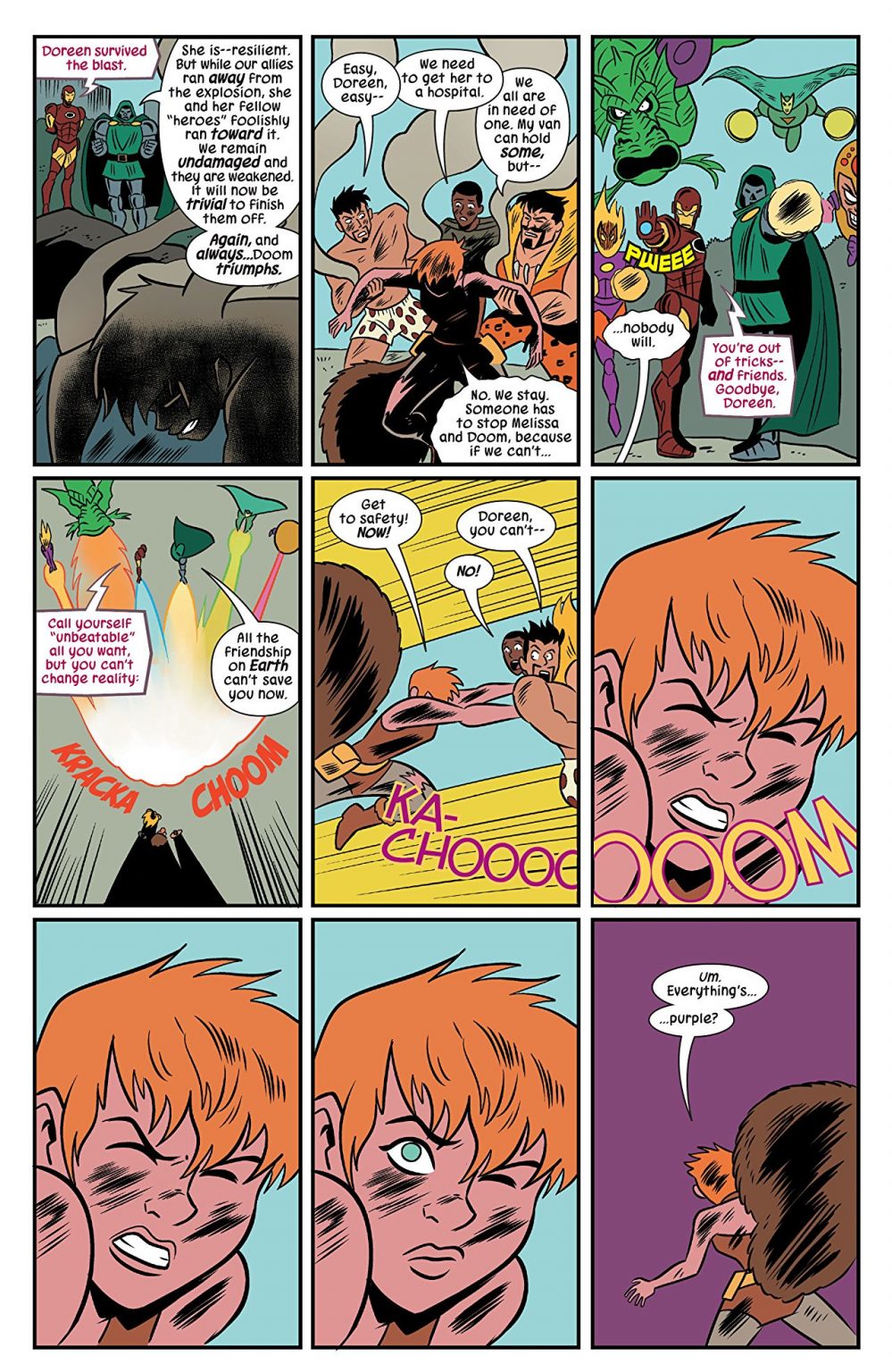 Facing the assembled might of some of the most powerful supervillains in history – from Doctor Doom and Fin Fang Foom to Taskmaster and MODOK – Squirrel Girl's fate is looking bleak. Even if she can withstand their combined assault and survive, her secret identity has been made public by her arch-nemesis Melissa Morbeck, who now controls Tony Stark's Iron Man armour, and both her home and her future lie in ruins.
She may eat nuts and kick butts, but her life will never be the same again. It's time for her to say goodbye with a little help from her friends…
There have been lots of notable farewells in comics, both of characters and the creators who changed them forever. Remember Grant Morrison shattering the fourth wall when he bowed out on Animal Man? Or the conclusion of Issue #33 of Joe Kelly's astonishing Deadpool run which defined the merc with a mouth forever? How about Giffen and DeMatteis breaking down the Justice League International which they'd worked so hard over years to build? Well, now you can add The Unbeatable squirrel Girl #50 to that list of greats.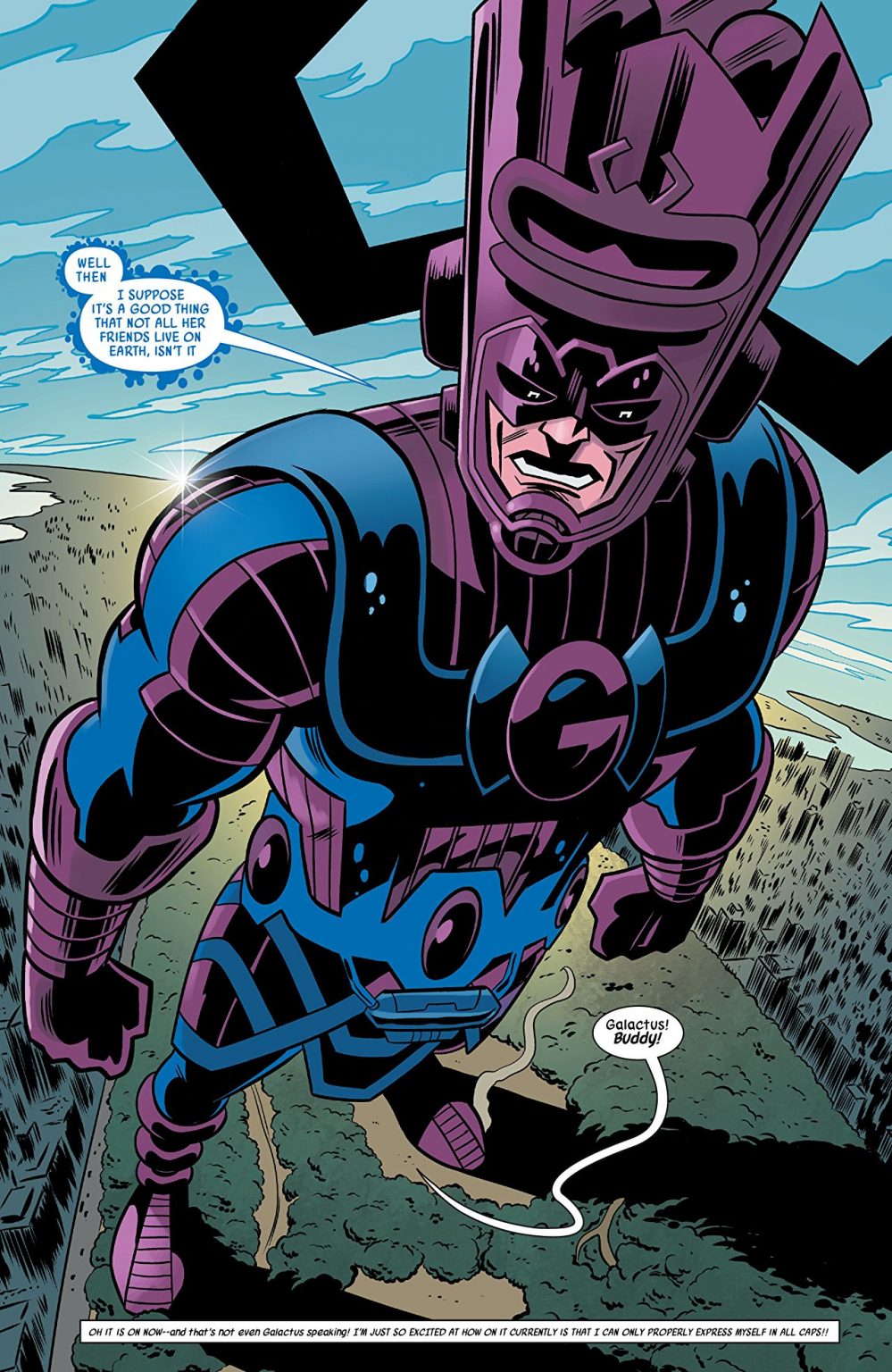 Thankfully, The Unbeatable Squirrel Girl #50 does what it does best as it takes the time to remind readers just what made it, and the characters, so special. The expected massive fight scene blowout is shelved in favour of a friendly, bitter-sweet chat about cherishing those we care about before we lose them. It's both touching and thought-provoking, as it should be. Not only that, but it also reminds the readers that they wield Galactus-level Power Cosmic. Well, in a way.
Of course, it's perfectly possible to view this all in a stone-hearted, cynical way and to accuse this final issue of bringing in a last-second deus ex machina (literally) to resolve the plot before waffling on about touchy-feely stuff.
And you know what? If you think that, then you're right. It does.
And it's so much better for it. Writer Ryan North hits each emotional beat perfectly, effortlessly switching from "aww" moments to laughter and tears… all underscored by a sense of impending tragedy as the reader knows that every sentence, image, panel and page that passes brings us closer to the end.
The Unbeatable Squirrel Girl #50 allows the series to go out on a triumphant, foot-tapping note. Is it Squirrel Girl at her finest? That's for her fans to decide. But it's easily one of the finest issues created, with every character getting a memorable moment for the fans to cling on to. We don't know what's changes may come in the future, and it already feels like something special has been taken away from the world of comics.
But for The Unbeatable Squirrel Girl #50, everything feels absolutely right. As always, Squirrel Girl truly is unbeatable.
The Review
The Unbeatable Squirrel Girl #50
An emotional farewell to one of the best comics ever.