We all love the amazing cars driven by Dom and his crew, but which are the best? Brace yourself for a heart-pounding countdown of the top 15 best Fast and the Furious cars that have left an indelible mark on both the big screen and the car enthusiast community.
RELATED: Mission: Impossible's Tom Cruise Could Be The Secret Ingredient of Fast 11
The Fast and the Furious (2001) was the film that started an iconic franchise and introduced us to some loveable characters and excellent cars. Directed by Rob Cohen, the film starred Paul Walker, Vin Diesel, Michelle Rodriguez, and Jordana Brewster as the titular characters. Although the movie received mixed reviews from critics, it is still considered one of the best for portraying underground street racing. But, of course, loveable characters are not the only thing these films bring us. Fans of the Furious franchise are partially enamoured with the films for their beautiful hero cars.
And after watching a few films, it is easy to see why so many car enthusiasts enjoy the ride. As such, we have taken it upon ourselves to celebrate the release of the tenth instalment in the Fast franchise, Fast X, set to release tomorrow, 19 May 2023. Therefore, we will be looking at some of the most iconic cars from the series and what makes them so special.
Naturally, we cannot include all the vehicles, as each film, up to this point, has used over 100 vehicles while filming. So, we will only be looking at fifteen of the Fast and the Furious series' best, most recognisable, most popular, and coolest-looking rides.
RELATED: Biker Boyz Could Be Racing Towards A Reboot or Sequel
15. Pontiac Fiero – F9 (2021)
Okay, so 2021 was a year filled with surprises. Not only did we find out John Cena was Dominic's long-lost villainous brother, but we also got to see a Pontiac with a rocket engine. Now, it is difficult to decide whether this was something we needed to see, but it certainly was an unforgettable sight to behold. The car appears after Roman (played by Tyrese Gibson) and Tej (played by Ludicrous) arrive in Germany to see Sean, Twinkie, and Earl. They quickly discover that the military is paying the trio to design rocket engines, hence why one was attached to the Pontiac.
We briefly see the red and black car in action, racing a jet (yes, an actual jet) down a strip. Of course, the car does not win the race, but it proves the crazy invention works successfully. That is until the car explodes moments later. Overall, seeing this little sports car appear in the series was nice. Designed by Hulki Aldikacti and George Milidrag, the car sports a traverse mid-engine, rear-wheel drive.
14. 1966 Chevrolet Corvette C2 Sting Ray – The Fate of the Furious (2017)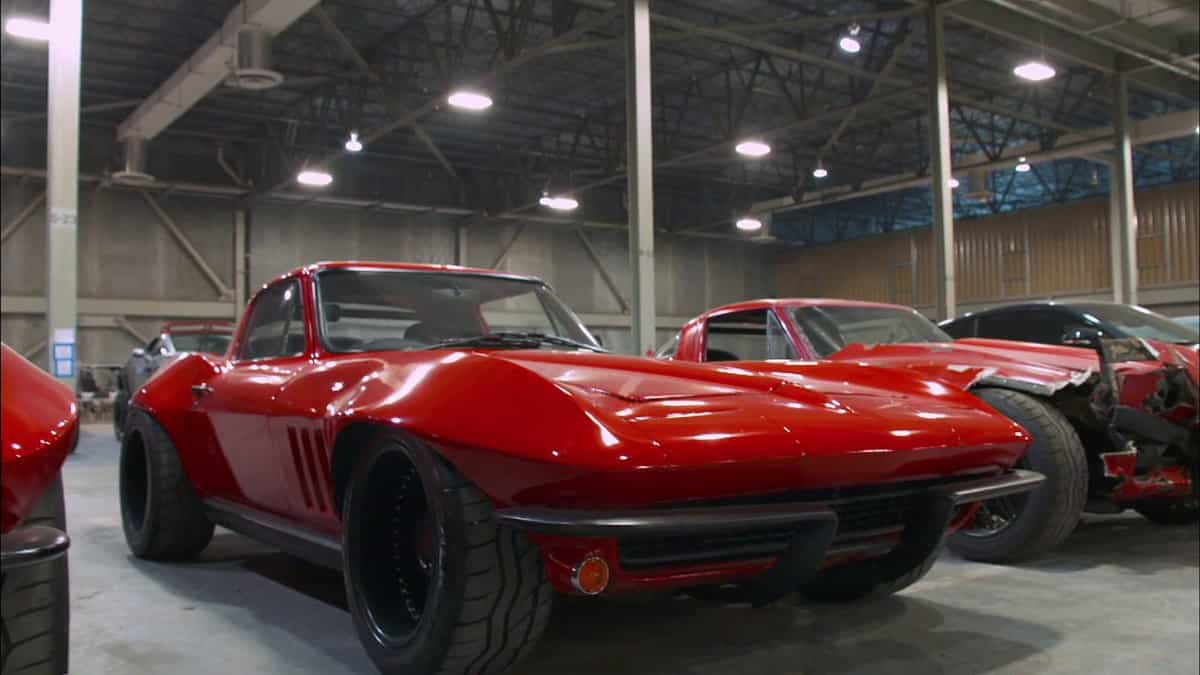 The eighth instalment in the franchise brought us the narrative wherein Dom betrays his team…or rather, family. We glimpse this beautiful sports car when Letty (played by Michelle Rodriguez) picks it out at the secret spot known as the Toy Store. Of course, we do not see much of the car following this. Instead, we see it once more being modified before we see Letty go after Dom in New York. Although she manages to overpower him with the Sting Ray, she and Tej ultimately end up totalling both their vehicles.
Sporting a bright red colour that made the car look that much more expensive, this 2-door Coupé can reach a maximum speed of 152 mph (245 km/h). And we must keep in mind this is the speed before any mods were added to the engine. Not only did this vehicle sport a transaxle and independent rear suspension, but also a front mid-engine and rear-wheel drive. If we are talking iconic cars, this is undoubtedly one for the books.
13. 1971 Jensen Interceptor – Fast & Furious 6 (2013)
For the sixth franchise instalment, we get to see the amazing work of Carrozzeria Touring's Federico Formenti. The car sports a beautiful matte grey with black stripes down the bonnet and is driven by Letty. While Dominic and Luke Hobbs (played by Dwayne Johnson) are pursuing Owen Shaw, Letty uses the car to create a distraction by ramming it into Dom's car. We later see her working on the car in Shaw's garage before driving off after he gets under her skin. The last time we see the car is when she participates in a street race against Dom and his Dodge Charger Daytona.
From here, the two drive off to a spot in London, where Dom reveals to Letty that she has lost her memories. Taking inspiration from the Brasinca Uirapuru sports Coupé, the car sported a unique curve-around rear window which doubled as its tailgate. Furthermore, it has a 4-speed manual transmission with a front-engine, rear-wheel drive layout. With a 16 Valve Chrysler V8 engine, the car can reach a maximum speed of 133 mph (214 km/h) and can go from 0 to 60 mph in 7 seconds. Impressive for such a little thing, right?
It deserves its place on this Best Fast and the Furious Cars list.
12. 1970 Ford Escort MK I RS1600 – Fast & Furious 6 (2013)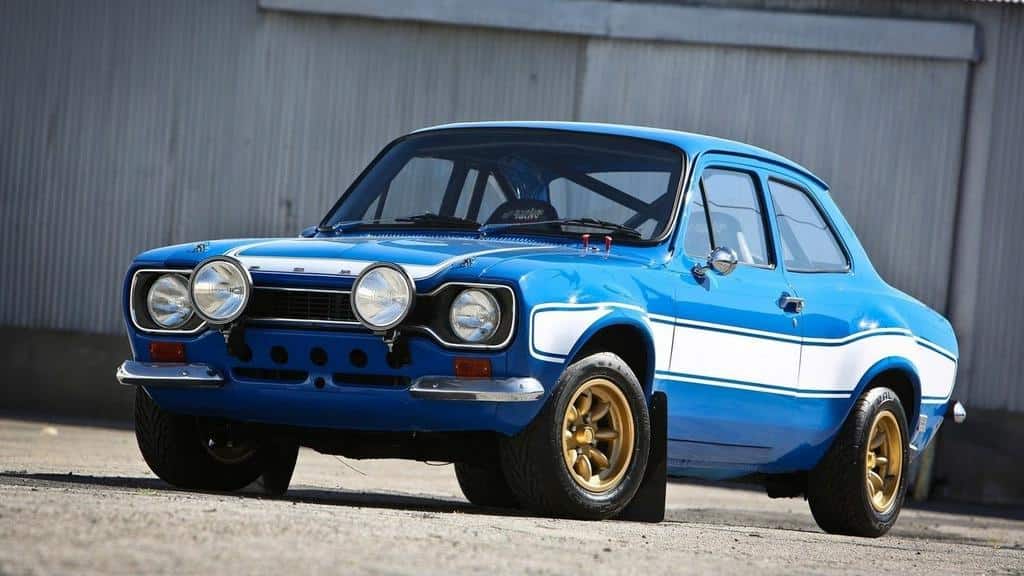 This cute little sports rally car appears briefly during Roman Pearce and Brian O'Connor's (Paul Walker) pursuit of the Owen Shaw tank. We first see the car being purchased by Tej from an auction in London before being shipped to the team's safe house. From here, we see Brian use the car to catch up to the tank but change course when he realises Roman is about to be crushed in his car. So, using the car's rally-spec suspension, he makes the drastic decision to drive off a makeshift ramp, so he could end up on the same side of the road as Roman and save him.
Of course, the car suffers some cosmetic damage and makes Brian the tank's primary target. As a result, he breaks and lets the tank pass them by. Although tiny, you will be surprised to find this car is actually considered a half-pint muscle car in England, despite it not being very…muscular. However, this is made up for by the fact that Cosworth and Ford tried to give the car the best engine possible. Sporting a powerful 1.6-litre twin-cam 16-valve BDA four-cylinder engine, the car can reach a top speed of 113 mph (182 km/h).
11. 1967 Ford Mustang Fastback – The Fast and the Furious: Tokyo Drift (2006)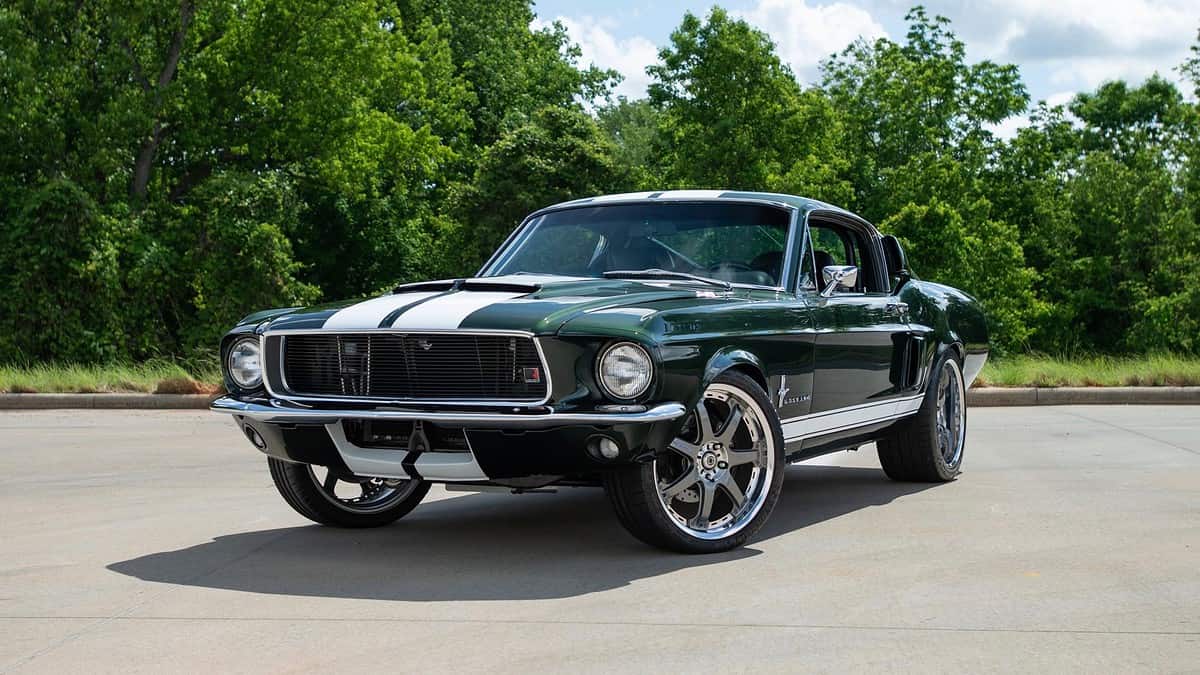 Of course, this beauty comes from one of the best movies in the entire franchise. And weirdly, it does not feature any of the main cast. We first see the car being worked on by Sean Boswell's (played by Lucas Black) father early in the film. With his father having found it in an army base, the car is only a frame at this point as it is half completed. However, we later see Sean use the car when he takes Takahashi, the Drift King, in a challenge. Upon restoring the car, he later goes up against Takahashi on the mountain, where no one has managed to beat the King. Of course, Sean comes very close to drifting right off the mountain but still ends up victorious.
In the film, the car sports a beautiful glossy Highland Green look with white stripes down the bonnet after being fully restored. Furthermore, the car is given Shelby-style B-pillar scoop body mods, Global West control arms, and front coil overs suspension mods. With the original Cobra Jet V8 engine, the car could reach a max speed of 127 mph (204 km/h). However, in the film, the car sports a 2.6 L RB26DETT twin-turbo I6 Twin Cam 24 Value Skyline GT-R, which was transplanted from a Nissan Silvia S15, meaning its top speed could potentially be 155 mph (249 km/h).
RELATED: Fast X Review – It's the Fast and Jason Momoa Show
10. 2003 Acura NSX – Fast & Furious (2009) and Fast Five (2011)
Driven by Dom's little sister, Mia Toretto (Jordana Brewster), this sports car is really a pretty and sleek drive. The first time we see the car is at the end of the franchise's fourth film. Dom is sentenced to 25 years in prison, and Mia shows up in the Acura NSX with Brian in Dom's Charger and Leo and Santos in a Trans Am. The fifth instalment picks up directly after the last, with Mia and the group still pursuing the prison bus. Being a complete badass, Mia drives past the bus and further up the street before turning the car and charging the bus head-on. Of course, the bus is forced to swerve off the road to avoid hitting her and essentially freeing Dom when it crashes.
Although we never see the car again after this sequence, it still makes for one of the more memorable rides in the franchise. Sporting a beautiful all-black look, the car was manufactured by Honda, presenting us with a clean two-seat mid-engine Coupe. As the first-gen version of the car, it sported a 3.2-litre (3.0 for automatic transmission) DOHC VTEC V‑6 engine that meant it had a max speed of up to 175 mph (285 kph). It really is a pity we do not see more of the car in the series.
9. 1970 Chevrolet Chevelle SS – The Fast and the Furious (2001) and Fast & Furious (2009)
Dom and power cars really do go hand in hand. It is the last car we see him drive at the end of the first film as he travels to Mexico. However, we see him with the car again in the follow-up film after learning of Letty's death and attending her funeral. Here, Dom sands the car down to its original metal colour before repainting it a dark grey and giving it some under-the-hood modifications. The car is later used in a race against Alex in his BMW E39 before using it as a distraction to escape a confrontation with Fenix Calderon. He does this by leaving a nitrous oxide tank running and setting off a lighter to cause an explosion.
We later see him purchase a similar model in the seventh film, but as it is a slightly different model, it will not be counted. As a mid-sized sports coupe, the car sported Hotchkis shocks and springs suspension mods in addition to a Year One body and trimmed Hanaman fibreglass cowl induction body mod. With an FR layout, the car has a 502 GM Performance V8 engine, meaning it can reach a speed of up to 130 mph (210 km/h).
8. 1969 Yenko Camaro SYC – 2 Fast 2 Furious (2003)
Although the car is first introduced being driven by Korpi, a potential employee for Verone. From here, Korpi tries to race Brian and Roman when they are tasked with collecting a package from a red Ferrari. Of course, he loses, and then we later see him lose his car to Brian when they participate in a real match. After this, we see Brian and Roman use the cars they won in the race to escape the police upon collecting some money for Verone. The last we see the Yenko is near the film's climax when Brian drives it off the pier and crashes into Verone's boat to save Monica.
Sporting an excellent LeMans Blue body paint, the car is modified by Tej after being taken from Korpi. This muscle car now wears an 8-point roll cage body mod, stock suspension mods, Cragar S/S rims 15×7 Front and 15×8 Rear tires and a speciality mod ejection seat that did not work. With a 427ci L72 pushrod V8 engine, this 2-door coupe can reach a max speed of 140 mph (230 km/h).
7. 2014 W Motors Lykan Hypersport – Furious 7 (2015)
You knew this one was coming. There was no way we would not feature one of the most expensive cars in the world (and possibly the franchise) on this list. On the team's mission in Dubai, we learn this beauty owned by a billionaire prince contains a computer chip known as God's Eye. However, we all remember the most popular scene from the film: Dom and Brian driving the car through not one…not two…but three freaking skyscrapers before essentially bailing and letting the vehicle plummet to its demise.
Although this hypercar was destroyed, we at least got to see the sleek red ride in action. In terms of specifications, the car has some lightweight forged aluminium 8.5×19″ front and 12.5×20″ rear wheels with 255/35 ZR 19 front and 335/30 ZR 20 rear tires. Furthermore, the car has a powerful 3.7-litre twin-turbo Flat-six engine, which can reach a max speed of 245 mph (395 km/h). So basically, we are saying you could fly to work if you owned this car.
It's definitely one of the best cars in the Fast and the Furious franchise so far.
6. 1993 Mazda RX-7 – The Fast and the Furious (2001)
As one of the most iconic cars from the series, this easily earned its spot in the top ten of this Best Cars of the Fast and the Furious list. We first see this car with a bright red body spray when Dom first goes up against Brian in a street race. Although Dom beats him with ease, the cops show up shortly after, and all racers are forced to flee. Next, we see Dom seemingly abandon a car in an underground parking lot before escaping on foot, but it later is parked at his home when he brings Brian to see his Dodge Charger.
Classed as a sports car, this two-door coupe sports VeilSide rims as a speciality mod in addition to a VeilSide USA Aero body kit, RX-7 GT rear wing and Lexan headlight covers in terms of body mods. Where its engine is concerned, the car carries a powerful 1.3L Twin turbo 255 PS twin-rotor and can reach a top speed of 155 mph (250 km/h).
RELATED: A Fast and Furious / Jurassic World Crossover Might Happen
5. 1995 Mitsubishi Eclipse – The Fast and the Furious (2001)
No, but really, who doesn't know what car this is at first glance? Manufactured by Diamond-Star Motors and Mitsubishi Motors Corporation, we see Brian use this car to practice at the Dodger Stadium parking lot before going up against Dom. The most iconic scene with this car (and the reason it is a top-five pick) is because of the intense race between Brian and Dom, which almost results in the former's death. While driving, the car's intake manifold begins to overheat, but Brian still uses NOS, leading to his car ultimately falling apart.
As a compact sports car, the vehicle is heavily customised, sporting a bright green body with Robo car Armour and an Eclipse Kit. With SE7EN 18-Inch wheels by Axis Sport Tuning Inc. and Toyo 225/40/ZR18 tires, the Eclipse also contained stock suspension mods. Furthermore, it had Sparco racing seats with 420A Neon 16-valve DOHC 2-litre 4-cylinder, pushing 210 horsepower, and reaching a max speed of 146 mph (234 km/h).
4. 1970 Dodge Charger R/T – The Fast and the Furious franchise (2001 to 2021)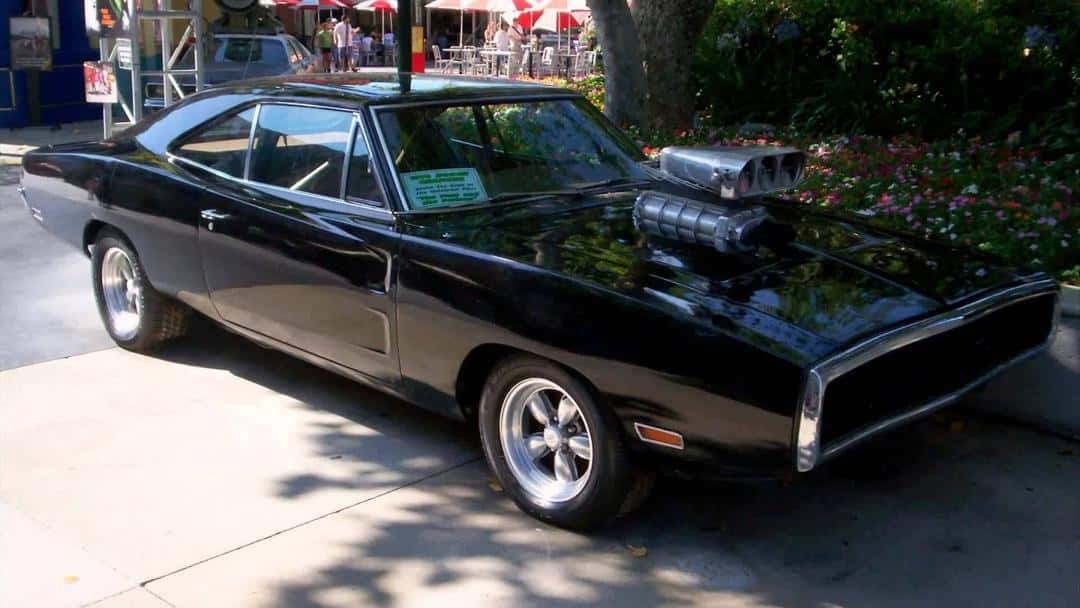 Okay, so we cannot have Dominic Torretto without his Dodge Charger R/T. Throughout the franchise, we see him driving various versions of the car. But it seems he cannot leave it behind. The most iconic appearances were easily in the first movie, then the off-road version we see in the seventh instalment that made it look ready for war. It also has a great run in the fifth instalment. Specifically, the sequence where Dom is being hunted by Hobbs and the car gets rammed by an armoured vehicle.
As there are too many variations of the car to keep track of, it is impossible to tell what the specifications were as each one was modded. However, generally speaking, Chrysler advertised the car as its luxury sports car, carrying the iconic hidden headlights and massive bumper that circled the grille. The car could be bought with either a six-cylinder or V-8 engine, meaning its top speed ranged between 104 to 145 mph (167 to 233 km/h).
It's definitely one of the best Fast and the Furious cars.
3. 1994 Toyota Supra MK IV – The Fast and the Furious (2001)
This is another iconic ride from Brian O'Connor that is extremely difficult to forget. We see this bright orange, fully customised car after Brian's Eclipse gets trashed by Johnny Tran. So, what does he do? Bring the Torretto family a scrapped Supra he found in a junkyard and a $20 thousand budget to restore. While in reality, this ended up costing over one hundred thousand dollars, one could say it is worth it since it could apparently compete with a Ferrari by the time it was done.
In terms of specs, the car sported a Lamborghini Diablo Candy Pearl Orange body and Eibach coilover suspension mods. Furthermore, the Supra had speciality mods ranging from a Turbonetics T-66 ball-bearing turbo and Delta II wastegate, RPS stainless steel/HTC-coated custom header to a Clutchmasters stage III racing clutch and 11-pound billet flywheel. Finally, it had a 2JZ-GTE l6 engine meaning it could reach a max speed of 300 mph (482 km/h). And considering a Ferrari FXX Evoluzione can reach a max speed of 249 mph (400 km/h), this Supra could definitely 'smoke' an Italian bullet.
2. 2000 Honda S2000 – 2 Fast 2 Furious (2003)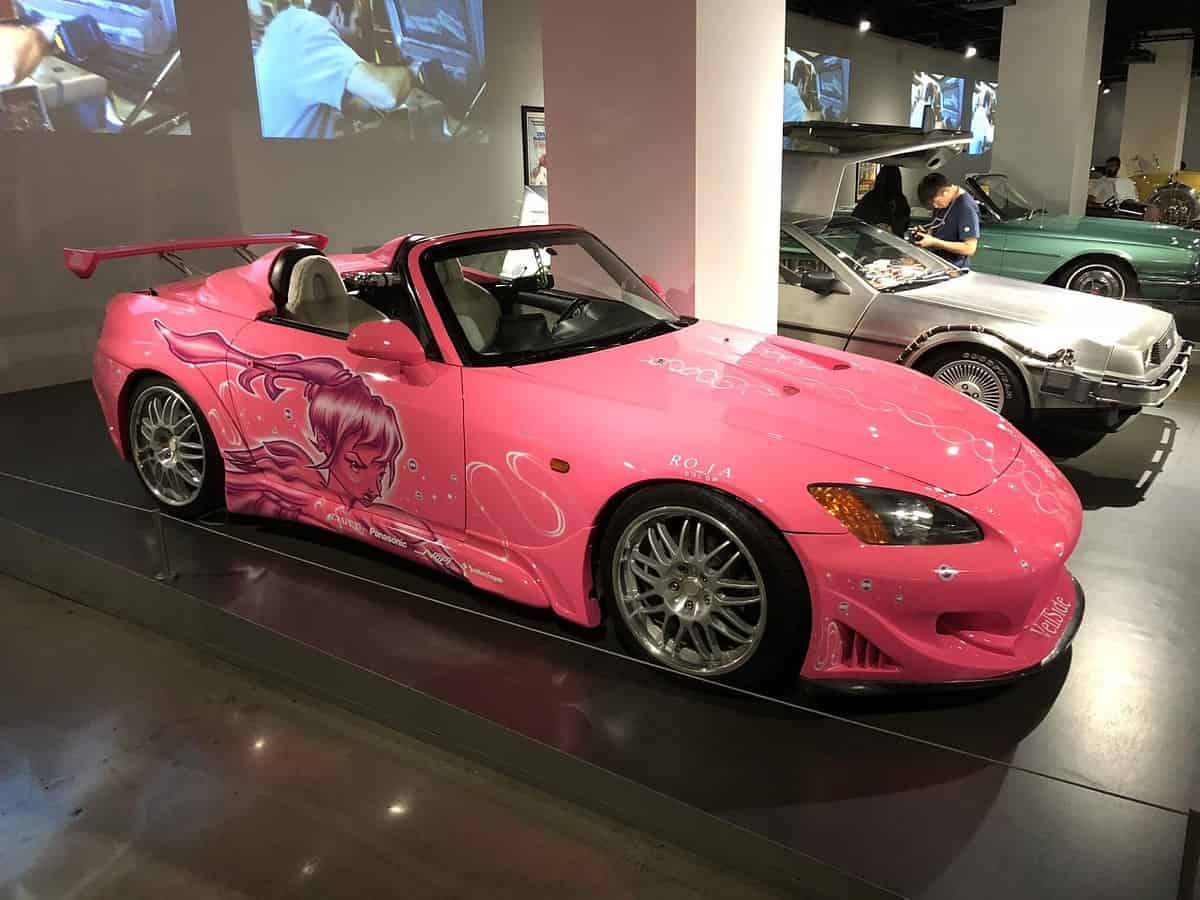 If you do not remember Suki's iconic House of Kolor Hot Pink Honda from the second movie, are you really a fan of the franchise? Although we only see the car for the race at the beginning of the film hosted by Tej, it still is one of the best in the series. Not to mention, we get to see Suki jump a huge gap with the car and ultimately overtake Orange Julius' 1993 Mazda RX-7. Although her car ends up suffering damage to its radiator and body, it still made for an epic run.
Naturally, the coupe was modded out with NOS Nitrous Bottles and a Wet Nitrous Kit for V6 Honda. This is in addition to its VeilSide Millennium body kit and Paxton Novi 1000 Toucan Industries exhaust with non-functioning Ractive chrome tip body mods. And with a 2-litre aluminium-alloy DOHC F20C1 inline-four engine with a Comptech supercharger, the S2000 could reach a max speed of 160 mph (257 km/h).
Without a doubt, it's one of the best cars in the Fast and the Furious saga.
1. 1999 Nissan Skyline GT-R R34 – 2 Fast 2 Furious (2003)
It should come as no surprise that first, Brian had the best car in the Fast and the Furious series, and second, it was the car that had everyone wishing they owned a Skyline. With that said, we do get to see the 2002 model later in the franchise, but nothing beats this version of the car. It is also with this car that Brian beats Suki, Slap Jack and Orange Julius in the first race of the movie, which is hosted by Tej. However, after the car is impounded by the police following the race, we sadly do not get to see it again.
However, it does not change that it deserves the number one spot on this list as the most iconic car in the series. With House of Kolor Platinum Pearl body paint, the 2-door coupe sported JIC Magic shocks suspension mods and HRE 446 wheels. In addition, Sparco harnesses were added as speciality mods while we got an iconic C-West/Motorex/Sunline Racing body kit. With a 2.6L RB26DETT twin turbo l6 engine, the car can reach a maximum speed of 155 mph (249 km/h). And as a fun fact, while this model of the car may be imported to America and used as a show car, it is illegal to drive it on the road.
RELATED: Will Eva Mendes Return to Fast and the Furious?
What do you think are the best cars from the Fast and the Furious franchise?