Are you ready for an exhilarating ride into the world of Teenage Mutant Ninja Turtles? Playmates Toys has something special in store for diehard TMNT fans and newcomers alike. They are rolling out their new TMNT: Mutant Mayhem toy line that offers a diverse array of action figures, intricately designed vehicles, and so much more. Here are some of the best merch we've discovered.
RELATED: It's Turtle Time With These TMNT: Mutant Mayhem Sneakers
1. Basic TMNT: Mutant Mayhem Turtle Figures
These figures are sure to delight fans of the Teenage Mutant Ninja Turtles franchise, offering a thrilling chance to relive the action of the CGI Mutant Mayhem film and create new adventures of their own. Along with the Turtles (which come with baby Turtle versions of all the characters), included in the lineup is the Splinter figure, standing at a height of 4 inches, meticulously crafted to resemble his movie counterpart. Another character featured in the collection is Super Fly, standing 4.25 inches tall and fashioned to match his movie character. The set includes his blaster, a weapons rack, and comes in the distinctive Mutant Mayhem packaging. The powerful Rocksteady is also ready to join the fray, along with Bebop. Both figures stand at 4.25 inches and are designed to resemble their movie characters. The articulation is great on all these figures and you'll be able to strike all the cool poses from the new TMNT movie.
2. Talking TMNT: Mutant Mayhem Turtle Figures
The talking Turtle figures boast a unique CGI look reminiscent of the new TMNT movie. Though they may lack paint detail, they make up for it with fun and expressive aesthetics. Leonardo stands out with an appearance most closely aligned with the classic Teenage Mutant Ninja Turtles.
RELATED: The New Pizza-Scented Xbox TMNT Xbox Controllers Are Gross
3. New Vehicles with Figures
Playmates has introduced new vehicles accompanied by a figure. The battle cycle includes a Raphael figure and evokes nostalgia with its resemblance to the old-school Playmates Ninja Turtle scooter, complete with a sidecar.
4. Party Wagon / Pizza Van
The new Party Wagon is the crown jewel of the collection. It combines two classic Playmates toys – the pizza thrower and the party wagon – and features an electronic pizza shooter capable of launching eight pizzas. This toy doubles as a carrying case for up to six or seven figures.
5. Kick Cycle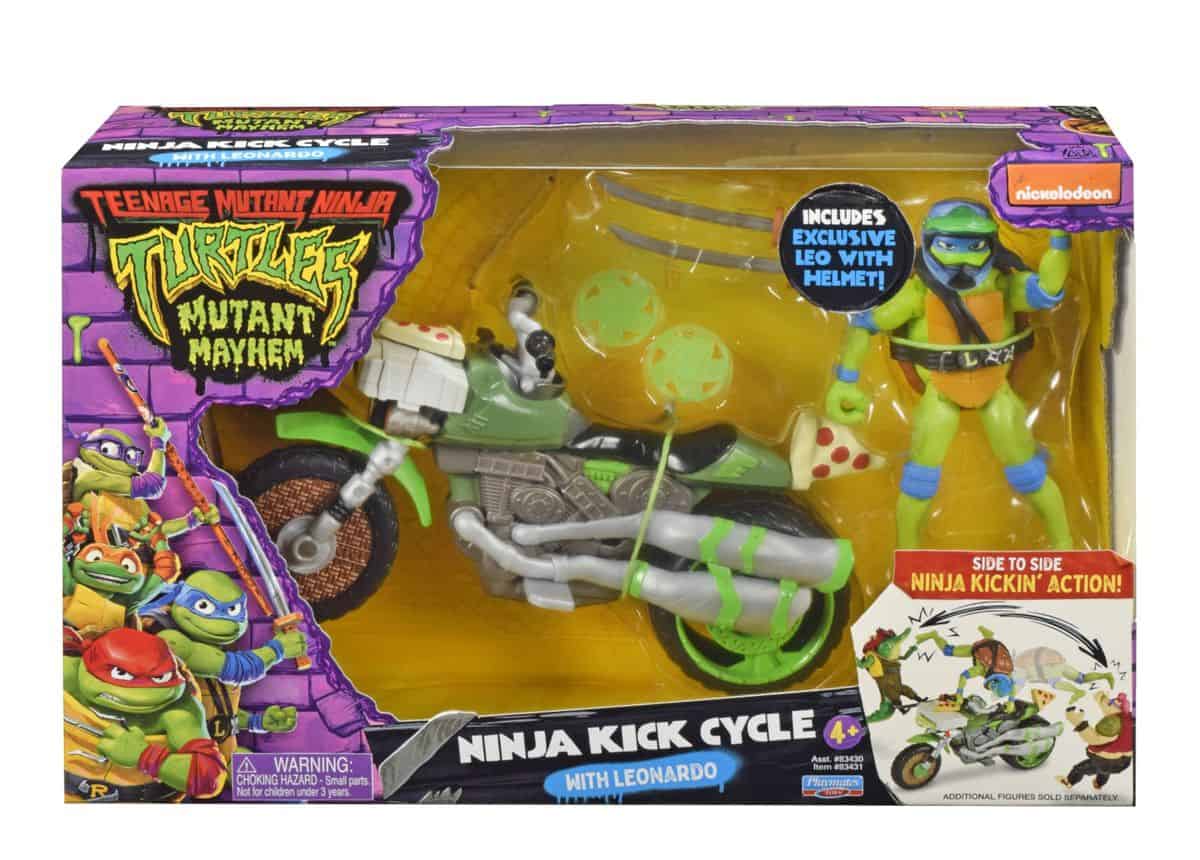 The Kick Cycle, another vehicle offering, comes with a Leonardo figure. Pushing the pizza on the back propels Leonardo into a kickflip action against mutants, adding an exciting and interactive element to the toy.
RELATED: These TMNT & Shredder Air Jordan 1 Sneakers Oozes Coolness
6. Sewer Lair Playset
The highly detailed sewer lair playset (with over 20 action-packed features) incorporates old-school elements. It includes a zip line, a porta-potty elevator, a barbell set for Raphael, an ooze sphere, a packet of slimy ooze, a weapons rack, a punching bag, a periscope, and train tracks. The cardboard back allows Michelangelo to flip and kick the doors out. Fans can expect more details about blacked-out features at the top, hinting at future reveals.
7. Role-Playing Items
The toy line also includes role-playing items, such as masks and push-button-activated TMNT weapons, reminiscent of those in the trailer vignettes. These items will surely captivate fans eager to relive the excitement of the classic series.
8. TMNT: Mutant Mayhem Turtle Skateboard
Presenting the official cruiser skateboard for Teenage Mutant Ninja Turtles: Mutant Mayhem. In a unique partnership with Paramount Pictures, this exclusive Mutant Mayhem skate deck showcases authentic movie artwork, featuring graffiti elements, for an edgy and captivating aesthetic. The top of the board is adorned with a turtle shell pattern that not only adds to the visual appeal but also serves a functional purpose, offering enhanced grip.
RELATED: TMNT: Who Is the Strongest Ninja Turtle?
9. Teenage Mutant Ninja Turtles Funko Pop Toys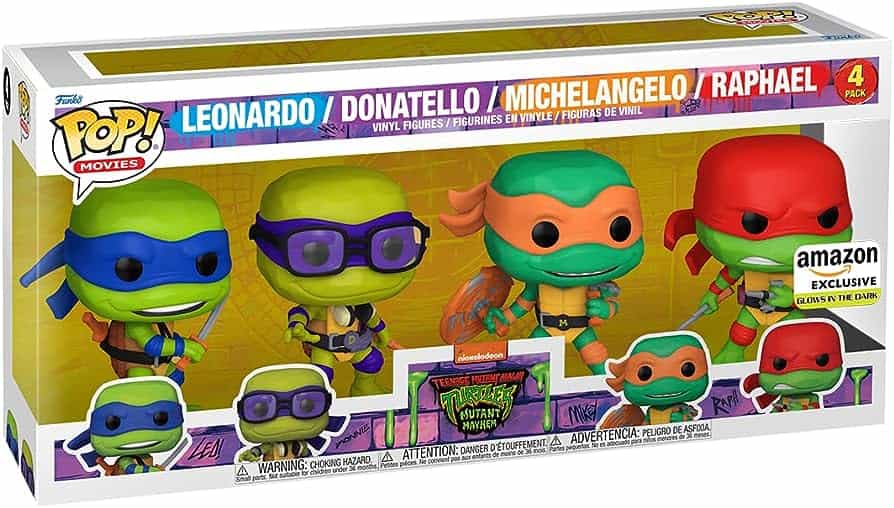 Add some turtle power to your Funko collection with the new TMNT: Mutant Mayhem Pop! Vinyl Figures. These figures are a great way to show off your love for pop culture. Each one is a stylized vinyl figurine that stands about 9.5cm tall. You can collect all of them for a complete set. They're available now in the Fan Vault.
10. Build-A-Bear TMNT Plush
Straight from the sewers come the Teenage Mutant Ninja Turtles, making their way to Build-A-Bear with new plush toys. The collection features all four turtles, complete with a standard weapon set and a pizza accessory. The plushes are all the same, but you can choose your favourite weapons and pizza accessories, giving TMNT fans a chance to create their own fun and cute adventures. Collectors of the Teenage Mutant Ninja Turtles will love this release, and the full collection is available now. It's time to say "Cowabunga!" and bring these ninjas home.