Update: Amazon has released a new full-length trailer for Chris Pratt's The Tomorrow War. Unlike the teaser, the new footage does a good job of selling the time-traveling conflict that drives the main plot of the film.
What the full trailer for The Tomorrow War below.
Amazon Prime Video is adding another action-packed blockbuster to its upcoming roster: The Tomorrow War, a sci-fi feature film starring Chris Pratt, Yvonne Strahovski, and J.K. Simmons. And the first teaser trailer looks promising!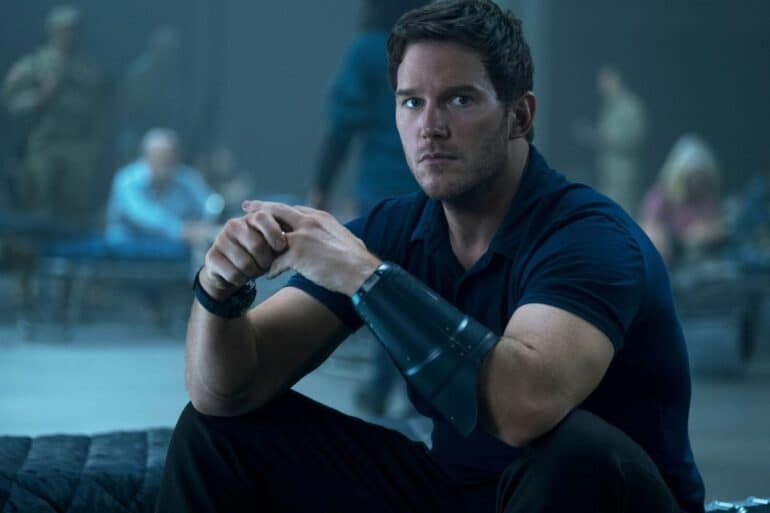 What is The Tomorrow War about?
The Jurassic World star will play Dan Forester, a high school teacher and family man who gets caught in the middle of an extraordinary situation when a group of time travellers from the future (2051) arrive in the present to reveal that Earth is losing in a war against an alien race. In order to defeat them, they've travelled to the past to recruit more soldiers. In order to save the world and provide a promising future for his daughter, Dan Forester signs up.
Watch the teaser trailer.
As you can see from the very brief teaser, there's quite a bit of action on a very large scale. Buildings blow up. Cities are destroyed. The team of good guys are fighting something supernatural.
Outside of the promise of cool sci-fi moments, there isn't much else shown. We don't see the threat. We don't see how this all played out. And we don't even see all the characters involved.
Yet, even still, it looks like something to keep an eye out for.
Tell me more.
The Tomorrow War drops on Amazon Prime Video on July 2, 2021, and is directed by Chris McKay (The LEGO Movie, DoLittle, The LEGO Batman Movie). The movie was sold by Paramount to Amazon, and there is no theatrical release planned.
The supporting cast includes Sam Richardson, Theo Von, Jasmine Matthews, Keith Powers, Mary Lynn Rajskub, Edwin Hodge, Mike Mitchell, Seychelle Gabriel, Alan Trong, newcomer Chibuikem Uche, and Alexis Louder.
The synopsis reads:
In The Tomorrow War, the world is stunned when a group of time travellers arrives from the year 2051 to deliver an urgent message: Thirty years in the future mankind is losing a global war against a deadly alien species. The only hope for survival is for soldiers and civilians from the present to be transported to the future and join the fight.

Among those recruited is high-school teacher and family man Dan Forester (Chris Pratt). Determined to save the world for his young daughter, Dan teams up with a brilliant scientist (Yvonne Strahovski) and his estranged father (J.K. Simmons) in a desperate quest to rewrite the fate of the planet.
What did you think of Chris Pratt's The Tomorrow War teaser trailer?