It's been 70 years since Charles M. Schulz published the very first Peanuts comic strip that launched a global franchise. Now, to celebrate this epic anniversary, Apple TV+ has released the first trailer and premiere date for its upcoming original series, The Snoopy Show.
Created in partnership with Peanuts and WildBrain, the series was originally announced back in 2018 and is set to reintroduce Charlie Brown and friends to a new generation of viewers.
The Snoopy Show will star the world's most famous beagle and his best friend Woodstock as they go on new adventures. Each episode will consist of three seven-minute cartoons based on the comic strip and features the unique animation style that Peanuts fans have loved for decades.
Snoopy may seem like just a happy-dancin', bone-lovin', doghouse-sittin' pup, but he's much more than that. He's Joe Cool: hippest kid in school. He's surfer king and famed arm-wrestler Masked Marvel. He's World War I Flying Ace who battles the Red Baron. All of his bold, beloved personas are on full display in this new animated comedy.
The trailer brings the whole Peanuts gang back together, including Charlie Brown, Lucy, Linus, Franklin, Schroeder, Peppermint Patty and others. The clip begins with Charlie Brown trying to train Snoopy to sit and shake, which the dog takes as a cue to set up a lawn chair and give Charlie Brown a milkshake. It also teases some of Snoopy's new adventures like a trip to the movies and more.
The Snoopy Show will debut on February 5, 2021, exclusively on Apple TV+.
The legendary Peanuts comic strip has been a huge part of pop culture since its inception in 1950. The strip ran until February 13, 2000, continuing in reruns afterwards. With 17,897 strips published, Peanuts is arguably the longest story ever told by one person.
The strip has been adapted into various movies and animated specials, including A Charlie Brown Christmas and A Charlie Brown Thanksgiving, which are staples of the holiday season.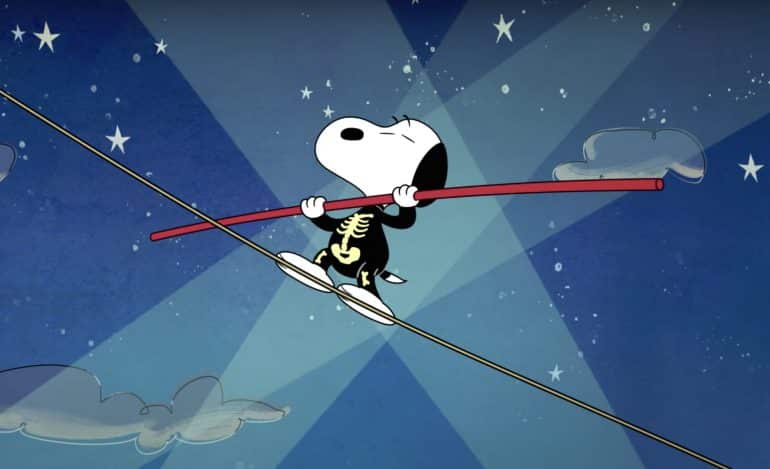 In 2015, The Peanuts Movie was released to coincide with the strip's 65th anniversary. The 3D animation used to create the characters, instead of the traditional hand-drawn style, ruffled a few feathers at first. But once the film was released, fans embraced it completely due to its faithful adherence to the spirit of Schulz's comic strip.
You can check out the very first Peanuts comic strip from October 2, 1950, below…
Today we celebrate the 70th anniversary of Peanuts with the very first comic strip from October 2, 1950. Here's to 70 more years with the Peanuts gang! ? #Peanuts70 #Snoopy70 pic.twitter.com/niJXtPkK54

— PEANUTS (@Snoopy) October 2, 2020