After the fatal and tragic events of 9/11, which no one could have expected, many movies and television series needed to be edited, and parts rewritten, to exclude any mention of terrorism and acts remotely similar to that tragic day. The 90s and early 2000s television show Friends was no exception, having one of the episodes of season 8 changed before airing.
RELATED: Friends: The Reunion Is Made For Die-Hard Fans
9/11 was a tragedy that rocked the world, with large parts of the event and the aftermath having been covered in the media and even televised. Of course, the tragedy hit no country harder than America, where the catastrophic event occurred. At the time, America was also seen as the seat of television, and American TV became the place for watchers worldwide to escape traumatic events. Hence, the media wanted no mention of anything insensitive to what had happened that day.
Friends
The series requires no introduction, but some might not know just how popular it was during the 90s and early 2000ss. Not only was it popular enough to run for 10 full seasons, but it dominated TV and was one of many shows that fans would tune into each week.
Almost 20 years after the last episode aired, Friends is still one of the most-watched series and was almost removed from Netflix, much to the horror of the many younger fans who still love the series.
As 9/11 took place, Friends was gearing up for the premiere of its eighth season. Few knew at the time that one of the episodes from the season needed to be altered for sensitivity around the aftermath of the event.
RELATED: Why Dexter's Laboratory Deserves a Live-Action TV Show
Friends Season 8 Episode 3 Changes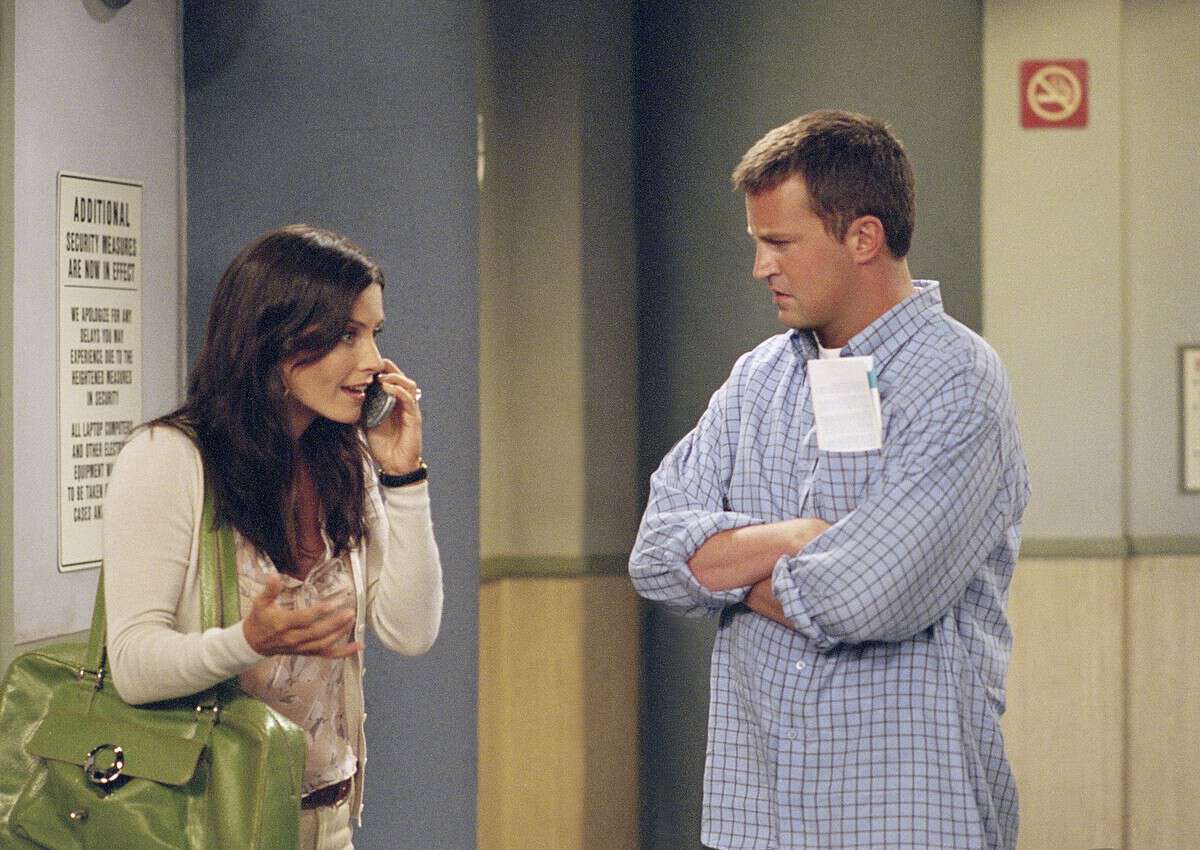 Any avid fan will remember that the finale of season 7 was memorable for many reasons, including that Monica and Chandler had just gotten married. Rachel found out she was pregnant but decided to keep it a secret for now.
When Season 8 rolled around, fans were waiting with bated breath to find out when everyone else, and the father of the child, Ross, would find out about the baby, and that happened in Season 8 Episode 3, aptly titled "The One Where Rachel Tells…"
The main arc of the episode, of course, dealt with Rachel finally admitting to Ross that she is pregnant with her baby. As with many shows, that wasn't the only arc of the story being played out in the episode, as Monica and Chandler were also followed throughout their honeymoon.
RELATED: The 25 Best TV Shows to Binge-Watch When You're Bored
In this episode, Chandlery and Monica are in the airport, getting ready to depart for their honeymoon. There, they see a sign that states, "Federal law prohibits any joking regarding aircraft hijacking or bombing," and Chandler, being the snappy and sarcastic character that he is, cleverly jokes with the attendant, "You don't have to worry about me, ma'am, I take my bombs very seriously."
Of course, this results in the two of them being detained and interrogated, where they have to explain that they are joking. Just as they leave their detainment and are cleared, Joey and Phoebe call Monica.
Joey and Phoebe have broken into Monica and Chandler's apartment and ended up breaking their door because they don't have a key. To cover their tracks, they tell Monica they smelled gas coming from their apartment and ask her if they should break the door down since they don't have a key to ensure everything is okay.
Monica, being her pragmatic character, tells them to do that and ensure that everything is fine. Despite how well-received this episode was and how perfectly it fit the rest of the season, that was a different plan.
In the original version of the episode, instead of telling Phoebe and Joey that they should go in and check, Monica takes a page out of Chandler's book and sarcastically responds with, "No, I want you to stand there and wait for the entire place to blow up."
RELATED: Top 10 Most-Torrented TV Shows of 2018
Still within the airport, where joking about bombs is a federal offence, the two newlyweds are instantly detained, ending the episode. While this might be considered primarily harmless more than 20 years later, it was considered too insensitive to air at the time.
Although it was a small change, many appreciated that the show decided to be sensitive regarding 9/11 and that the original scene is still available for viewing, even though many are still healing from the tragedy.
RELATED: How Days of Our Lives Had The Last Great Exorcist Story
Do you think that Friends made enough of a change to their episode, or should they have done more?