After Shazam! made his big-screen debut in 2019, fans were eager to see more of Billy Batson's adventures.
Based on the comics by Bill Parker and C.C. Beck, the story follows Billy Batson, a teenager who gains the ability to turn into the adult superhero Shazam!. Batson transforms by saying the phrase, "Shazam" which is an acronym of the ancient world gods and historical figures Solomon, Hercules, Atlas, Zeus, Achilles and Mercury.
Due to the film's popularity and box office success, Warner Bros announced a sequel with screenwriter Henry Gayden and director David F. Sandberg set to return.
And like every other DC movie, Shazam! stars Zachary Levi, Asher Angel and Jack Dylan Grazer made an appearance at DC's FanDome to answer questions and give fans some information about the movie.
Unfortunately, there wasn't a whole lot to talk about, but they did reveal the official title. Shazam 2 will be called Shazam! Fury of the Gods, which implies that we'll get to know more about the six gods who bestowed their powers on Billy Batson.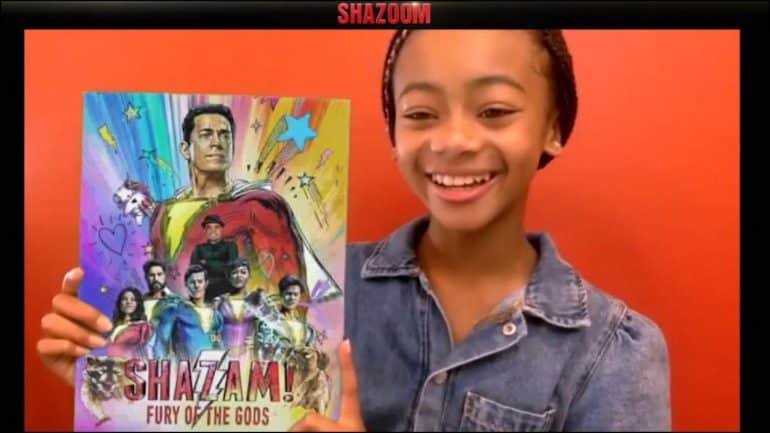 During the rest of the brief panel, Levi scanned a list of fan questions that he couldn't answer. This included questions about possible cameo appearances by other DC characters, and whether Talky Tawny (the talking tiger from the comics) will be added to the sequel.
While a mid-credits scene from the first film hinted that longtime Shazam! villain, Mister Mind would play a role in the second movie, that wasn't confirmed either.
Additionally, comedian Sinbad stopped by the panel to poke fun at people's tendency to confuse Shazam! with 1996's Kazaam. He also seemed to tease an actual role in Fury of the Gods, but we're not really sure if he was serious.
Shazam! Fury of the Gods is currently scheduled to hit theatres on November 4, 2022.