Samsung Electronics has announced the launch of The Sero – the world's first mobile-friendly television.
The Sero is defined as the first TV to champion content viewing by effectively engaging with social media users.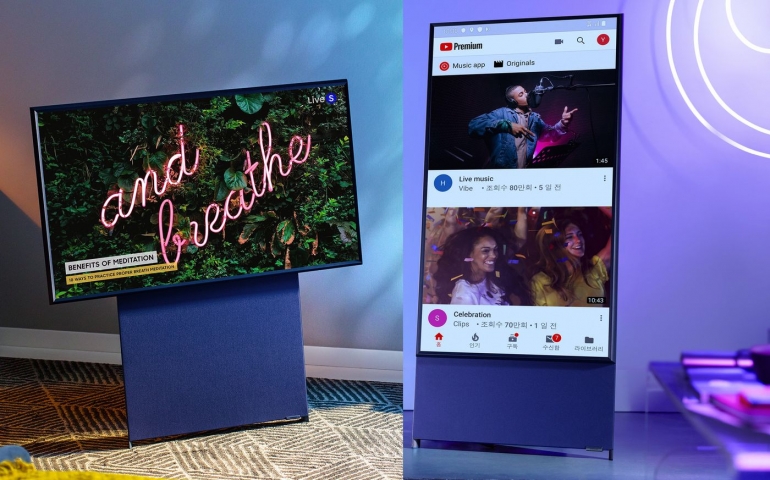 The 43-inch quantum dot television seamlessly mirrors a mobile screen, rotating 90 degrees so users can watch smart-phone content in landscape or portrait mode. The screen can be rotated by remote control, voice command or through the SmartThings app.
This new, innovatively designed Lifestyle TV includes Samsung's industry leading QLED technology, and has been expertly engineered to enhance the viewing experience.
The mobile-friendly TV delivers 100% color volume, with over a billion colors and shades for a truly cinematic experience. It also uses AI to upgrade content to 4K resolution, allowing users to stream their favorite content in intricate detail, no matter the source.
The TV also features a multi-channel speaker which is equipped with 60W, 4.1ch front-firing speakers, delivering incredible sound for an exceptional audio experience.
And when screen time is over, it doesn't just turn off. Portrait Mode lets you choose from over fifty vertical backgrounds to enhance your home, while Ambient Mode+ allows you to display useful information or blend the television into its surroundings. The big blank screen is a thing of the past.
Speaking about the The Sero, Director of Samsung Electronics UK Ltd, Dan Hastings said…
"We are exceptionally proud to launch The Sero to the market. It is an industry-first and so we are able to capture the demand of smart-phone and social media users by bringing an innovation that can display any content imaginable. With people now using their TVs in different ways than ever before, whether scrolling through social media, watching the latest viral videos or catching up on TV, The Sero is able to seamlessly adapt to enhance whatever content the user is watching, bringing a more bespoke and optimised experience."
Samsung says The Sero is available globally (for the most part) from select retailers and its new online store.