Dwayne "The Rock" Johnson is bringing smiles to thousands of kids in children's hospitals. The actor and former wrestler is donating a bunch of the highly coveted Xbox Series X consoles to medical centres across the United States.
Johnson teamed up with Microsoft and Gamers Outreach to debut the custom-designed, one-of-a-kind "Rock Xbox Series X" consoles, on Monday. They aim of the initiative is to bring a little joy to children who cannot leave their hospital rooms.
Each custom console bears Johnson's Brahma Bull logo, his autograph and a special engraved message of hope and goodwill which reads…
"Keep smiling and have fun. Love Dwayne "The Rock" Johnson."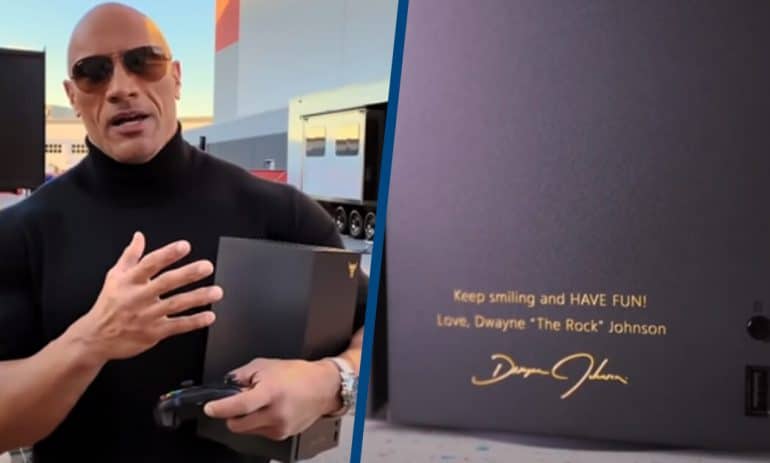 The actor, who also partnered with Bill Gates to debut the very first Xbox console, took to social media to announce the news.
"Twenty years ago my buddy Bill Gates and I debuted the very first-ever Xbox console to the world. Now two decades later, I'm partnering up with Microsoft once again to launch their brand new Xbox Series X to the world."
"But the best part about this partnership is I have the absolute privilege to deliver one of a kind "Rock Xbox Series X" consoles to 20 different children's hospitals that will eventually reach over 50,000 kids!"
"These kids are battling through their illnesses with incredible bravery and I'm thrilled Microsoft, Gamers Outreach and myself can provide some joy and smiles. You kids show me and the world, what real strength means. Stay strong & Keep smiling."
"…and stuff like this will always be the best part of my fame."
The special consoles are accompanied by customized Xbox wireless controllers with a matching gold Brahma Bull and will be featured on the portable Gamers Outreach Karts outfitting the hospitals. The GO Karts are portable interactive entertainment kiosks built to provide recreation to children who are unable to leave their hospital rooms due to the severity of their illness.