You read that right, folks. The Queen loves Flash Gordon – and she watches it with her grandchildren every Christmas.
According to Brian Blessed, who played Prince Vultan in the 1980's film, she even had her people arrange for him to do his Flash Gordon catchphrase in person.
The 83-year-old actor made the revelation in an interview with Yahoo Movies UK as part of the film's 40th-anniversary celebration. Blessed also explained how people from all walks of life ask him to say his character's iconic catchphrase when they meet him in person.
"Everywhere I go they all want me to say, Gordon's alive! The butcher, the baker, the candlestick maker, horses and queens, and Prime Ministers, they all want me to say Gordon's alive! It's their favourite film."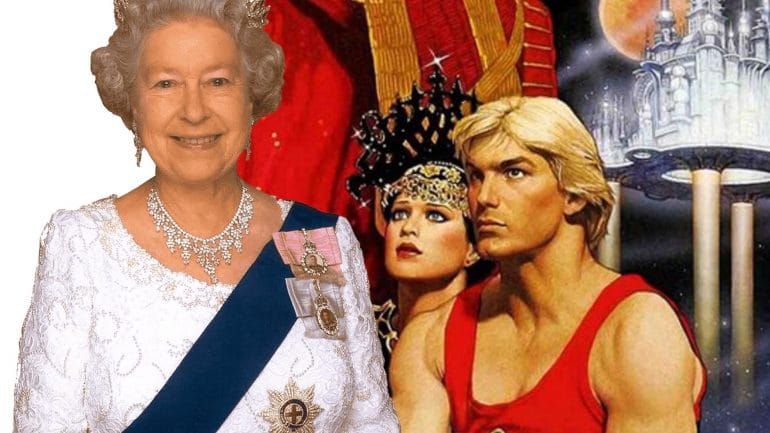 Blessed went on to tell the story of how Her Majesty asked him to say his catchphrase for her family.
"You know, we watch Flash Gordon all the time, me and the grandchildren. And if you don't mind, I've got the grandchildren here, would you mind saying Gordon's alive?"
Although Flash Gordon has largely faded from pop culture, it was a huge success in the UK upon release. And the space opera remains a cult classic with a huge fan following.
Created by Alex Raymond for the King Features comic strip of the same name, Flash Gordon follows the story of a football player and his friends who travel to the planet Mongo. There they find themselves fighting the tyranny of Ming the Merciless to save Earth.
While previous reports have stated that the Queen's favourite movie is Shirley Valentine, it's much cooler to imagine Her Majesty rounding up the grandchildren for an annual festive viewing of Flash Gordon.
You can check out the Flash Gordon 40th Anniversary interview with Brian Blessed and Sam J Jones below…