Ask any Fallout fan which games in the franchise are their favourite and many will reply either the original or Fallout: New Vegas. There is just something magical about those two games that developer Bethesda has struggled to include in their recent Fallout games, and in some cases, they have completely moved away from what makes a Fallout game good (I'm looking at you Fallout 76). Contrary to what many may believe it's not the post-apocalyptic setting or even Fallout boy himself that made those two games in the series so memorable, it was the well written and funny, yet surprisingly dark dialogue and the clever implementation of the game's RPG systems that made those games stand out among their peers.
Now, it's no secret that there has been a lot of comparisons drawn between Bethesda's Fallout games and developer Obsidian's new IP The Outer Worlds. A lot has to do with the fact that the developer made Fallout: New Vegas and that many of the people who worked on the original Fallout were now working at the developer. So, is Outer Worlds just Fallout in space or is it something completely different?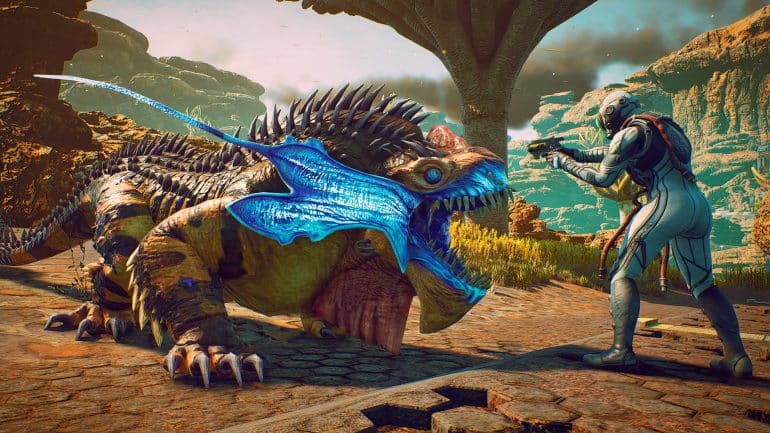 It's immediately clear from the get-go that The Outer Worlds takes the concept of the 'hero who has to save the world' and ejects it into the deep vacuum of space. In the game, you are just another nobody among thousands of frozen colonists aboard a ship which never reached its destination. This is where the game's character creation kicks in. Now, although it doesn't give you unlimited freedom in how your character can look there is more than enough here to make you stand out from the crowd. Where the character creator does shine is when it comes to deciding what stats and background your character has. Whether you want to be a smooth-talking gunslinger or an idiot who believes in using his fists to solve his problems, or anything in-between the game allows you to tailor your character's personality in any way you see fit.
It's immediately clear from the get-go that The Outer Worlds takes the concept of the 'hero who has to save the world'
After you have created your character you are awakened by a very eccentric scientist who tasks you with taking on the all-powerful board. You see, the whole of the Halcyon system is controlled, owned and run by a board of corporations. Their presence is felt almost everywhere from the way in which they control whole colonies to the way colonists half-heartedly recite their slogans when beginning a conversation with you. It's all quite a bleak. Corporate capitalism seeps into every aspect of The Outer Worlds, it's a unique take on a sci-fi universe and one that becomes an all too realistic parody of where we find ourselves today.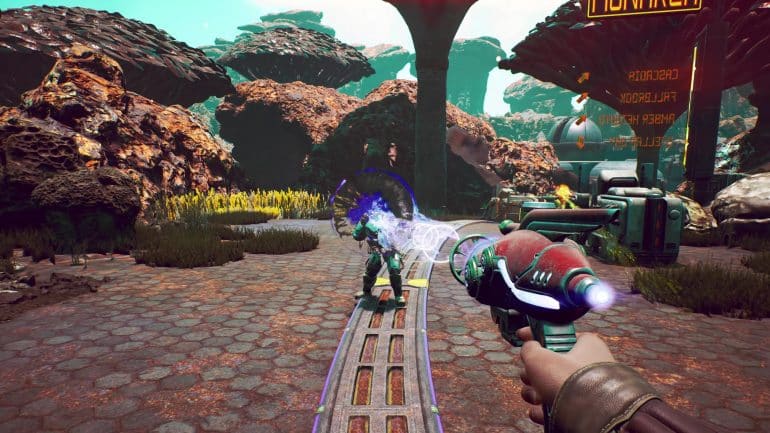 On your journey, you will be exploring everything from wild half-terraformed planets to sprawling neon-drenched outposts. Each planet and environment, while not as large and open as those found in the more recent Fallout games, feel wholly unique and are littered with quests and areas to explore. These smaller more self-contained areas help keep the game more focused and will be less overwhelming to those who have found themselves feeling lost in the huge open worlds of late. As you'd expect from the team behind the original Fallout the game is filled with all kinds of space miscreants, whether I loved them or loathed them all the NPC's that crossed my path were memorable. This is once again thanks to some great writing and voice acting (for the most part) which makes you become quite invested in even the smallest of tasks. None of the conversations I had ever felt drawn out or overly dramatic which has been a problem in many RPG's.
As you'd expect from the team behind the original Fallout the game is filled with all kinds of space miscreants…
Luckily exploring the strange planets and cityscapes in The Outer Worlds doesn't need to be a lonely task as the game lets you take up to two companions (out of a total of six) with you on missions. Each companion not only serves as a way to pick up even more stuff, thanks to their ability to increase your carrying capacity but can also be quite handy during combat. Each companion feels fleshed out and I soon became attached to them wanting to complete their personal quests. Not because I wanted some more sweet XP but because I became invested in them, except Felix, he whines too much. Each companion has their own skill tree, although not as in-depth as your own, and you can equip them with armour, helmets and weapons to help increase their resilience during combat.
An added bonus is that whatever stats your companions have gets added to your own, meaning that if you lack a knack for engineering you might want a companion with a high engineering skill to tag along. This gave the decision of who joined me and who stayed on the ship even more weight. Companions also will chime in when they don't (or do) agree with your actions and will banter between each other which helps to make them feel like more than just walking carrying pack or weapons.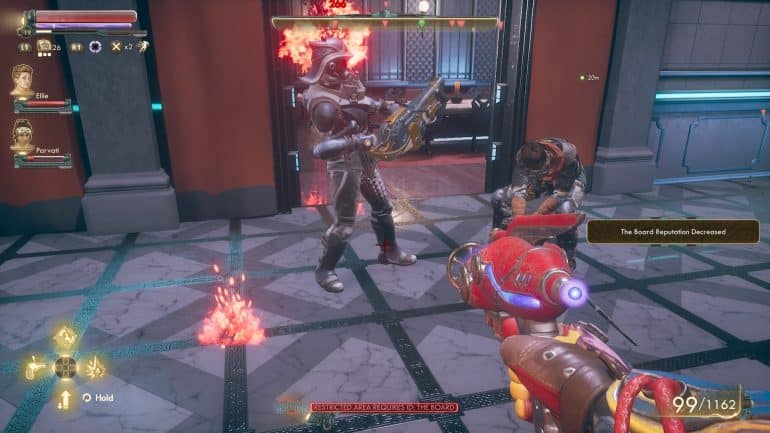 Combat plays out pretty much as you'd expect. You have access to various ranged and melee weapons which you can use to take on those that stand in your way. The game's TTD (Tactical Time Dilation), a welcome side effect of being frozen in hibernation for so long is a handy tool in combat as it basically lets you slow downtime so that you can asses your surrounding or target weak points on enemies. Combat also includes blocks and parries which makes it more involved than most first-person RPG's out there. It's not on the level of say COD, but it's surprisingly fast-paced and fluid. If combat isn't your cup of space tea the game actually offers various other avenues for completing the game's various quests. Whether it be talking your way out of a situation, sneaking around or hacking into various terminals there is always more than one way to complete an objective.
Visually, The Outer Worlds is a bit hit and miss.
Visually, The Outer Worlds is a bit hit and miss. It definitely looks far better than the more recent Fallout 4 and has fewer bugs but It's not the best-looking game out there, although there were moments when the game did surprise me, and I had to stop and take in my surrounding. I also did experience my fair share of texture pop-in but nothing that spoiled the experience for me.
For those who find the game's difficulty modes a bit of a cakewalk (which can be the case), the game offers a Supernova difficulty which ups the enemies damage and health, introduces survival mechanics like sleeping eating and staying hydrated and of course restricts saving.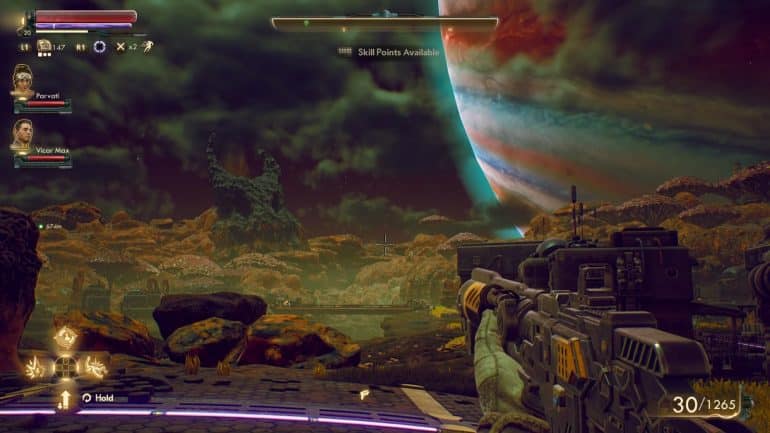 The Outer Worlds is a wonderfully written first-person RPG that had me invested in its weird capitalistic world from the get-go. It's a game that harkens back to some of the older RPG mechanics we've been missing in more recent titles and instead of focusing on huge open worlds, new-fangled mechanics and over the top visuals, The Outer Worlds offer a more streamline and more nuanced experience that will have you invested in your rag-tag band of would-be heroes in no time. In the end, it's a game which proves that getting back to the essence of what made certain franchises so popular, to begin with, is what gamers are craving. Well, done Obsidian Entertainment what you have created is something special.
https://youtu.be/JKoKRAis-0g
The Review
The Outer Worlds
The Outer Worlds is a game that harkens back to a time when witty writing and meaningful choices were more important than huge open worlds. It's a game all fans of deep RPGs should play.
PROS
Witty (and sometimes dark) writing.
Your companions.
Loads to see and do without becoming overwhelmed.
Review Breakdown
Storyline

0%

Gameplay

0%

Graphics

0%

Replay Value

0%

Sound and Music

0%