Obi-Wan Kenobi notoriously once said that the truths we cling to depend greatly on our own point of view. At the time, he used it as justification for his own twisting of the facts… but, of course, he was still right: the truth, and what we believe in, is rarely a matter of absolutes. In The Mandalorian season 2 episode 7, The Believer, Din Djarin continues his personal quest by learning this same lesson the hard way.
That may make this sound like a dull, albeit very personal, episode… but it isn't. In fact, the character growth on display never overwhelms how damn entertaining it is.
The Child, Grogu, has been kidnapped; the Mandalorian's ship, the Razor Crest, has been obliterated; and Moff Gideon, the man who kidnapped Grogu, cannot be found. Now is the time for Din Djarin, the Mandalorian, to call on his friends and companions to aid him in his quest to find the child. But in order to track down Moff Gideon, he must also call on the assistance of former Imperial sharpshooter Migs Mayfeld – a man the Mandalorian knows he cannot trust, and who he recently betrayed.
Once assembled, the Mandalorian and his team head to the planet Morak to infiltrate a refinery, hoping to get the information they need. When Din Djarin goes undercover with Mayfeld, transporting dangerous cargo for the Empire and fighting off local pirates, he witnesses firsthand the effects of the Empire and the New Republic on the galaxy. Substituting his Mandalorian helmet for an Imperial one, he's again forced to question the nature of what he truly believes in…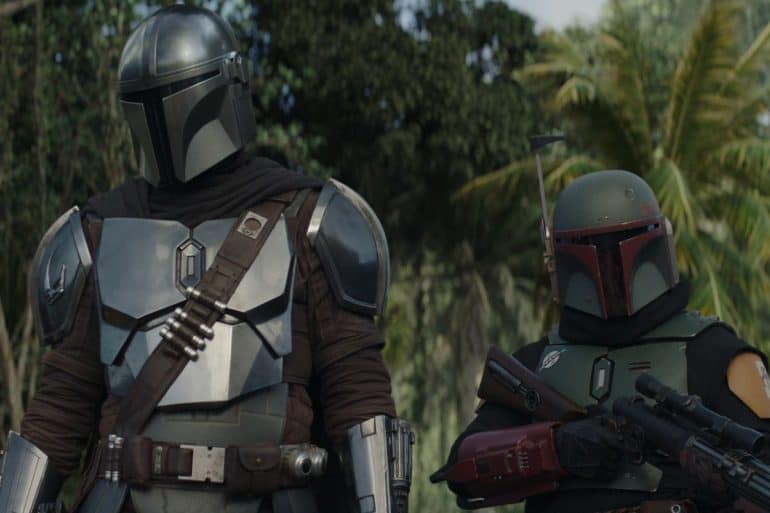 While the return of Bill Burr's shady Migs Mayfeld may not have been a high priority for some, his playful nature is enough to lend Mando's fearsome foursome a much-needed Suicide Squad-style element of comedy. It's also what makes him a perfectly contrasting mouthpiece to explain to Mando some of the harsh realities of Empire vs. Rebellion, and the casualties of war. It's something so often overlooked in the films but that's been necessary. Mayfeld's comments about Mando's evolving worldview are striking here, and are driven home by some of the most impactful moments of the episode.
It's these moments that make The Mandalorian season 2 episode 7: The Believer truly special, both for the characters involved and the Star Wars galaxy as a whole. Fans have matured enough over the years to view figures like Darth Vader – and the Empire itself – as more than just the stock villains the original films portrayed them as. It's good to see the franchise keeping step with the fans on that score, acknowledging all those moral grey areas while still clearly highlighting true evil. Sometimes the messages are subtle, sometimes there are blatant messages about the abuse of power, and all of them work.
Echoing all of this development is one of Pedro Pascal's best performances as Din Djarin yet. Once again speaking volumes through body language or a simple expression, he says just as much with measured silence as he does with a line or two of dialogue. Meanwhile, Cara Dune does what she does best by simply being an intimidating presence; Ming-Na Wen seems to be truly at home as Fennec Shand, poised for action and quick with a sly smile; as for Temuera Morrison's Boba Fett, he's cooler than anyone could have imagined and every second he's on screen is a joy.
Of course, if you're not interested in the characters, their growth or the evolving nature of personal beliefs then none of that will mean anything to you.
Thankfully, if all you care about is the action, there's also a heist, an exciting car chase, lots of shooting and explosions, and even a revenge story. Because, after all, it's a rip-roaring Star Wars adventure too and never loses sight of that. There's plenty of fun to be had with this episode, and it plays out like a condensed version of all the best bits of Solo and Rogue One with all the boring bits removed.
For those intent on picking fault, the plotting method of each episode being little more than a stepping stone to the next one is still on show. That criticism is perfectly justified too; it's certainly true that each episode's self-contained adventure can feel like just another in a never-ending series of fetch-quests. However, with so much action, adventure, character growth and sheer entertainment, who cares? This show's apparent lighter touch can be misleading, but don't be fooled into thinking the show isn't progressing.
Episode 7 of The Mandalorian season 2, The Believer, is a really great, and it has a solid message behind it too. Timely and as thought-provoking as it is fun, it's got something for almost any fan. Simply put, Star Wars rarely gets any better than this.
The Review
The Mandalorian Season 2 Episode 7: The Believer
A fascinating, action-packed episode.