After the Razor Crest's harrowing journey, the Mandalorian and his passengers finally arrive on Trask. While his ship undergoes urgent repairs, he continues his quest to locate other Mandalorians who can lead him to the Jedi and a safe haven for the Child. Answers come easily… almost too easily. And little does the Mandalorian know, but he's being observed.
Discovering treachery on the high seas, he encounters more of his people; yet they're unlike any Mandalorians he has ever met before, leaving him confused. While they're led by a legendary hero, he finds it hard to trust them as they undertake a perilous mission against a squad of former Imperial soldiers.
With the Mandalorian learning more about the culture which gave him sanctuary, old enemies resurface and he finds himself caught in the middle of a private war.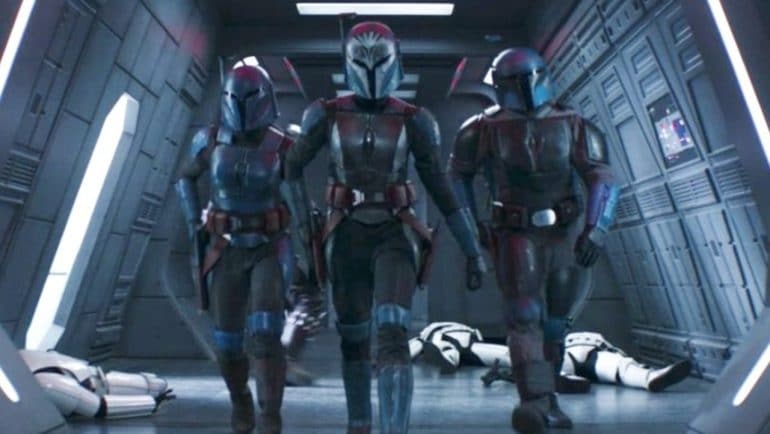 After the episodic misfire that was The Passenger, The Mandalorian delivers a satisfying, fast-paced tale that could possibly be the most pivotal episode so far. Or, if you're not too bothered about the lore of the Star Wars universe and haven't absorbed (and loved) every millisecond of every movie, cartoon and TV show they've delivered, then it's probably just an above-average adventure.
Thankfully, odds are good that you'll get a kick out of this one. How much of a kick? Well, that depends on you.
This episode delivers on the early promise of the series in continuing to tell the story of the Mandalorians as a people – something built up over years in shows like The Clone Wars and Rebels. Not only that, but it does so by gifting the fans with the first live-action appearance of Bo-Katan Kryze, a character with quite a backstory that's similar to Mando's in some ways.
And yes, she's even played by Battlestar Galactica's Katee Sackhoff (who also voiced her in the cartoons), which is exactly as it should be. It really is the way.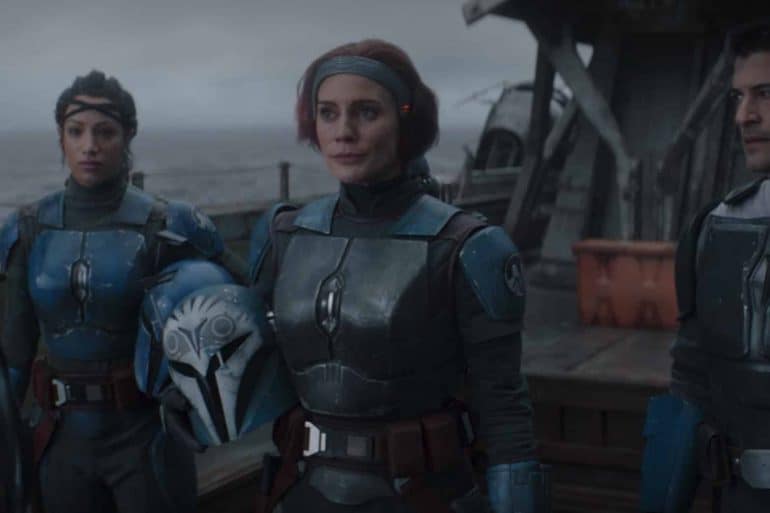 This all opens up some major plotlines for The Mandalorian as a show, linking multiple elements from others and building on their solid foundation while moving forward, as well as teasing some major potential character developments for our mostly-masked hero.
What this episode may lack in length – it clocks in at barely half an hour – it makes up for in substance without making it obvious as to how much of a game-changer it could be. It doesn't hurt that the episode barrels along, delivering some glorious action set-pieces and a few dry quips for good measure.
Of course, none of this may mean a damn thing. Yes, it's likely that Bo-Katan's quest to reclaim the Darksaber from Moff Gideon may be pivotal; but it's also possible that plenty of viewers won't be aware of that. And that's a problem.
Those who may not be familiar with her character (or the intricate history of the Star Wars universe that this is dovetailing in to) are likely just to view this as a fun adventure of Mando featuring some less uptight other Mandalorians. And while that's exactly what it is too, the episode suffers for not taking the time to explain things better. At least it raises enough intrigue to progress the bigger picture of the show itself in a self-contained way, even if it doesn't fill in all the blanks.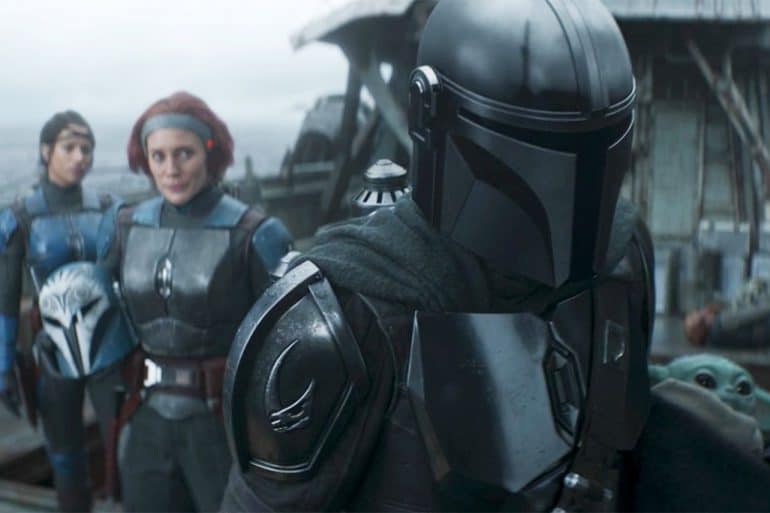 Katee Sackhoff turns in a great performance as expected, truly bringing Bo-Katan to life and, hopefully, she'll return very, very soon – and often. Meanwhile, WWE's Sasha Banks/Mercedes Varnado offers solid backup, doing a good job with the little she's given, while Titus Welliver makes an attention-grabbing meal of his appearance as an Imperial Captain.
As for the usual scene-stealing Baby Yoda, it gets back on track thanks to some touching moments. It's almost as if the fan backlash from the previous episode was expected and they course-corrected ahead of time… raising the question of whether it was planned like this. It may be some time before we completely trust the Child again, although it's clear it's learning the value of life.
Looking better and more polished than any half-hour show has a right to, this is a pivotal episode that fans need to see. It may not be perfect and there's plenty of reason to feel short-changed by the brief experience, but it's also exactly what this show needed and offers plenty to enjoy. In fact, this could be the best episode so far.
Although, as Obi-Wan would say, it all depends on your point of view…