42 is the (incorrect) answer to the ultimate question of life, the universe and everything. It's also how many years ago that the original Star Wars Holiday Special, which The LEGO Star Wars Holiday Special pays homage to, appeared.
It was an embarrassment, a laughably bad drug trip of a show, a piece of cinematic garbage so awful that it aired just the once before being buried, never to officially be seen again. It was a laughing stock which earned the ire of fans, reviewers, cast and crew alike. Even George Lucas stated that, if possible, he would personally track down and destroy every copy of it with a hammer.
Naturally, its awfulness also earned it cult status amongst Star Wars fans over the years.
So now, on its 42nd anniversary, there's a LEGO Star Wars Holiday Special to remind us that Life Day is still a thing. And you know what? It's actually pretty good.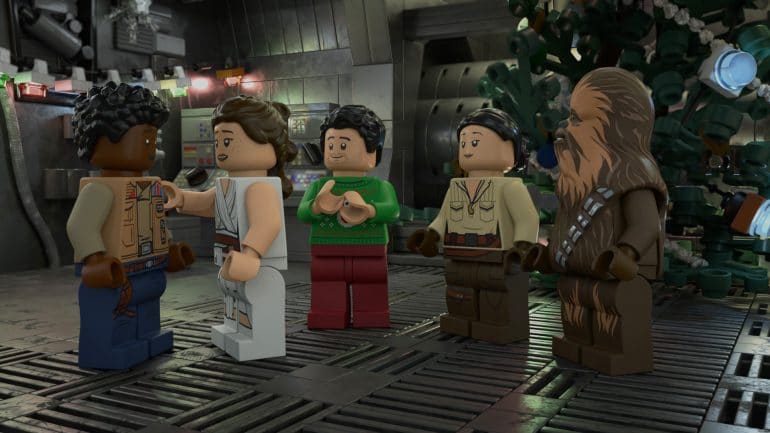 The First Order has fallen and peace has been restored to the galaxy once again. On the Wookiee homeworld of Kashyyyk, Rey continues to train Finn in the ways of the Jedi. But as their friends prepare to celebrate the holiday of Life Day, Rey fears that she's failing as a teacher. Consulting the ancient texts, she embarks on a new quest to find a mysterious Jedi temple and discover a force unlike anything she's seen before.
Unlocking a portal across time and space, Rey is transported to some of the most pivotal moments in history: Anakin's pod race, his battle against Obi-Wan, Luke Skywalker's training on Dagobah, the attack on the first Death Star and more. As events and battles overlap in increasingly impossible ways, Rey must battle the Emperor to save the past, present and future of the galaxy. Will she succeed? Will the Emperor actually like the Life Day gift that Darth Vader bought him? And will Poe Dameron's roast tip-yip be on the menu?
Of course, being a LEGO Star Wars special means that it moves at a manic pace, with the story and jokes flying by quickly. Every character's trademarks and traits are magnified, like Young Luke's obsession with blue milk, Rey being a terminally-frustrated knowitall, Darth Vader just wanting to be appreciated, and Kylo Ren… well, being Kylo Ren. Wait, and the story? Uh, sure, there's one here. But that isn't important.
This short feature never takes itself too seriously, yet still manages to honour the source material; sometimes it's by recreating scenes from all corners of the franchise – yes, even Baby Yoda and the Mandalorian get a look in – and other times through knowing winks at the convoluted personal relationships between the characters. And while The LEGO Star Wars Holiday Special may appear to be aimed at a younger market, it's clearly going to be more appreciated by all the fans who know the lore inside and out because it gets so many little things right.
Honestly, Han debates about shooting first and they make a Maclunkey joke. In other words, they know what to poke fun at.
To add to the joys of The LEGO Star Wars Holiday Special, a couple of actual Star Wars actors voice their characters once again, with Billy Dee Williams as Lando, Kelly Marie Tran as Rose and Anthony Daniels as C-3PO. It's an entertaining little romp, and while the rapid slapstick may not get you emotionally invested it still manages to redeem the concept of a Star Wars Holiday Special on the whole.
So what's the problem?
Firstly, for all the little nods to the original Holiday Special, there also aren't enough of them. We barely get to see Chewbacca's family or their home on Kashyyyk, there's a lack of red robes and glowing orbs, and nobody – nobody! – sings the Life Day song. There are no cooking lesson throwbacks, no kinky VR sessions, and no Boba Fett bit halfway through. Yes, the story and the jokes are good, but those would have been nice to see too. It's better this way, sure, but almost too much so. A little forced badness would have gone a long way.
Secondly, there's the advent calendar.
For those who don't know, every year LEGO releases a Star Wars holiday advent calendar. They're usually overpriced (in my opinion), especially for what you get, but they're fun. This year's calendar just happens to be a Life Day Holiday Special edition, complete with Darth Vader and Poe Dameron in ugly sweaters. Oh, and young Luke, only without his blue milk for some reason. It's cute, and probably the nicest advent calendar they've released. However, it also makes you wonder if the calendar was designed to cash in on the popularity of this TV special… or if the special itself is really just an extended advert intended to sell more calendars.
It's hard to truly criticise LEGO and Disney for cashing in with this cross-promotion; after all, this isn't the first Star Wars production to have a toyetic nature to it. Still, it can make you feel like you're being manipulated in some way when you think about it.
So let's get back to the show.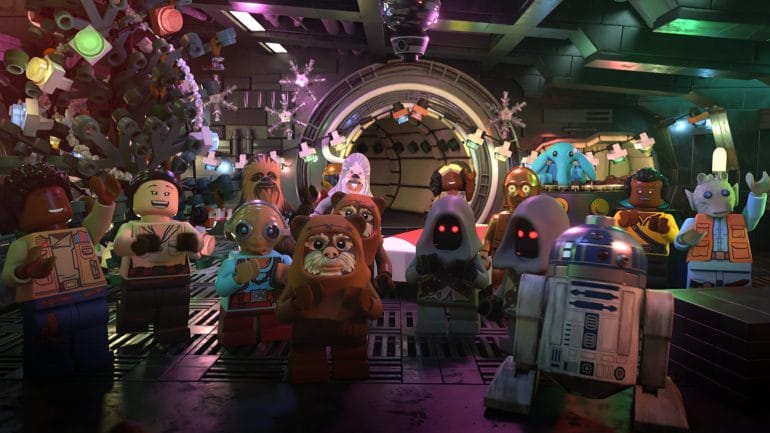 Ultimately, The LEGO Star Wars Holiday Special is a lighthearted, frenetic romp through the Star Wars universe which should appeal to many fans. Regardless of whatever trilogy is your favourite, you'll find a familiar moment which will raise a wry smile. It might have benefitted from a few more serious moments, by slowing down and taking the time to let the jokes sink in, and a few less juvenile gags. But it's worth a watch, and multiple rewatches to catch all the Easter eggs too.
This will never be the cult "classic" that the original Star Wars Holiday Special was. It's better. But whether that also makes it worse is up to you. But one thing's for sure: The LEGO Star Wars Holiday Special is absolutely Star Wars, and there's a reason to celebrate this Life Day!
The Review
The LEGO Star Wars Holiday Special
Manic Star Wars fun that may not be for everyone.