Okay, there's a lot to unpack in The League of Extraordinary Gentlemen Vol. IV: The Tempest.
The future isn't what it used to be.
The pressures of immortality continue to weigh upon the trio of Mina Murray, Emma Night and the omnisexual Orlando, and their pasts are about to catch up with them. Even though they've helped save existence from being destroyed by the wizarding world's Antichrist, the new head of MI5 – James Bond – vows to take revenge on them. Using the secrets of the League against them, he wages a private nuclear war against them and all they hold dear.
However, behind all the secrets and lies, a larger plan emerges as the scope of Prospero's influence is felt. Has all of this been predicted, or is the whole situation being constantly manipulated by forces greater than anyone can comprehend? Have the League been actual agents of change, or the puppets of history all along? What role does the former superhero team the Seven Stars have to play, and what role will Nemo's new heir play? Can Mina, Emma and Orlando save the day once more… or is it even meant to be saved at all?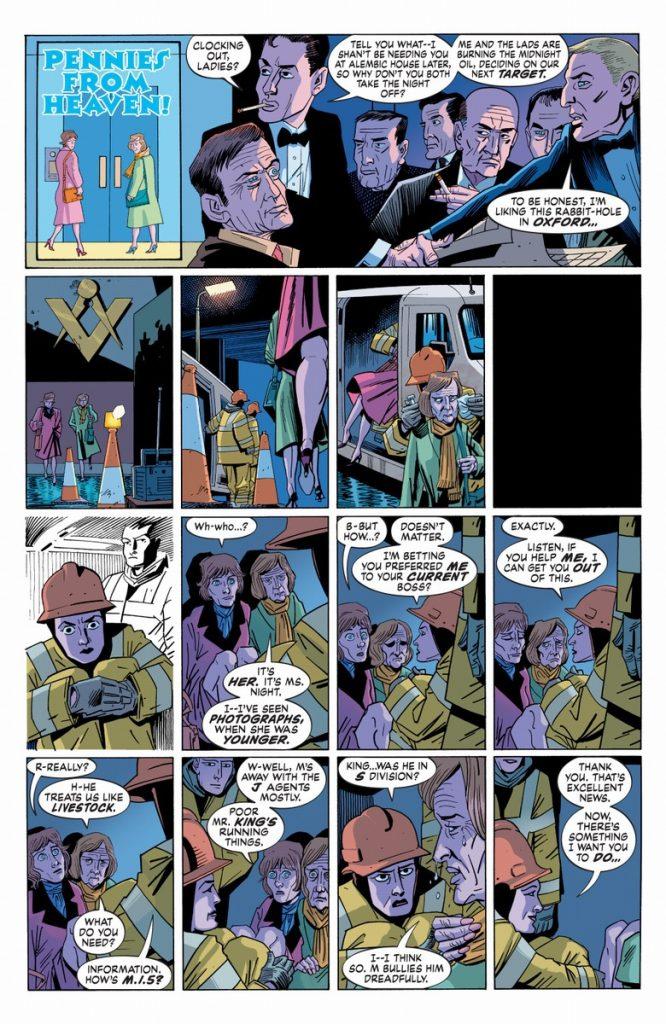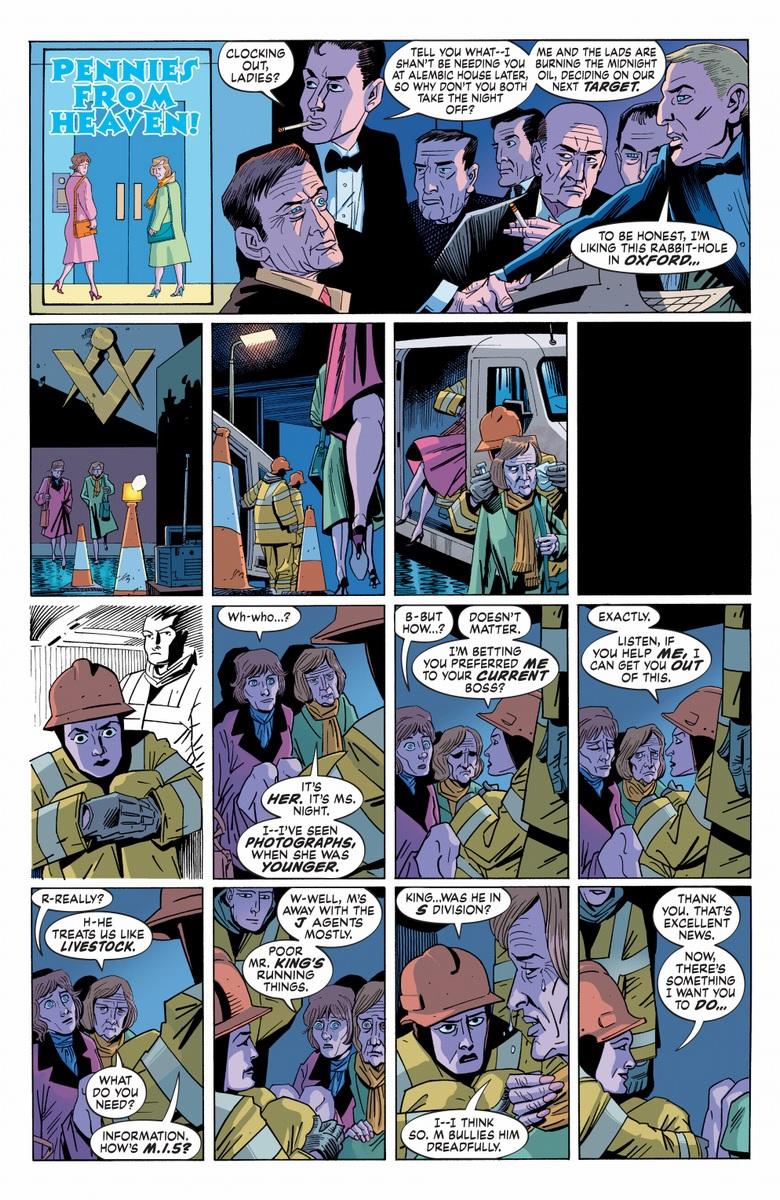 What we've got here is the final volume of the long-running League of Extraordinary Gentlemen, and it's a real doozy. It's fascinating, funny, thrilling and warped all in equal measures, and it's another incredible display of the talents of Alan Moore and Kevin O'Neill. But be warned, this isn't for the faint of heart.
In fact, for those who haven't followed this series at all… forget it. This has to be one of the least welcoming, most unforgiving titles ever for newcomers, who will doubtless be left baffled as to who the characters are and what any of this means.
To make matters even more confusing, the format style changes every few pages to mirror a variety of (primarily British) comics, from old Bond-style newspaper strips and Boy's Own annuals to silver age superheroes and slapstick weeklies, so it looks like a wildly varied anthology despite telling one continuous story (except for the Seven Stars segments).
Oh, and don't forget to put on your 3-D glasses every couple of pages, to get the most from the Blazing World.
So… good luck on this one, newcomers.
For the more experienced readers, however, this is something truly special. As usual, there's an astonishing patchwork of classic characters and tales from a multitude of genres and mediums across the centuries. It's a tapestry of complex, interweaved, multi-layered fictional universes that makes the MCU look Lilliputian by comparison. Every panel can be like a who's who, and each page can either be enjoyed for its surface-level thrills or pored over for ages by obsessives seeking every minute detail and hidden meaning. Meanwhile, the rapidly-shifting format changes are similar to Moore's novel Jerusalem, and are totally understandable.
There's so much being crammed in here that the primary characters of Mina, Orlando and Emma do occasionally seem more like witnesses to the proceedings rather than active participants, but there's a lot of truth to that too. Even with the plot rolling along, this is about learning to just look at things and events and accepting them, as well as your place amongst them. So for all the entertainment, this is also a very Zen experience. It's incredibly funny at times too, offering up a wicked brand of comedy that makes Century's PotterPoppins satire seem tame. Throw in Clangers, Daleks, and a reminder of that awkward time when Woody Allen played James Bond, and it's got something for everyone.
Basically, it's a wonderful way to bow out: not so much a swansong, but more like running a victory lap around the entire comic book industry, with both hands raised in rebellious triumph as it gives obscene hand gestures to the race organisers.
Because, after all, this isn't just the end of this remarkable series. No. It's the end for two genuine giants in the comic book industry: artist Kevin O'Neill and writer Alan Moore.
For those who don't know, Kevin O'Neill is the award-winning co-creator of 2000AD's groundbreaking Nemesis the Warlock, and has worked on everything from Judge Dredd to Green Lantern over the years. Oh, and just for the record, he's had some problems with censors at times and the industry hasn't always treated him as well as it should have.
Then there's writer Alan Moore, the man who redefined how comic book stories are told. Over the years he's conjured up tales and characters from Watchmen and V for Vendetta to John Constantine and Halo Jones. Also, just for the record, he too has had problems with censors. Aaaaaand the industry hasn't always treated him too well either. Actually, that's an understatement – it's treated him and his work like sh*t, simultaneously elevating them to legendary status while exploiting them and ruining their integrity.
Given that this is their last stand before retirement from the industry, it's understandable that they also use this League of Extraordinary Gentlemen volume as a platform to highlight the mistreatment of various comic creators over the years. For those who are unaware, it may prove an eye-opening experience; for those in the know, it should serve as a reminder of the high toll some creators pay. They also use this opportunity to make a few pointed digs at the companies dominating comics and the state of the industry as a whole, while lamenting the collapse of modern society.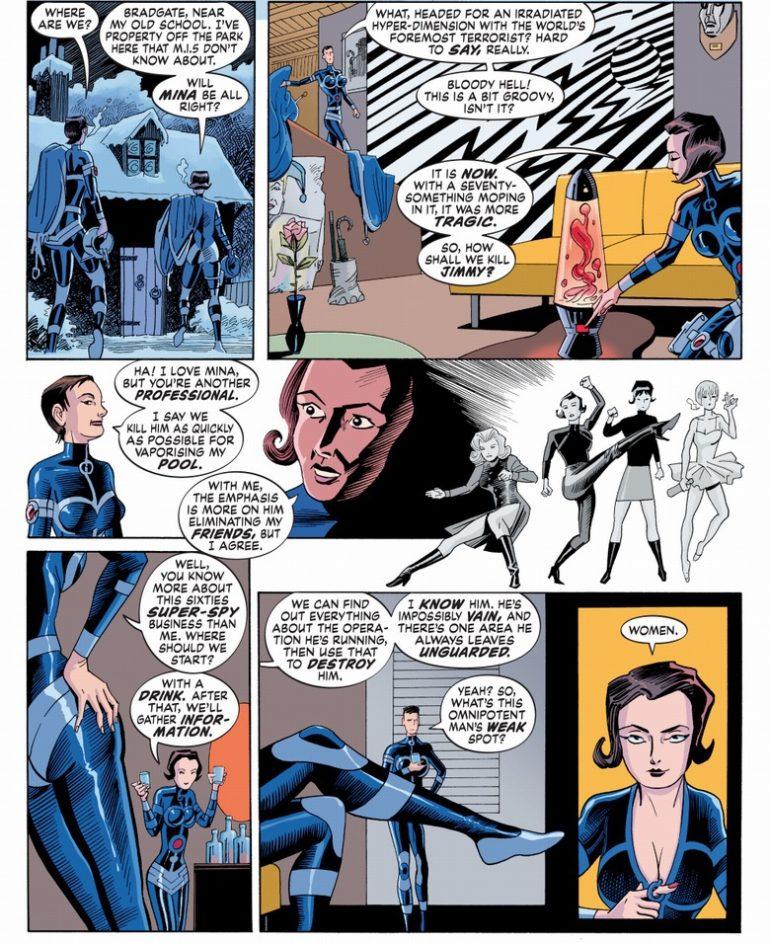 Of course, to some people, things like this make them seem like crazy old coots who live in caves and just pop their heads out to yell at the world. If you think that or don't care one way or another, then don't worry – you don't have to put up with any of it much longer. At least you may appreciate that they don't take themselves too seriously themselves here either, with Moore mocking his own occult powers as the pair break the fourth wall repeatedly.
So, the curtain comes down on the careers of two of the greatest creators in comic book history, as well as this series. As said, if you've not followed The League of Extraordinary Gentlemen's adventures up to now then you're far better starting back at the beginning than diving into this; but if you're already a fan then prepare to be amazed, because this is easily the most entertaining way to enjoy the apocalypse.
The Review
The League of Extraordinary Gentlemen Vol. IV: The Tempest