Naughty Dog's The Last of Us Part II has become one of the most talked-about games of all time. Even before its release, gamers expressed their interest and disinterest in the horror survival game. Regardless of the controversial discussions about the game's story, the title went on to sell over 4 million copies worldwide.
A new The Last of Us Part II fan theory suggests that we've missed a few very important clues about the game's ending that hints at a different outcome for Ellie. It seems there is more than what meets the eye in the closing moments of the sequel.
Spoilers ahead.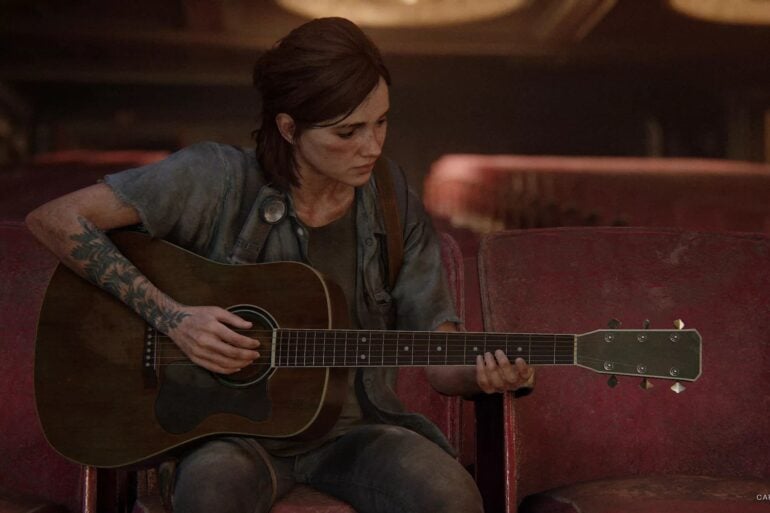 Mara, an artist from A44 Games, recently posted a tweet with a screenshot of a review of the game that points out a very intricate detail of the ending.
If you look very carefully at Ellie's arm, you'll see that she is wearing a bracelet.
There's a lot to consider with this The Last of Us Part II fan theory. Basically, in a nutshell, this bracelet suggests that Ellie has moved past revenge and is actually living a peaceful life with Dina and the baby.
Okok so I was watching this review of the Last of Us and this comment made me loose my shit??? I absolutely didn't think of this when I saw ellie's bracelet in the last scene at the farm. what do we think ?
naughty dog confirm pls pic.twitter.com/rJylzjqkf0

— mara ? (@maracrrt) July 6, 2020
As the above tweet points out, Ellie left the farm without her bracelet but returns to the farm with it on. More than that, Ellie doesn't seem to be looking or calling out for Dina at the house. She isn't even surprised when they aren't there. Instead, she is simply returning to get Joel's guitar. Once she decides not to take it, she leaves and doesn't show any real signs of heartbreak.
The final scene, instead, suggests closure and not a lonely ending for Ellie as most people thought.
What do you think? Is this The Last of Us Part II fan theory correct or completely false?
The Last of Us Part 2 is available to play on PlayStation 4.