The Last Kingdom is a historical drama series based on The Saxon Stories, a book series written by Bernard Conwell. It began in October 2015, and after five seasons, it finally concluded with a feature-length sequel titled Seven Kings Must Die. The TV series followed the life and various quests of Uhtred of Bebbanburg as he assisted in King Alfred's attempts to unify England. All this culminates with one last battle in The Last Kingdom: Seven Kings Must Die and an ending that leaves the question of Uhtred's unclear death open to interpretation. Not even the screenwriters know whether or not he died. Thanks to the ambiguous ending, some fans are wondering if this is the end of The Last Kingdom or if it will be picked up for a spinoff series.
RELATED: The Last Kingdom Is Better Than Game of Thrones
The Seven Kings Must Die Ending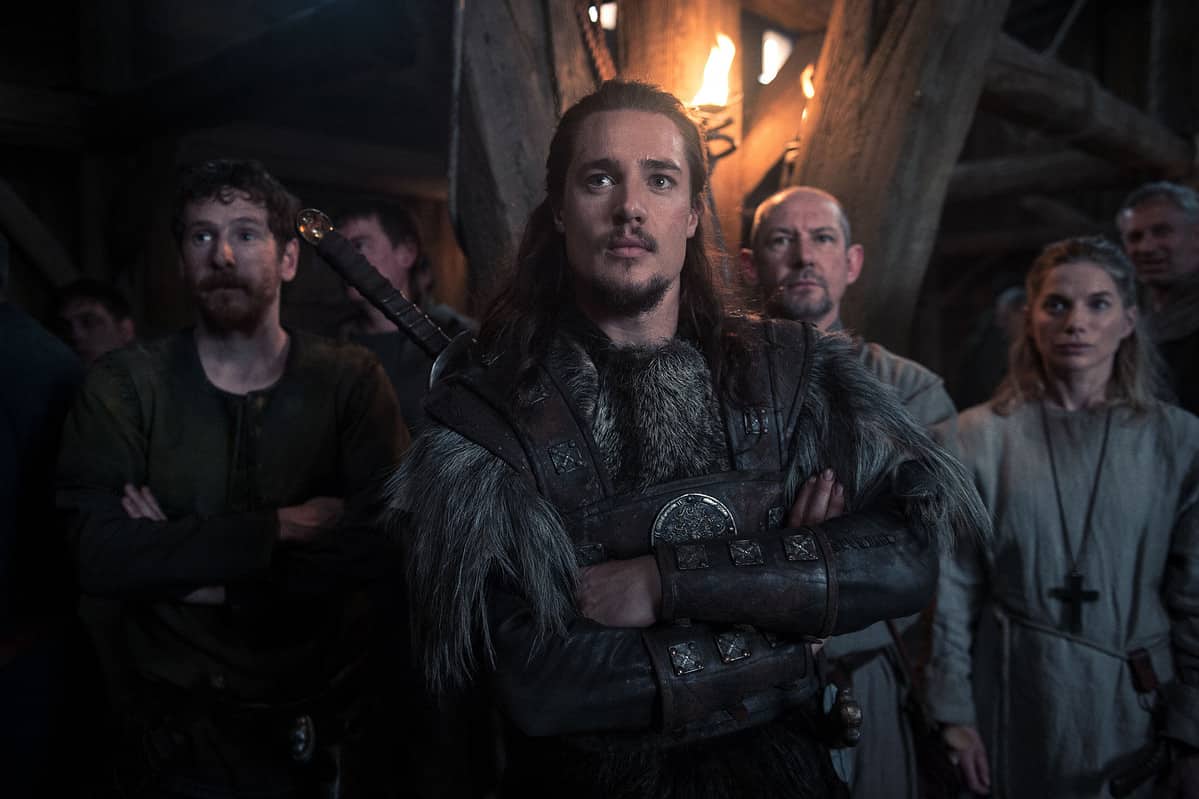 No one seems to know whether or not Uhtred dies in Seven Kings Must Die. At the end of the Battle of Brunanburh, he's found fatally wounded, and his companions return him to his home fortress. He appeared to have recovered enough to stagger from his bed and join his closest friends in swearing Northumbria to King Æthelstan and uniting England under one banner.
Uhtred then hears a loud celebration. Curious and seemingly drawn to the door, he opens it and finds his deceased friends partying in the feast hall of Valhalla. He turns back to his living companions and finds that they have tears in their eyes as they watch him. The film doesn't show us whether he steps through the door or remains with his living friends. Instead, it focuses on Uhtred, framed in the doorway between two worlds and overcomes with emotion.
RELATED: Top 16 Best Moments in Game of Thrones
Will The Last Kingdom Receive a Spinoff?
The epic story, the ambiguity of the ending of Seven Kings Must Die, and the many awesome characters still left alive had fans hoping that the writers would develop a spinoff series and keep audiences in the world of The Last Kingdom. Unfortunately, Martha Hillier, one of the screenwriters and producers for the show, believes that it would be challenging to develop a spinoff series.
She said, "You'd have to find a character as special as Uhtred and I think that would be hard because, actually, those sort of leading men… We think that there must be loads of them out there, but I think they're really quite hard to find."
"So I think it might have to be ever so slightly different. I don't know, but no one has spoken to me about that. There is nothing in the works, or if there is I haven't been asked about it."
Given that everyone's stories were tied up in a neat little bow and Seven Kings Must Die ended with a beautiful, emotionally charged scene, I think it's safe to say that there won't be a spinoff show of The Last Kingdom anytime soon.
RELATED: 10 Best Viking Movies Ranked
TL;DR
The Last Kingdom finally concluded with Seven Kings Must Die.
The ambiguity of Uhtred's death left fans wanting a spinoff series.
There are many fantastic characters in the series, but Martha Hillier doesn't see spinoff potential in any of them.
Should The Last Kingdom get a spinoff series?