How is it possible that there are 15 games in The King of Fighters video game series?! When you take a closer look at the history, though, you realise there have been way more than 15 titles released. It's as if these games have quietly passed us by and now there's another one out. But the question is, does The King of Fighters XV prove that 15th time is a charm or is it a jester parading around as a king?
Remembering the titans
Considering the mainstream success of Street Fighter and Mortal Kombat, it's almost too easy to forget about franchises like The King of Fighters. SNK's fighter has been around since 1994 and making the shared universe a reality before it was even a glimmer in Super Smash Bros.' eye. Successfully, it brought together characters from other SNK games, such as Final Fight and Art of Fighting, in one place where everyone had to, well, fight.
The rise of other fighting games like Virtua Fighter, Tekken, and Samurai Showdown took away some of the shine from the SNK crown jewel over time. However, The King of Fighters XV is making a serious claim to dethrone Street Fighter as the second-best fighting franchise (sorry, you know that Mortal Kombat will always be number one in our hearts).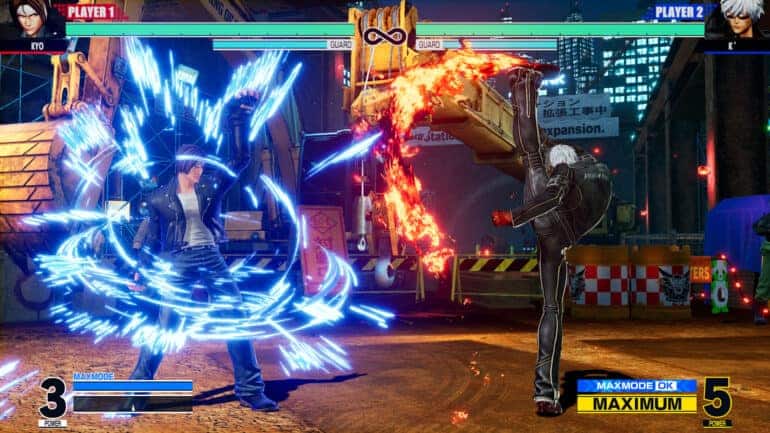 The King of Fighters XV is a better Street Fighter
Tell us, have you heard of the non-Street Fighter game that feels more like Street Fighter than Street Fighter 5? That's exactly what The King of Fighters XV is, as it does this type of fighter better than Capcom has in recent times.
First off, the graphics are fantastic. From the anime-inspired characters to the colourful and highly detailed backgrounds, this feels like a next-gen fighter that hasn't forgotten its roots but remains resolute in evolving. Yes, it's clear to see the change in appearance across the series, but the designers didn't forget the subtle nuances that make this feel like The King of Fighters.
Second, the roster is jam-packed with all the favourites and new additions for more team-based gameplay. That said, it would mean nothing if the fighting styles were all the same. This isn't a case of flipping a ninja sprite's colour, adding three or four special moves, and calling it a day (sorry, MK, we couldn't resist). Nope, there are 39 playable and unique characters, with their own distinct fighting abilities and moves, and if you're not satisfied with those numbers, you can buy more through DLC.
Most importantly, SNK understands that players are here for the gameplay. Rather than reinvent the wheel and try to do radical mechanic upgrades, The King of Fighters XV simplifies matters with a fluid and intuitive system. Of course, the more time you spend with the characters, the better you'll become with them, but you'll be able to pick up this game and have a match-up against the CPU or an online opponent without fuss. And by the way, the online mode is as smooth as butter on hot toast.
Where The King of Fighters XV falls short
At this point, fighting games need to pick a lane: either they create a decent story mode for a single-player campaign or they don't. Heck, just give us a tower if the latter is the chosen route. The King of Fighters XV stumbles around here as it puts about as much effort into its story mode as most of us do to credit the memes we steal.
Unfortunately, this mode doesn't offer much and feels rather pointless here. Instead of wasting time trying to make heads or tails over this incoherent and bland story, rather choose a simple battle against the CPU or multiplayer mode. But hey, at least this isn't as bad as the story from The King of Fighters live-action movie…
Overall thoughts
Look, The King of Fighters XV isn't about to topple Mortal Kombat 11 anytime soon, nor should NetherRealm be looking over its shoulder and taking notes. That doesn't mean it should be unhappy with being number two either. The King of Fighters XV easily K.O.s Street Fighter 5 and Tekken 7 without breaking a sweat, bringing back some of the fighting magic from the '90s. Perhaps it's time that fans give it a chance, too.
Tell us, what do you think of The King of Fighters XV? Let us know in the comments section.