If you couldn't get enough of The Amazing World of Gumball but wished it was set in a fantasy world rather than a modern one, you are in luck! The Heroic Quest of the Valiant Prince Ivandoe is set in a world of "swashbuckling heroes, royal rivalries, and magical fairy-tale creatures", so all your fantastical prayers have been answered.
RELATED: The 26 Greatest Cartoon Characters in TV History
The Heroic Quest of the Valiant Prince Ivandoe
In this new Cartoon Network original animated series, we follow the young buck Ivandoe on the biggest adventure he has ever undertaken, accompanied by his loyal squire, Bert, the bird.
What is the goal of his quest? To claim the legendary Golden Feather from the top of Eagle Mountain, he has to cross the Five Kingdoms to get to.
With an adventure filled with humour and intrigue, The Heroic Quest of the Valiant Prince Ivandoe is a unique, rich fantasy world focusing on positive moral lessons for young viewers while entertaining the whole family.
The series was initially produced by Hannah-Barbera Studios Europe in London and directed by Danish animators Christian Bøving-Andersen and Eva Lee Wallberg and was a series of three-minute shorts airing on Cartoon Network. Still, together with Cartoon Network, we now get to see 20 episodes, each 11 minutes long.
Ivandoe's quest is a fantasy adventure inspired by many great fantasy movies.
At an exclusive press junket on the 4th of May 2023, Christian Bøving-Andersen shared that there were a few 90s Disney movies and films from the 90s that inspired The Heroic Quest of the Valiant Prince Ivandoe. Still, there were some specific fantastical inspirations as well.
While classics like Lord of the Rings and The Hobbit, and even the Harry Potter franchise were used as inspiration, what really inspired the series was something a little more niche.
"Monty Python and the Holy Grail was one of the main references," Bøving-Andersen shared, "because of the silliness and the environment, which has a Nordic feel."
RELATED: Elliott from Earth: Cartoon Network Africa Sci-fi Comedy Show
Ivandoe's adventures aren't just for kids to enjoy but have been created with loving parents in mind.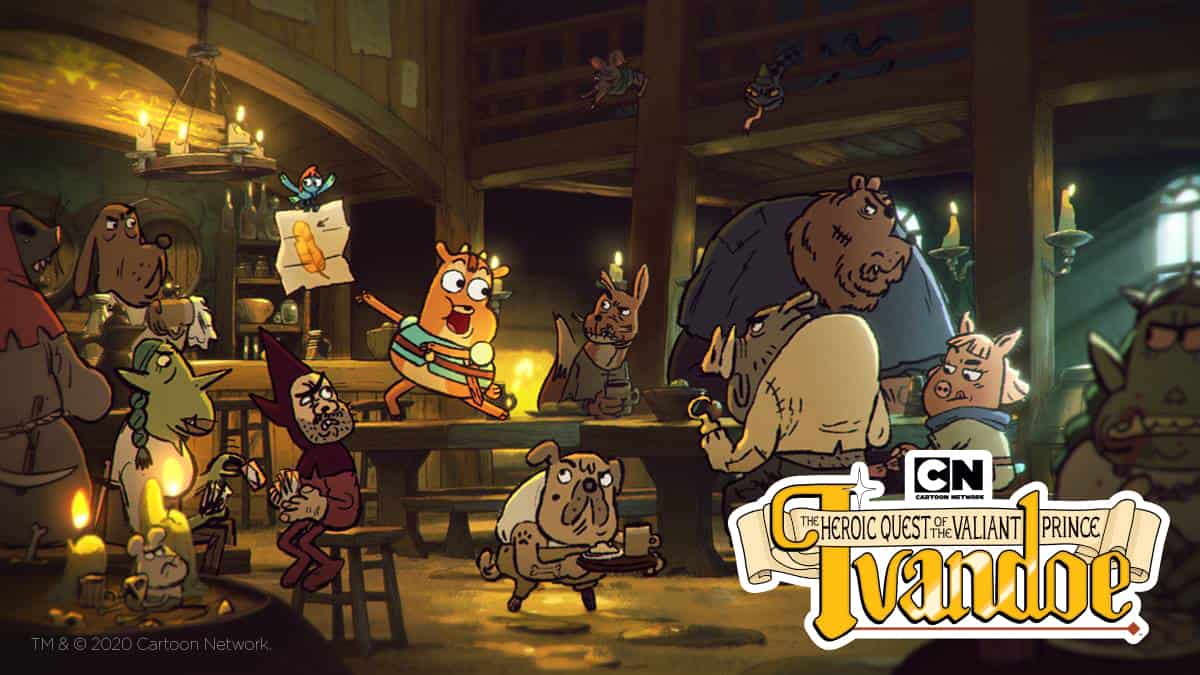 Eva Lee Wallberg shared that The Heroic Quest of the Valiant Prince Ivandoe isn't just a cartoon for children but that the whole family can find elements to get them sucked into the fun-loving animation.
Wallberg shared that the animation was made for family viewing "as there are a lot of different layers in the story, and there are definitely things that parents can enjoy. There are fairy tales that they know about that the kids might not know yet."
Wallberg summed it perfectly, saying that "Fairy tales are for everyone," regardless of age, nationality, or upbringing.
Ivandoe's fantastical world is diverse enough to represent young viewers from all around the world.
Our rainbow nation is about as diverse as you can find, with many nationalities, languages, and an overflow of intricate cultures and religions. Inclusivity is a big part of our media. The Heroic Quest of the Valiant Prince Ivandoe prides itself on its diversity.
When asked if the series would allow every young viewer to see themselves represented on screen, Eva answered that viewers worldwide would find something to identify with, whether through the voice actors or the depictions of characters on screen.
"This world we built is so diverse, and there are so many different characters. You have everything from elves to wolves and weird animals, and the list goes on."
Children worldwide get so excited to see people on screen with the same hair colour as them, have freckles like them, wear glasses like them, and the list goes on and on. The directors wanted to see the same excitement brought forward through their animation.
The pair of directors also shared that their voice actors were chosen based on how they sounded and how perfectly they brought the characters to life without names or faces.
"The voice director was trying to cast broader. What we would get was just a variety of voices to choose from."
Christian Bøving-Andersen also shared that their aim was to have a universal feel so that all viewers could enjoy it regardless of where they were watching from.
"The stories, the personalities, and the issues that Ivandoe goes through should be something all kids can relate to. The problems, they have and the dilemmas should hopefully be universal amongst kids. They would also be able to relate to how he views things."
RELATED: Best Cartoon Theme Songs: Take A Listen!
Ivandoe teaches young viewers to believe in themselves, even when no one else does.
Wallberg and Bøving-Andersen agreed that while the ultimate aim of the series is to bring joy to the hearts and minds of their viewers and have them truly enjoy it, there was a more profound and very positive message to the series.
Wallberg shared that what she wants children and viewers to take away from the show is that even when no one else believes in you, all you need is to believe in yourself, and it helps to have at least one great friend.
"In the show, no one believes in Ivandoe except for Bert and himself. So, it helps to have a good friend that sticks by you no matter what and helps you believe in yourself regardless of what everyone else is saying."
You can catch The Heroic Quest of the Valiant Prince Ivandoe on Cartoon Network (DStv channel 301) on weekdays at 16:50 (CAT) and follow this young adventurer through the magical Five Kingdoms and see if he ever manages to claim the legendary Golden Feather.
What do you think of The Heroic Quest of the Valiant Prince Ivandoe?