I was one of the many fans that were filled with equal parts surprise and optimism at the news that Ezra Miller would be taking up the mantle of the The Flash, aka the Scarlet Speedster, in the DCEU.
His breakout performances in smaller hit films, like The Perks of Being a Wallflower as well as blockbusters like Fantastic Beasts and Where to Find Them and Justice League, cemented fans' confidence in his ability to give us a fresh and exciting Barry Allen.
But what if we took a trip into the speed force and made our way to another earth, one without the existence of Ezra Miller's witty humour and charm? Luckily, we've been there and the shortlist looked a little like this:
1. Liam Hemsworth
If you haven't realised that the superhero genre is all but weaved into the fabric of the Hemsworth family's DNA, then you've been living under a rock. Before his brother Chris took on the role of Thor in the MCU, Liam was the frontrunner in a final round of auditions.
Besides being built like a Greek god, he's a highly versatile actor that's thrived in comedy, romance, drama and convincingly pulled off heroic characters in blockbusters like The Hunger Games films and Independence Day: Resurgence.
Liam may not be a nerdy stereotype but a chiselled jawline, aquatic eyes and wavy locks aren't the worst things to see blitzing around the screen for 110 minutes.
2. Grant Gustin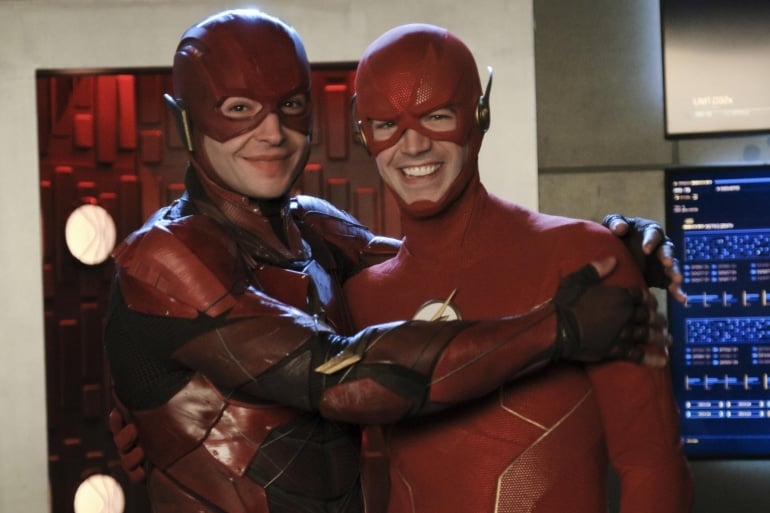 Before auditions were even held for the Flash in the DCEU, fans were storming Twitter and Reddit to suggest that the already established star on the highly successful CW series The Flash should be the one to suit up in red once again. Many were disappointed by the news that he lost out to Ezra Miller.
Gustin won over fans around the world with his stellar performance as Barry Allen, bringing effortless intelligence to the character while staying humble, confident and generally likeable. Gustin's most memorable scenes are perhaps the most emotional ones in the series.
His portrayal of a down-to-earth Barry lends itself to highly relatable moments which differ notably from Miller's quirky and sometimes hyperactive portrayal that's a little more on the… flashy side.
3. Timothée Chalamet
Currently celebrated as one of the industry's most promising young actors, Chalamet has starred in multiple highly acclaimed works including Interstellar, Dune, Call Me by Your Name and more.
In the Netflix film The King, he breathes life into the strong "zero to hero" protagonist Henry V with his captivatingly mature performance. There's something about the actor that draws in audiences with an air of intrigue and mystery.
Despite what roles he plays, I find his performances difficult to predict and as a result, always interested to see what he does next. Although Chalamet would probably be perfectly suited to a character like Robin, I have confidence that he would be up the challenge of delivering something fresh to the table as the fastest man alive.
4. Tom Holland
This English megastar has stolen fans' hearts around the globe as the latest wall-crawler to swing into the MCU. Holland is one of those actors that you just can't help but root for whether he's on a quest as an animated elf in his latest heartwarming movie Onward or taking on the Sinister 6 with his very real acrobatic skills.
Holland already plays the scientific and quippy Peter Parker/Spider-Man, which, if you think about it, is basically the MCU's flash counterpart, red suit and all. I'd suggest you google him as the flash because the fan mockups not only look awesome but Holland rocks the crimson comet look so effortlessly, I wouldn't even bat an eyelid.
5. Dylan O'Brien
Probably best known to most as the heroic protagonist Thomas in the Maze Runner trilogy, my first experience with this star was years ago in the hit television show Teen Wolf. O'Brien carried the show's humour and heart as the unforgettable Stiles Stillinski. His character was initially the supporting role to his werewolf best-friend and main character Scott McCall.
Over the seasons, Dylan transformed Stiles into a fan-favourite, inspiring the writers to give him bigger and better arcs because we just couldn't get enough of his gripping performances. If anyone can pull off the duality of a forensic investigator, quirky hero and all-round action star, it's this guy.
Fun fact: If you didn't know that he was slated alongside Tom Holland as one of the top contenders to play Spider-Man, now you know.
Who is your choice as a replacement for The Flash if Ezra Miller drops out?