Issue 56 of The Flash continues where #55 left off, with Barry and Burns stuck in Heatwave's mind, a place not only dangerous for Mick himself but also a place that now hosts the Sage Force, another brand new power at play. Streamlining the issue to make it purely about Flash and Burns' struggle to find the lightning rod for the Sage Force, and Heatwave, The Flash #56 is a much deeper exploration into the scarred criminal and his past.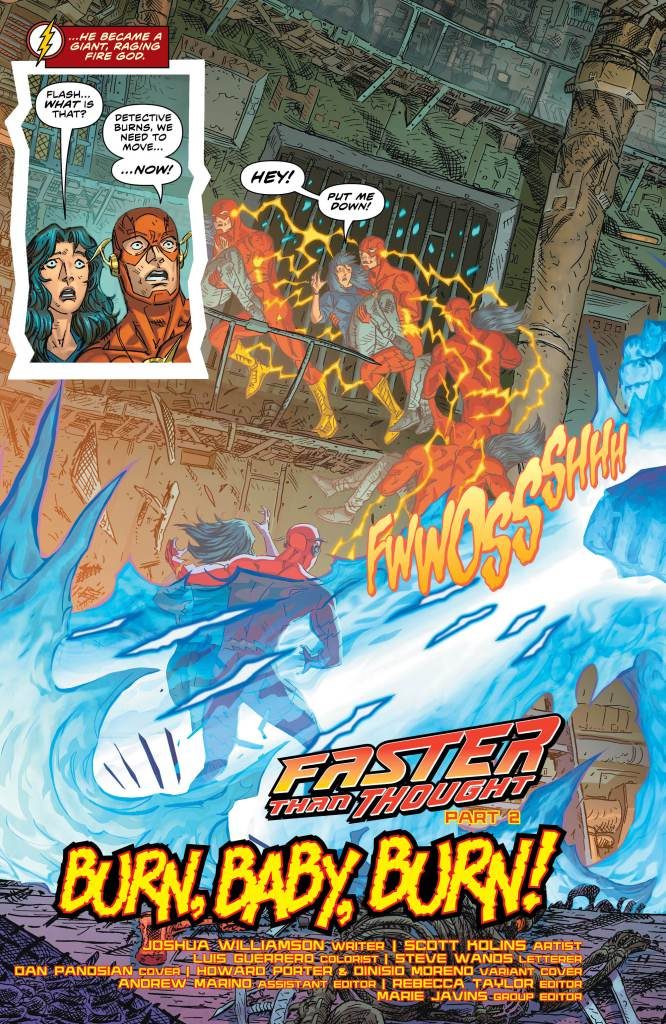 The Sage Force is such an unknown entity for the Flash that he can only rely on what he knows about his own speed force to be able to solve the situation at hand. Realising they are stuck within Mick's mind, there is an element of desperation to find what's causing the chaos. With time very limited and the Sage Force trying to expel them, there appears to be a reason they have been brought into Heatwave's mind. It is this exploration as to why that helps us understand the criminal better.
Burns' experience with her own family, which she revealed to Mr Rory during therapy, is the key to tapping into his lightning rod. The showing of compassion that he so rarely gets and an understanding of the trauma he has experienced helps to ground this burned man.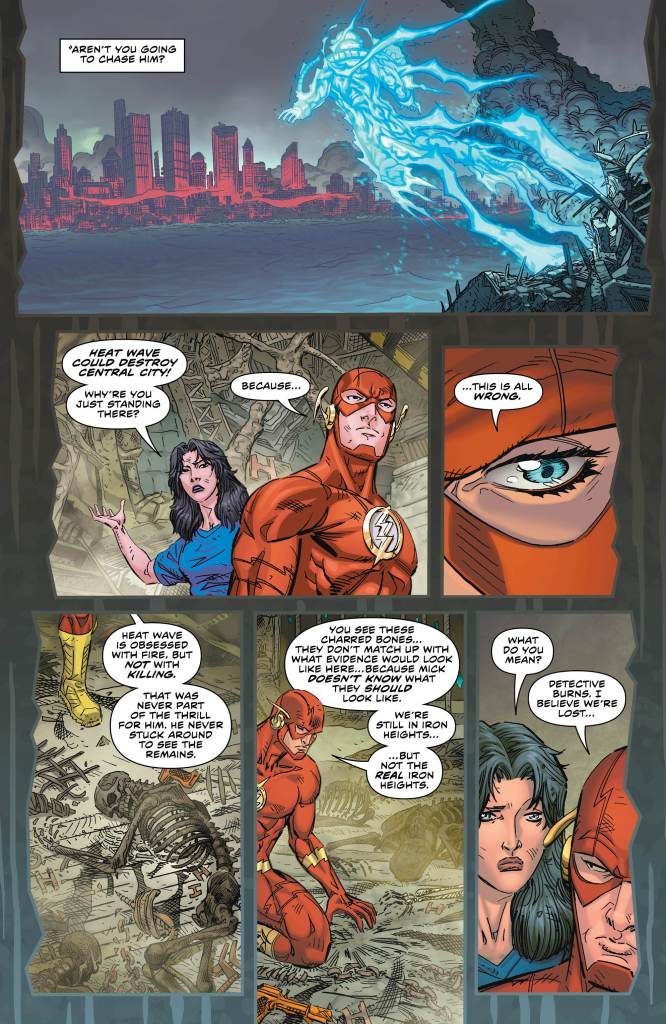 The Flash is also part of this, with Mr Rory knowing that Barry will come through for him every time, despite his past as one of the Rogues. It is during this adventure that it becomes much more apparent that the Flash must leave Central City in order to find out more about the new forces and help to protect his home. He has been ignoring this fact for so long, but as Burns' points out, it must not be treated personally but rather as another case with another lead to follow.
The visuals in this new world are spectacular with vibrant art helping to capture the desolate mind world.
A comparison to Gotham during the issue does not go amiss and is very representative of what Central City could become if crime continues to overrun the place. This theme of changing that has been explored over and over again is still relevant and we are to see whether Heatwave himself is to change for the better. Of course, Iris and Commander Cold are also present in this issue and, whilst they are very much background characters, Cold has pulled through again to help out where he can. The character continues to find himself and one would assume will be influential in the final piece of the force puzzle.
The Flash #56 was, therefore, a much more personal story although stakes are about to be raised once again to nuclear level with the whole city at stake. Hopefully, the key to victory will be hidden somewhere in these pages and this crucial character development isn't ignored for big action set pieces.
The Review
The Flash #56
The Flash #56 is a much deeper exploration into Barry and Burns. Great writing and great art make this a fun read.