As Halloween approaches, a new threat has emerged to once again interfere with Barry Allen's life. With the constant memories of a life lost, a consistently changing city that is creating an uneasy feeling and a partner in crime that may actually be closer to criminal than a hero, The Flash has a lot to contend with as the fall season comes around.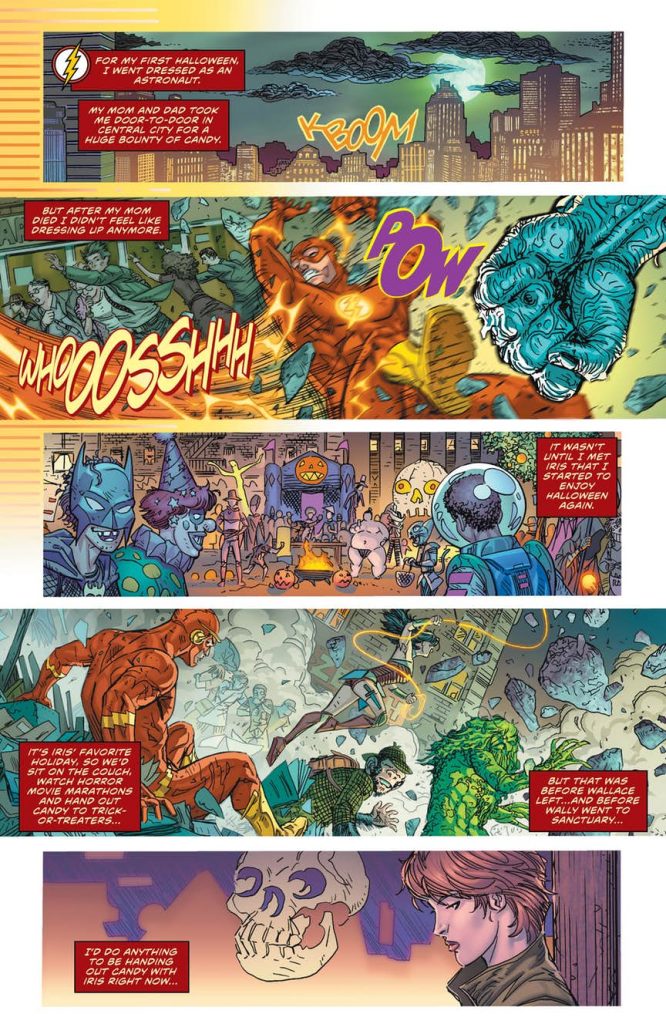 Not only this, of course, the biggest problem the Scarlett Speedster still faces is the potential dangers that the new forces may offer up. This month's offerings from the talented team, bring yet another rogue's gallery member to the forefront of the story, whilst utilising these mysterious forces to the best of their abilities.
Barry is still trying to come to terms with all the change that is happening in his life. Haunted by the ghost of a lost Wally, threatened by the presence of a new Cold ally and clutching at a past he cannot remember, Allen wishes things were still as they once were.
Iris tries to regain a portion of her life, having fun with some of her friends, whilst Flash finds himself fighting with the Justice League Dark, becoming a valuable member to the team. His own teammate Commander Cold is far less reliable than the Dark counterparts of the Justice League. Working in a bar, Flash is still resistant to allow the Commander to join him on future missions, although the rogue that has re-emerged has all the makings of an odd reunion.
The newest force unleashed seems to be that of a physic energy that has fused itself with Heatwave. Despite his want to go down a path of redemption, he is severely burned before being sent to his own firey landscape, where he is a god. Upon arriving at the scene as CSI, Allen, Barry and Burns are quickly thrust into this alternate world where Heatwave rules over. With Commander Cold on the way, this is a good setup for a Halloween adventure that'll run over the next couple of issues.
A fun break from some of the world threatening stories, a kind of bottle issue in some ways, this mini-run of 4 will continue to develop our characters further and play upon some of the themes explored whilst also having a bit of a break.
The artwork in The Flash #55 is vibrant and I'm especially excited to see how much of this alternate dimension is explored with the potential for lots of interesting imagery throughout. Mr Rory is a personal favourite of mine so I hope to see the character done justice over the next few issues.