The Flash #47 tackles the fallout of Iris's murder of Eobard Thawne in a surprising fashion, whilst setting up the Flash War, an epic showdown between Team Barry and Team Wally. Featuring a ton of characters, a basic premise but deep cutting consequences, issue 47 tells a story that manages to tackle a lot of varying subplots in one. The biggest turnaround in recent Flash issues is with the return of Wally West into the picture. Here Wally becomes more of a focal player and struggles with the memories of a former life that seems to continue to haunt him.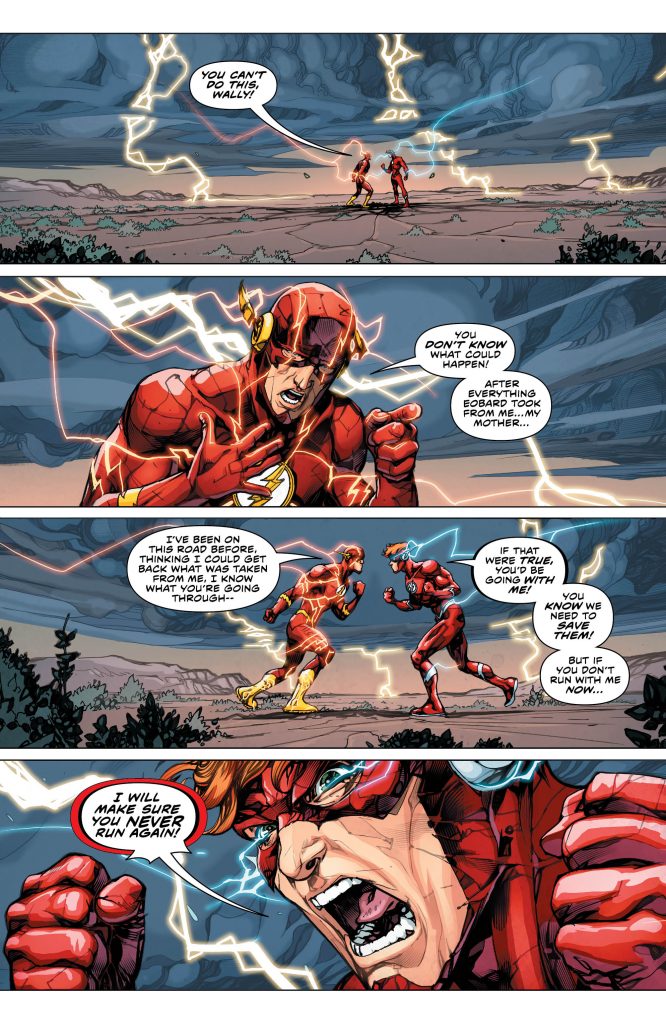 Upon saving the city from a tidal wave to much disagreement, the two Flashes find themselves confronted with the Renegades from the 25th century, there with the task of arresting Iris West for the murder of the Reverse-Flash. Featuring Commander Cold, Golden Guardian, Mirror Monarch II (after the death of the previous) Weather Warlock and Heatstroke, these beefed up future versions of the Rogues seem to have the best intentions of justice in mind. With Wally and Barry disagreeing whether to follow them to the future or fight them off, it is Barry who wins out, although whether he right still remains to be seen.
Upon travelling to the future, we are met with the biggest surprise of the issue.
Upon travelling to the future, we are met with the biggest surprise of the issue. The emergence of Zoom, Wally West's arch nemesis, has given the other Flash a lot to consider. Offering him a way to save his family, it is clear that the Flash war will pit Wally and Zoom against Flash and Kid Flash for the right to decide what is the best way forward for the speedsters and their families. Although I do not see a villainous turn in store for Wally, the line he is currently running along, between hero and anti-hero is very tight and needs to be paid attention to. The writers here have done a fine job in showing how the tension has slowly built to a boiling point and it is these series of events that will lead to the battle that we are shown at the start of the issue.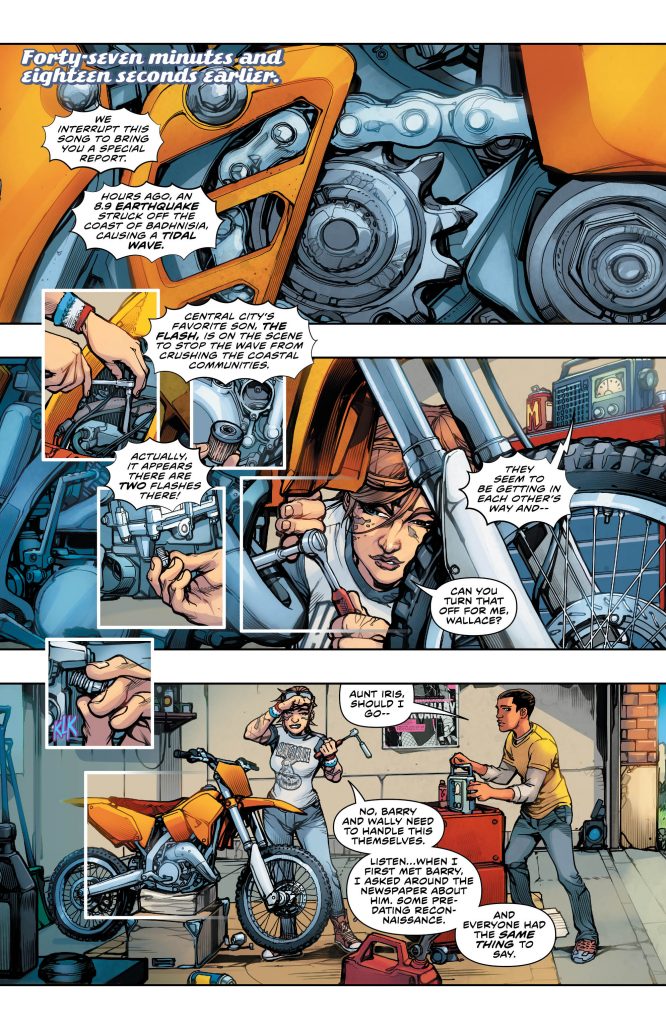 Iris and Wally II continue to be strong supporting characters and the wider Flash family has been ignored in favour of some focus on our future Rogues. These band of Renegades, representing the Reverse-Flash still seem set on putting Iris in front of the Temporal Court, which may cause some more tension for Barry, since Wally now appears to be the priority. Perhaps the Flash family will be split up hence why we only see Barry and Wally fighting in that initial setup. For now, I can say that both the art and story work is on point and continues to impress, setting up a very intriguing future for the title.