In episode 6 of The Falcon and the Winter Soldier, the Global Repatriation Council comes under attack from the Flag Smashers, delaying their vote on forcibly relocating the Blip refugees.
Racing against time, the Winter Soldier and the Falcon – finally willing to embrace the mantle of being the new Captain America – begin their scramble to rescue the GRC members. But with Karli Morganthau and her followers now taking more extreme risks and using increasingly violent tactics, they're in for a fight unlike anything they've ever experienced before. With Georges Batroc, Sharon Carter and the highly unpredictable John Walker entering the fray too, the outcome is impossible to predict.
Can the Winter Soldier finally overcome the demons of his past? And will Sam Wilson prove himself to be the hero that America so desperately needs, when the situation has so many shades of grey?
The Falcon and the Winter Soldier Episode 6 asks the question: Is the world ready for a black Captain America?
So… I need to get personal for a moment.
Back in 2015, I was at my local comic book shop and overheard someone mention that they weren't going to be buying the new upcoming Captain America comic series. It wasn't that they weren't a Marvel reader, because they were, and apparently had been a longtime fan of Captain America – which they bought regularly. But this guy wasn't looking forward to the new series because the old Captain America, Steve Rogers, was gone. There was a new Captain America: Sam Wilson. And even though this reader was a fan of Falcon too, he simply didn't like the Falcon being the new Captain America.
My first thought was that maybe it was just old-fashioned gatekeeping; as a lifelong comic book fan myself, I've hated seeing some of my own favourites being killed off or replaced over the years. As fans, we can get attached to those characters (which is kind of the point, and all credit to the creators for doing such a great job making that possible), and we tend to despise any serious upheavals to the status quo. We can get pretty vocal about it.
Or maybe, I thought, that guy simply didn't like the upcoming creative team who was attached to the new Sam Wilson/Captain America comics. Maybe they even had problems with the way Marvel stories were going, or they were tiring of comic books in general. Or maybe…
No. It wasn't any of those things.
"The new Captain America is a black guy," the person said, as if that statement alone explained everything… and maybe to them it did. "I'm not buying that," he continued, "What's Marvel thinking?"
Hearing that made me feel a lot of emotions, but mostly anger, disappointment and disgust. What they said shocked me at the time, but in hindsight I guess it really shouldn't have. Because, as was pointed out a couple of times throughout The Falcon and the Winter Soldier, some people just aren't ready for it.
Which is one of the reasons why it had to happen. First in the comics, and now in episode 6 of The Falcon and the Winter Soldier.
At the time, some made out like this was part of some "woke" conspiracy (and still do, with many of their creative decisions). But the simple fact is that Marvel has always tried to be progressive and representative – even if they haven't always gotten it right. From the earliest X-Men comics, the mutant struggle was a metaphor for the Civil Rights Movement; Black Panther was the first superhero of African descent; in 1968, Marvel's Stan Lee wrote one of his Soapbox columns condemning bigotry and racism… and the Falcon was the first African-American superhero in mainstream comics.
So, in answer to that guy, I guess that's what Marvel were thinking.
Now, I don't know who that guy was or whatever happened to him. But I hope that he's been watching this wonderful series and enjoying it, and that he got a thrill out of seeing Falcon become the new Captain America – even if it may not be his Captain America. And, more than that, I really hope his opinions have changed over the years and that he understands by now just why it's right.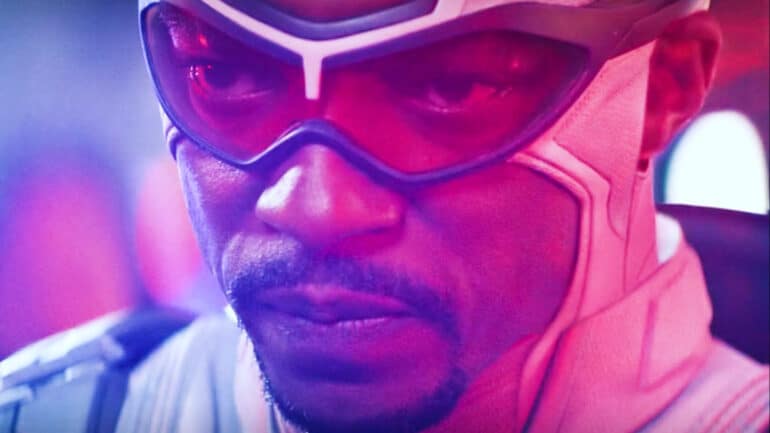 Now that's out of the way…
I could gush about all the positive things about this show and episode 6 of The Falcon and the Winter Soldier, how it's progressed and how it ended. There would be a lot to say, but basically it boils down to this being a great Netflix-style MCU finale, wrapping things up with a barrage of satisfying action set-pieces and high-flying stunts. It gives all of the major players some closure, the acting is solid, and the writing lays out some intriguing ideas for the MCU's future.
It's basically everything that it needed to be. It's as simple as that.
Yes, there are some negatives. Episode 6 of The Falcon and the Winter Soldier feels a little rushed, and the Flag Smashers storyline ends far too abruptly. For all the talk of the big picture, we never actually see it, and a few of the sub-plots could have used a few more minutes of attention just to smooth them out or explain away a few gaps in information. It may also disappoint viewers expecting a movie-quality finale with its primary focus on street-level antics, and the traditional Marvel post-credits scene seems underwhelming.
But those negatives really don't matter much in the grand scheme of things, and only a fool would dwell on them too much.
Ultimately, this is a show which is far greater than the sum of its parts, and the destination of The Falcon and the Winter Soldier's journey is not only special but feels earned. Regardless of where the MCU is heading, this could be quite the ride ahead of us.
The Review
The Falcon and the Winter Soldier ep.6 "One World, One People"
An action-packed finale to a great series.