With The Falcon and the Winter Soldier episode 5, it's time to ease up, step back and take a deep breath.
After the events of the previous episode, we all deserve it.
Episode 5 of The Falcon and the Winter Soldier is an introspective episode with powerful performances.
John Walker – the new Captain America – has crossed the line.
With the whole world watching, Walker has brutally executed one of the Flag Smashers and is now a wanted man. With the Falcon and the Winter Soldier chasing him down, Walker reflects on the events which have driven him to such extremes before he's finally confronted. However, his obsession with being the new Captain America means that he won't hand the shield over peacefully.
The legacy of the shield is a complicated one: for some, it's simply a symbol of always doing the right thing; for others it's a more complex representation of Captain America, the ideals which people believe he stood for, and the identity of America itself. As the Falcon and the Winter Soldier struggle to come to grips with their own interpretations of what it means, the world and its politics move on. Baron Zemo is still at large, the Flag Smashers are ready to take their fight to Washington, and a new figure arrives on the scene to unveil new plans…
It also makes sense that that episode 5 of The Falcon and the Winter Soldier would take things down a notch and let audiences have a breather before the series finale, and whatever it chooses to throw at us… although after this episode you may have some idea and a few expectations in mind.
This smartly means that all the action is contained in a single impressive fight sequence, one which takes place before the opening credits sequence rolls in.
That makes sense too, getting it out of the way quickly. But don't let the haste of it fool you.
Fittingly, as you'd expect from three characters with military backgrounds, it's more of a dirty CQC brawl instead of a graceful piece of art, and it's enough to get the adrenaline flowing. Full of tiny symbolic moments, it goes far enough to be a satisfying scrap without overwhelming the personal stakes of each character involved in it. It's typical MCU action of the highest order, no matter how brief it is.
And then it's over. It's quiet time.
It's also awesome.
The fallout of this brawl, and everything else we've seen so far, is what pushes the narrative from that point on. Like so much of this show, it's a fascinating introspective journey for the characters, one which also gives us a glimpse of Marvel's more serious fictional world beyond the usual superhero shenanigans.
The fate of the world, or at least many of the refugees brought about by the Blip, is important; but it's also a time for personal growth as each character is given the opportunity to evolve, and what's the good in helping the world if we can't help those we love too?
For Bucky, it's time to learn to deal with his past properly and move on. It's been a long time coming and it's not a quick fix or a miracle breakthrough, but at least he finally receives some helpful counselling and even manages to relax and smile a little; Zemo continues to shine, despite his brief screen time here, as he again mourns the loss of his loved ones in a moment of personal reflection; while John Walker, so easy to despise, is also a figure to fear… and to pity.
If Captain America was the American dream, then he's the American nightmare – the harsh reality, failing to meet those impossible standards set for him and compounding his mistakes.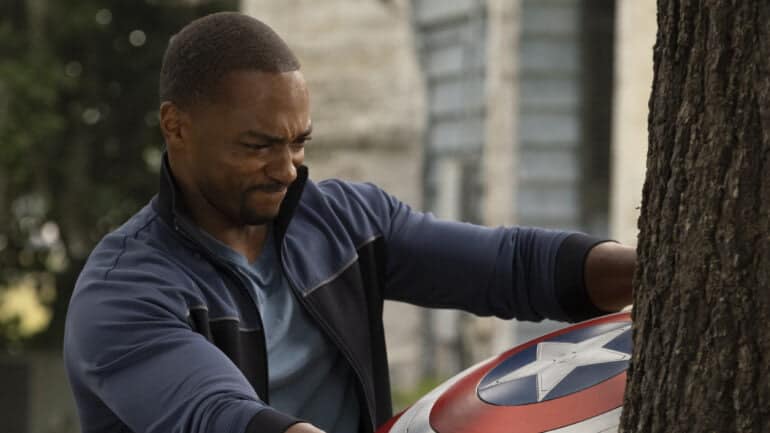 And then again there's Sam Wilson, the Falcon.
With so many now questioning if there even should be another Captain America, Sam embarks on a personal journey both to help his sister and to understand exactly what legacy really is. He may have known Steve Rogers and shared many of his ideals, but what Captain America and the shield themselves symbolise is another matter entirely.
The truth can be hard to take, and Sam's meeting with Isaiah Bradley here delivers a powerful message while echoing some of the darker facts of American history.
It's hard to not gush over this moment, like so much in episode 5 of The Falcon and the Winter Soldier. From heart-to-heart bonding to jaw-dropping training montages as it sets up the grand finale, it delivers plenty of highlights even when it appears to do very little. Effortlessly delivering perfectly paced scenes in smooth succession, it's bizarre to imagine that this cooldown episode may possibly be the best one yet.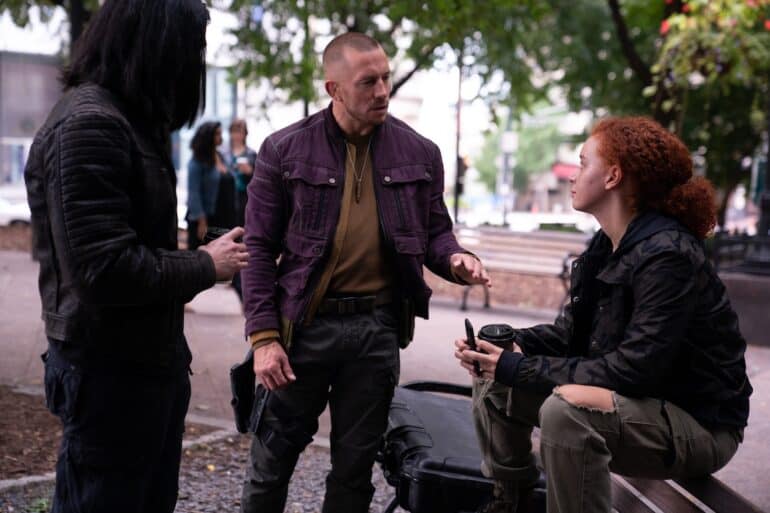 Oh, and of course there's a cameo appearance and a bonus scene during the end credits. Because, hey, why not?
Regarding that first, there's already talk of how it's been a forced reveal which was meant to come after Black Widow. It may seem like a frivolous, throwaway cameo which comes across as probably a bit too wacky given the circumstances (as well as potentially being meaningless for those not familiar with the old Nick Fury comic books), but it's a tantalizing teaser of things to come in the MCU's future.
It's probably wise to not skip it, because it could be huge.
And that end credits scene?
Unfortunately, that's probably one of the few letdowns of the episode even though it's meant to be powerful. But again, it's all about setting things up so it's hard to begrudge them this one.
Basically, episode 5 of Disney Plus' The Falcon and the Winter Soldier is another stunning episode of a great show, although it may be a bit too serious and quiet for some people's tastes.
Now all it needs to do is stick the landing…
The Review
The Falcon and the Winter Soldier Episode 5 "Truth"
An introspective episode with powerful performances.