In episode 3 of The Falcon And The Winter Soldier, Karli Morgenthau continues to lead the Flag Smashers in their crusade. The Falcon and the Winter Soldier are forced to take desperate tactics in order to find the terrorist group. Discovering the source of the new super-soldier serum means talking with their most hated foe: the man who orchestrated the Avengers' Civil War, the imprisoned Baron Helmut Zemo.
The price for Zemo's help is steep, but it's one which the Falcon and the Winter Soldier must be prepared to pay. As they travel the world uncovering new leads, they learn more about their enemy, themselves, and what's become of old friends who were left behind.
As the line between hero and villain continues to blur, the past is about to catch up with them in ways they never imagined…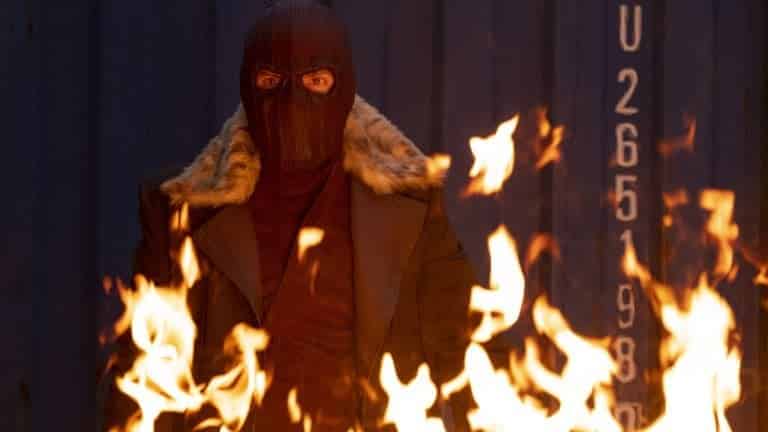 Baron Zemo
If there's one MCU villain who never got the credit he deserved, it's Daniel Bruhl's Baron Zemo.
Who?
Exactly.
For those who don't recall, he's the guy who single-handedly defeated the Avengers, back in Civil War. Okay, so to be fair he also had an overly complicated plan which relied too much on pure luck than skill, and he never laid a finger on them… but he did manage to out-smart and manipulate the heroes to the point where their team was ready to kill each other. Technically, he beat them without even having to physically fight them at all. That's quite an achievement, making him the Hannibal Lecter of Marvel's on-screen universe.
So why is he so underrated?
Personally, I always figured it was because he never got to wear a purple cloth mask (permanently bonded to his face with Adhesive X) like he did in the comic books. Clothes make the man, as the old saying goes, and this episode pretty much proves it. That's because a masked Baron Zemo – even more dapper in his classic fur collar coat here – comes across like the coolest cat in town, not just masterminding a prison break and going undercover in the MCU's version of Mos Eisley but blazing his way through a gunfight with ruthless efficiency.
Oh, and the Falcon and the Winter Soldier do some stuff too. And that's the problem.
Weirdly, if there's a major fault with episode 3 of The Falcon And The Winter Soldier, it's that the heroes and their chemistry are overwhelmed by this new third wheel they've acquired. Yes, they're still there and are still as entertaining as ever.
But episode 3 of The Falcon And The Winter Soldier, which shifts style from Netflix-like storytelling to Agents of SHIELD mode, never quite seems to take full advantage of the situation and the undercover nature of their mission hampers the natural back-and-forth which makes the duo so entertaining.
Not that it's a major problem or anything. Nor is the AoS comparison, because as a spy mission it feels so right that you'd almost expect Agents Coulson and May to enter the fray at some point. But it's still a shift and, as entertaining as Baron Zemo is, it feels a little clumsy, too join-the-dots, and too slow-burn.
While it understandably needs to take things down a notch to introduce several new characters, re-introduce a couple of old ones, highlight the important location of Madripoor, and to lay down some vital plot elements, as an episode it feels out of pace with what's gone before. It's still very good, with some parts of it being fantastic… but on the whole it's strangely unsatisfying.
Thankfully, there's more going on under the hood (so to speak) with episode 3 of The Falcon And The Winter Soldier and enough to still make things interesting. The post-Blip MCU continues to be explored in some fascinating ways, once again highlighting the problems which have followed since everyone returned from Thanos's snap. Again it makes the last Spider-Man film's coverage of it look pitifully underdeveloped, and while it deserves even further focus it's clear that this is going to be a topic which won't just go away.
There are other elements which shine too; John Walker's attitude at facing some disrespect is like a warning light going off, while there's further discussion about the dangers of putting people on pedestals and the perilously fine line between patriotism and nationalism. Likewise, while not exactly being full of Easter eggs, the episode's introduction of Madripoor and one of its citizens are the closest the MCU has come to introducing its mutant population so far.
On the whole, if this were the Baron Zemo show then it would be just fine. But it isn't.
This is episode 3 of The Falcon And The Winter Soldier.
While there's nothing particularly wrong with this episode, Power Broker is an episode that is more functional than flashy and spends most of its time setting things up rather than paying them off.
It's solid viewing and clearly essential if you're invested in the show, but it's likely that fans will hope for just a little more than this episode delivers.
The Review
The Falcon And The Winter Soldier Episode 3 - "The Power Broker"
A solid story-building episode.