The MCU isn't messing around here. Let's be clear about this: episode 2 of The Falcon And The Winter Soldier is one of the most straightforward, fantastic pieces of storytelling of any MCU show so far.
There's some thrilling action setpieces, lots of tension, a little comedy to lighten the mood at all the right moments, some genuine chemistry between the actors, and a plot which goes exactly where it needs to without creating any confusion. Essentially, it ticks every box it needs to in terms of it being good, and with ease.
It also delivers enough backstory on the new Captain America in the first few minutes just to convey the point that, sure, there's technically nothing wrong with the guy; of course not, and any issues we have with him simply stem from personal bias. It doesn't matter that we all know that Sam is the guy who should take the mantle, so much so that all others are going to look lousy by comparison.
This new guy in particular. Captain Chinstrap? Ugh. No thank you.
That's some sneaky work from them.
As for sly references, such as the jazzed-up Captain America theme song from The First Avenger, well-placed lines of subtle dialogue and callbacks, Easter eggs, references and so many other tiny details, they've loaded this episode full of them right from the start. Almost every scene has some blink-or-you'll-miss-it moment.
So, basically, if you're a fan of the MCU – or even just solid superhero-based dramas – then you should watch episode 2 of The Falcon And The Winter Soldier. No questions asked, it's that good.
It's what's beyond all of that where this episode really shines. Because there's a lot going on here, and plenty of it happens on an emotional level.
What happens in episode 2 of The Falcon And The Winter Soldier?
John Walker is the all-new Captain America. He's got the shield, he's got the costume, and he's even got his own sidekick and remixed theme tune. He's the star-spangled man with the plan.
But what he doesn't have is the support of the former Captain America's closest friends, Sam Wilson and Bucky Barnes – the Falcon and the Winter Soldier.
When Sam and Bucky investigate leads on the terrorist group known as the Flag Smashers, it's a chance for them to gain more information about the organisation's schemes. With the group's members potentially linked to old Hydra research, the duo may need all the help they can get. But does the new Captain America meet their standards?
Meanwhile, Bucky reveals the awful truth that there's another super-soldier out there, one long since forgotten…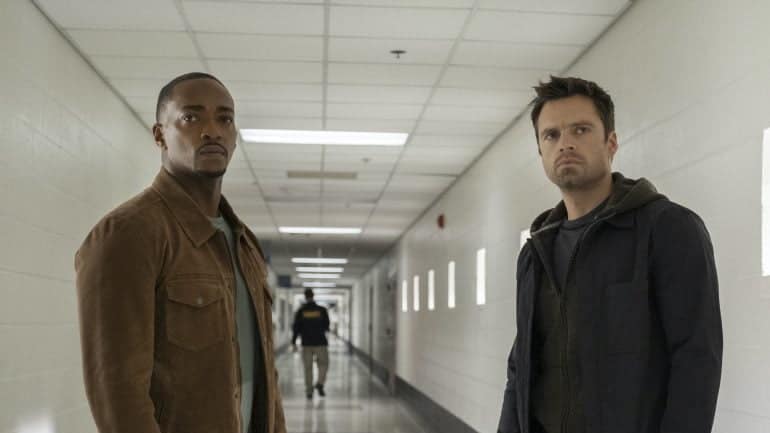 The story
As with the previous episode, episode 2 of The Falcon And The Winter Soldier one touches on some highly sensitive real-world topics, both in the USA and many other countries. Once again we see inherent racism in the system being called out, and it's the portrayal of incidents like the one in this episode which make this story so relevant and timely. It's hard to watch because moments like these feel so genuine (as they should)… and that's exactly why they need to be presented. It's astonishing to see this MCU show presenting material in an almost Netflix-like adult fashion, but it's also important.
On a story level, away from the real-world awful truth, it also reinforces exactly why Sam should take the mantle in the first place. At several points, we're given a glimpse at the street-level realities of daily life which Captain America is meant to address, even with small glimpses and comments. The point is made abundantly clear that what's needed right now is a little bit of old-fashioned… and a fresh perspective.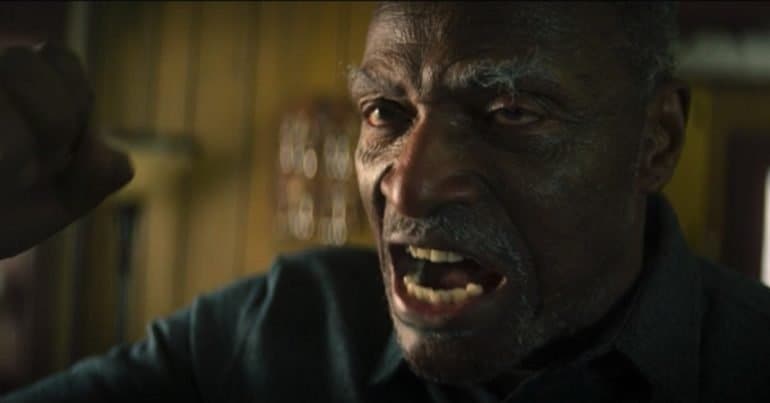 A long-lost super-soldier
Meanwhile, for comic book fans, in particular, the introduction of a long-lost super-soldier and what it means (even in this slightly altered form) is massively important. Reinforcing the bigger unseen picture of the MCU which was hinted at back in the Incredible Hulk film, there's a lot of worldbuilding being done here.
One of the benefits of Marvel's on-screen universe, thanks to having the traction of 13 years, over twenty films and a dozen TV shows' worth of interlinked storylines and developed history, is that it can mine previously unexplored elements from the original source material… with many of their connections already pre-built.
And this time around, they've hit paydirt – especially in terms of what it symbolises. Because this character represents the truth, as hard as it may be to hear.
All of this sounds probably sounds ridiculously vague and rather meaningless. Fair enough. It has to, without giving away spoilers.
So let's simply take a step back to that the initial assessment, which still stands: this is a very good episode, one which takes a more serious approach to the MCU. That may not be what everybody wants, but it doesn't make it any less impressive.
The Review
The Falcon and the Winter Soldier Episode 2 "The Star-Spangled Man"
A stunning episode exploring the MCU.