On the surface, the idea of an Elder Scrolls MMO seemed to be a no-brainer, especially after the success of Skyrim in the past few years. Yet, despite that, both for the general public and for me personally, The Elder Scrolls Online seems to have drifted by somewhat. Perhaps it wasn't a hardcore enough experience for the MMO crowd, and I did hear there were some problems at launch. As for me personally, I always mod my Bethesda games to hell and back and play that way, and I knew I couldn't do that here. Still, I had heard enough about Summerset, the newest expansion for The Elder Scrolls Online, to give me reasons to dive back in and finally give it a fair hearing…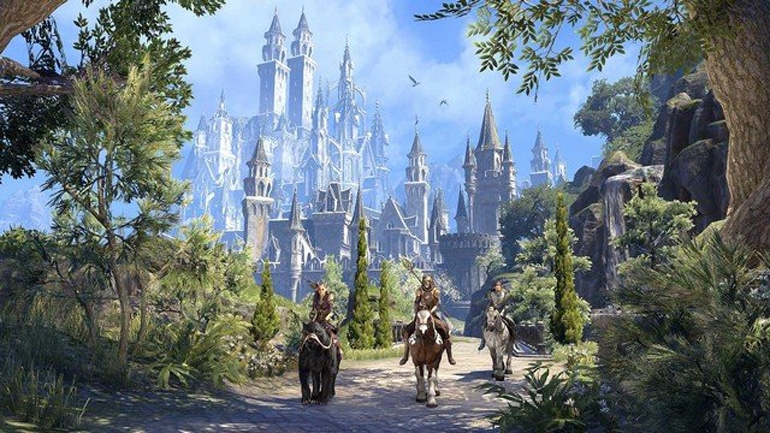 My own experience with MMOs is limited to a great deal of FFXIV and not much else, so I feel I at least understand the tropes of the genre to some extent at least when setting out here. Like the previous major expansion, Morrowind, The Elder Scrolls Online: Summerset is set in the titular land, which in this case are the High Elf managed Isles last visited all the way back in Elder Scrolls 1. Existing characters and new characters can each visit the Isles as they please, and it exists as a new region to explore, without being tied to a main story quest or level that must be reached first.
…you start by designing a character, by choosing a race, gender and looks.
I don't want to retread a lot of the same descriptions from Skyrim, because if you haven't been living under a rock, you've probably played that game on a port on your toaster or graphing calculator or something. As in that game, you start by designing a character, by choosing a race, gender and looks. Different races include varieties of elves, humans, as well as more interesting ones like Orcs, cat people, or lizardfolk. There's something for everyone. You can choose a class at the start, which locks you into different skill trees for abilities, but these are more fluid than other MMOs. You are not really strictly stuck as being a Tank, DPS, or Healer, and there's a bit more variety between builds and roles.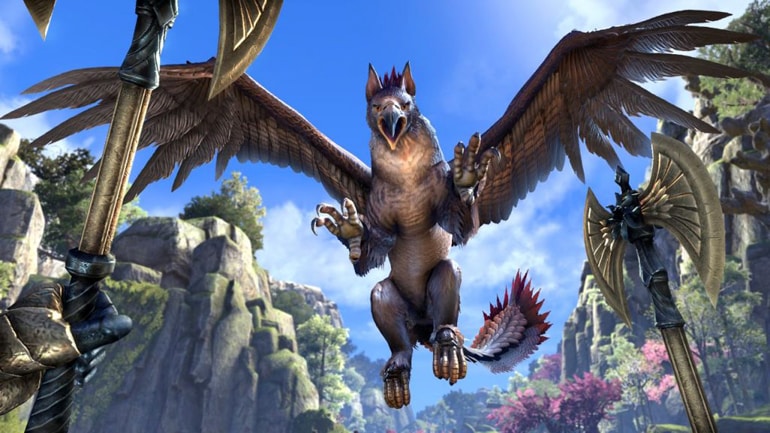 Questing is done in a very similar manner to Skyrim. Namely, you are given a world to explore, some main quests to follow, and you go out and find side quests of all kinds by yourself. Its heavily PvE, and there's not a great deal of Instances present. Everything that's there for you is there for everyone, and some of the best fun is when you run across some other people fighting a bit monster and you join in with them just because you can. A great new system that has been added since launch is the One Tamriel system, where all players can play together, regardless of levels, as the system adjusts each player as necessary when joining in together. You are free to run and go anywhere, based on your skills, and are not hampered by arbitrary level requirements.
Combat works similarly to the offline games…
The only real times that you are placed into more traditional MMO environments is with dungeons, which are 4 player runs for gear, and PvP, which is fun but can be ignored if you don't care.
Combat works similarly to the offline games – you have a light and heavy attack, a block, a dodge, and you move and run in real time with your actions. You have a hotbar of 5 shortcut abilities, in the MMO manner, but these use either Stamina or Mana and aren't cooldown linked necessarily. You also get an ultimate move and can combo abilities with other players.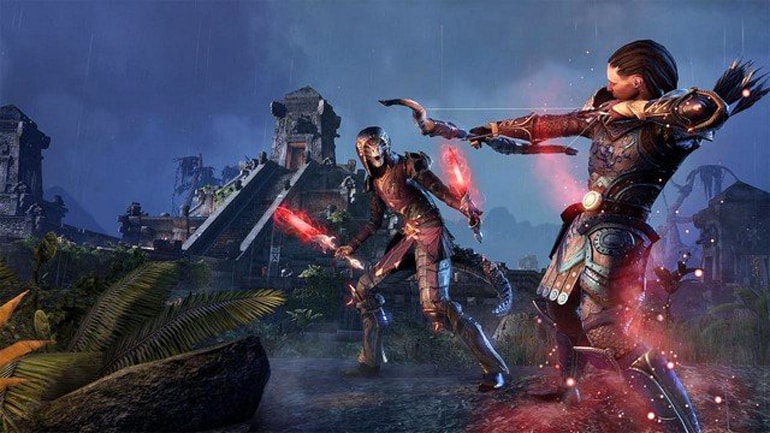 The plot for The Elder Scrolls Online: Summerset, such as it is, is that the Isles are opening for the first time to visitors and there's a great deal of conflict and tension to navigate between the newcomers and the traditionalist Elves. It's not a revolutionary idea, and the plot isn't anything fancy, but it serves its purpose well in giving you a playground to explore. The quests are about the same level of quality from the offline game – some are shameless fetch quests, and some are extremely funny, entertaining, or even just strange and unique. They are certainly more memorable than the endless "fetch 5 boar skins" from other MMOs, which will have you doing such at even max level.
Other new additions for this expansion is a new crafting system for Jewelry and a new skill tree based around manipulating time…
Other new additions for this expansion is a new crafting system for Jewelry and a new skill tree based around manipulating time, taught by the Psyjic Order. This doesn't seem like a lot for returning players, but I didn't notice as I was completely new to everything.
As can maybe be deduced, I quite enjoyed my time with The Elder Scrolls Online: Summerset, and I feel it gave me what I enjoy from an MMO – a world for me to adventure in, where I come across other humans and it feels like we are adventuring together in this same world.
I suppose I do have some criticisms to make, in fairness. Firstly, the world of The Elder Scrolls Online: Summerset is fairly generic fantasy. Its pretty, but its very Lord of the Rings-esque, and we've seen it all before. Morrowind was far more distinct and better for it. Secondly, the regions of Summerset and Morrowind, because they are expansions, feel very cut off in terms of how they affect anything in the main areas of Tamriel. I understand why this is – not everyone has the expansions for one thing. But it does mean that the feeling of a completely open Tamriel feels a bit more artificial at times than the offline games. Finally, there's a lot of paid DLC at this stage, some of it almost necessary for the full experience, and it'll cost you quite a bit to pick up all the different content packages which have come out piecemeal style.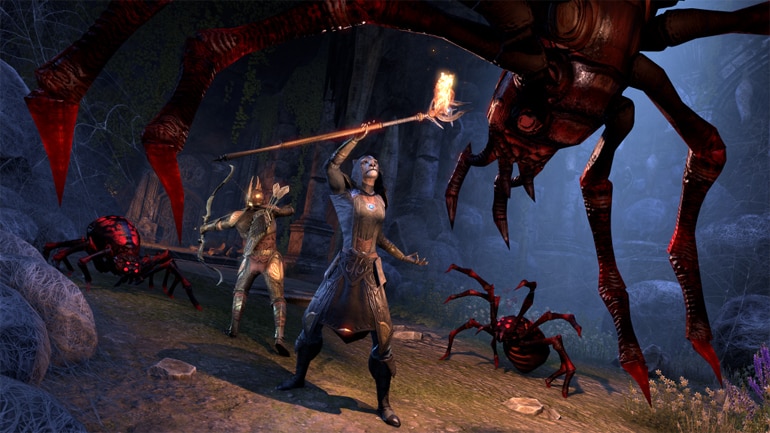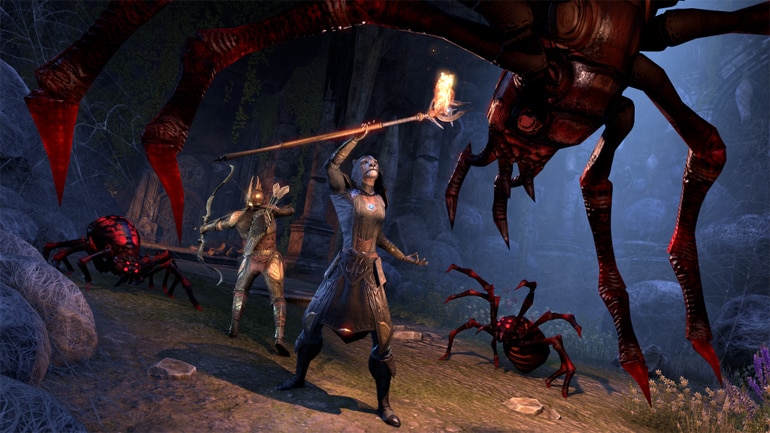 I liked The Elder Scrolls Online: Summerset, but hardcore MMO players probably won't. It's lacking in grindable content and there's no real "end game," because the whole world is meant to be the endgame in some way. If you're looking for a more relaxed, fun exploration of a fantasy world, and you're a fan of Elder Scrolls style gameplay, there's never been a better time to pick up this subscription-less experience.