The Damned United is a fascinating sports drama movie that was released in 2009. Based on the book of the same name, it shows us a brief spell in the career of renowned coach Brian Clough, when he took charge of Leeds United for a short but controversial period. 
So, who was Brian Clough and why does this movie starring Michael Sheen a perfect fit even for non-sports fans? 
Who Was Brian Clough?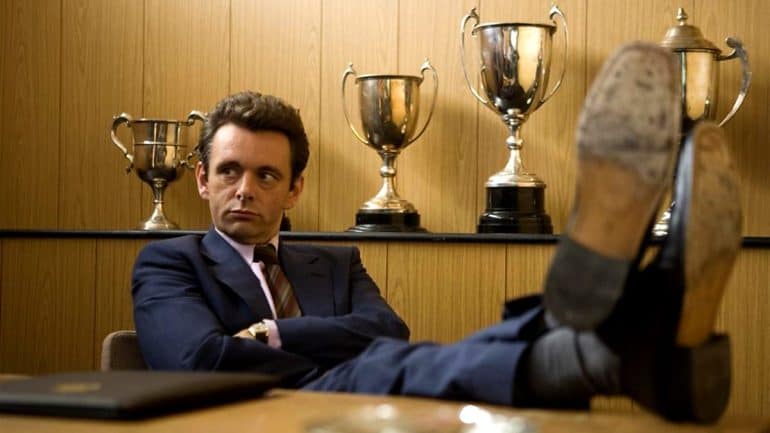 To better understand this movie, we need to take a look at who Brian Clough was. A controversial but hugely successful soccer coach, he was often described as being the best manager that the England team ever had.
Clough had a good playing career as a forward before an injury ended it at the age of 29, and he then turned to coach. His unusual methods and abrasive approach soon saw him become a cult favourite as he took Derby to unexpected success in winning the league, before falling out with the chairman of the club and being sacked. 
This is when he had his short, disastrous spell at Leeds that the movie focuses on. However, the real highlights of Clough's coaching career came after this. He became arguably the most successful coach in the history of English soccer by taking provincial club Nottingham Forest to the league title as well as two successful European trophies.
Therefore, we need to look at this movie in terms of his career progression and how his tough, inflexible character led him from the most abject failure at Leeds to unbelievable success at Nottingham Forest.
Forest, who just got promoted to the Premier League again this season, is not a favourite team, which you can see if you bet on Bovada sportsbook, to win the Premier League, let alone the Champions League. Well, Brian Clough managed to win two European Cups and the First Division (former name of the Premier League) with the club, one of the most incredible eras of success that cemented Brian and Forest's name in history.
The Plot of The Damned United
This movie was directed by Tom Hooper, and it has attracted some criticism for not being entirely factual. It's best viewed as being the interpretation of the events by author David Pearce, who wrote the book it's based on.
The story begins when Clough – played by Michael Sheen – is still at Derby and they play Leeds. He is critical of their violent style of play and becomes an outspoken critic of the team. However, we jump forward to 1974, and Leeds United lose their coach when he is chosen to lead England to that year's World Cup Finals.
Clough has just lost his job at Derby and is a surprise choice to take over at Leeds. He realizes on his first day there that the players are against him and his methods. The season starts disastrously as Leeds captain Billy Bremner is sent off for fighting and suspended for two months.
As Leeds struggle to win any games, the players protest about Clough and he was sacked from the job after just 44 days. Of course, given Clough's exceptional report after this, it's a source of regret to many Leeds fans that he never got a chance to work with them for longer.
How Did the Film Perform?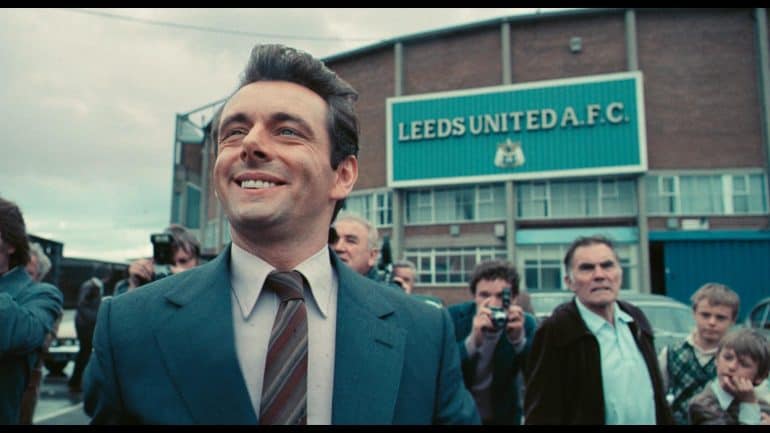 Released in the US six months after its UK debut, The Damned United performed poorly at the box office, earning just $4.1 million against a budget of $10 million. Yet. It was well-received by critics, many of whom praised Sheen's acting in the main role. 
The Damned United was nominated for several prestigious awards, both as the best film and also for the performance of Sheen and other actors. Online reviews have generally been good, although there has been plenty of criticism of the historical inaccuracies, 
Writer Peter Morgan adapted the original book for this movie, and he said that he felt that the accuracy of the details wasn't particularly important but that he didn't want to upset anyone. However, Clough's family appeared not to agree, as they boycotted the movie and said that they weren't happy with the portrayal of the soccer legend, who died in 2004.
It's worth noting that the traditional rivalries between Derby County and Nottingham Forest melted away as the fans of both teams mourned the man who had led them to historic triumphs. For example, part of the road between the two cities was renamed as the Brian Clough way, while several statues of him have sprung up in different parts of Northern England.
Why Non-Sports Fans Will Enjoy It
The action on the field actually doesn't take up that much room in this movie. While the games from the period covered are important to the story, there isn't a lot of focus put on following the action.
It's more of a film about the clash of personalities that Clough got involved in as he tried to impose his will on equally single-minded people, as well as factors like betrayal and alcoholism. It's a fascinating story and the type of situation that could easily take place in any other sport or another walk of life away from sport altogether.
Even if you'd never heard of Brian Clough before and don't know anything about the history of Leeds United, this story is sure to appeal to you in some way. The Damned United tells an intriguing story that anyone can enjoy.