After months of waiting, Netflix has finally released the trailer for the fourth and final chapter of The Chilling Adventures Of Sabrina.
Set in the fictional town of Greendale, the story chronicles Sabrina's struggle to reconcile her dual nature as a half-witch, half-mortal while fighting the evil forces that threaten her, her family and her town.
The last time we saw Brina she created two versions of herself using a time loop. Deciding to use the situation to their advantage, the duo agreed that one of them would rule hell while the other continued her life on Earth.
The new trailer features both of them living their best lives – for the most part. We also get to see Sabrina's friends (Harvey, Roz and Theo) and her family (Hilda, Zelda and Ambrose) preparing to battle the Eldritch Terrors in Greendale. And her former Warlock-boyfriend, Nick is seen attending Baxter High.
Over the course of Part Four's eight episodes, Sabrina and her coven do battle against the Eldritch Terrors in order to save their town. The coven will have to fight each terrifying threat one-by-one (The Weird, The Returned, The Darkness, to name a few). But all of this is just a lead up to The Void, which is the End of All Things.
As the witches wage war with the help of The Fright Club, Nick begins to slowly earn his way back into Sabrina's heart, but will it be too late? Sure, there's a world-ending destructive force descending – but it wouldn't be Sabrina without a little boy trouble.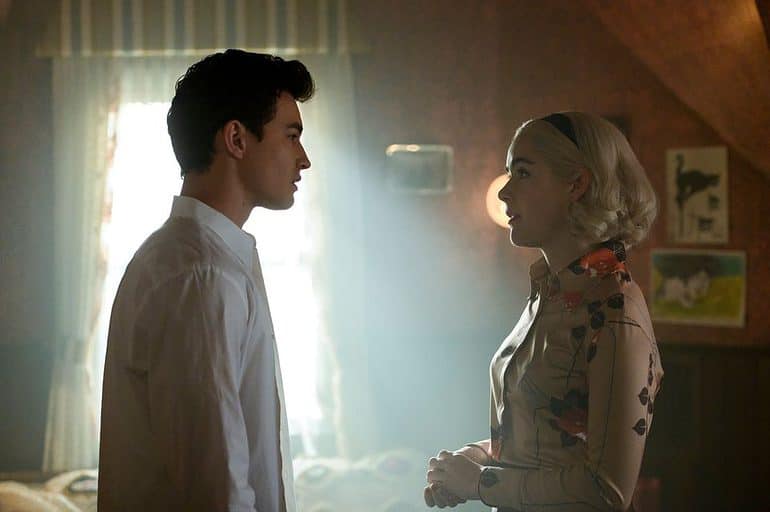 The Chilling Adventures of Sabrina is produced by Berlanti Productions in association with Warner Bros. Television. Chief creative officer of Archie Comics, Roberto Aguirre-Sacasa serves as series showrunner.
The series stars Kiernan Shipka as Sabrina Spellman alongside, Miranda Otto, Ross Lynch, Lucy Davis, Chance Perdomo, Michelle Gomez, Jaz Sinclair, Lachlan Watson, Gavin Leatherwood, Tati Gabrielle, Adeline Rudolph, Abigail Cowen, and Richard Coyle.