Slots are one of the online games that are easy to customise. The games are bold, entertaining, and diverse. Developers make different themed slots, such as movie-themed slots, for different audiences.
The Most Popular Slot Games Based on Famous Movies
Movie-themed slots make online slot games exciting. This type of slot game improves the gaming experience by introducing cinematic features. And these features make the gaming experience more engaging and unique.
Film-based slots have a conventional slot design, only that they come with attractive bonus features. You can find traditional slot symbols such as stars, bars, and cherries in movie-themed slots. You play these games using nickel or penny denominations. Here are some of the best movie-themed slots available for you to play.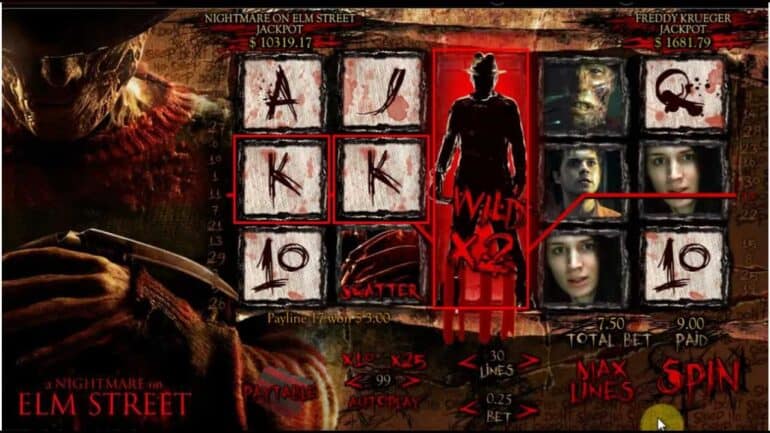 Nightmare on Elm Street
The Nightmare on Elm Street game debuted in 2012 and is still one of the best online slots around. This game offers a progressive jackpot and standard gameplay. The game is exciting, especially if you are into horror movies. The 2010 movie remake inspires this slot machine. To date, it has cashed out multiple jackpots to its players.
The game has a 94.87% RTP and proves that RTP does not affect payouts. Beginners and seasoned players can play this game since it is easy to understand.
Basic Instinct
Basic Instinct offers a handsome jackpot for its players. The game allows three rows to build winning combinations and 243 ways to win. However, the game does not provide multiple bonus rounds. This progressive slot offers a multi-million amount if you manage to win the Killer Progressive.
Anchorman the Legend of Ron Burgundy
This Will Ferell comedy movie debuted on the slot scene in 2018. It is one of the most favourite movie-themed slot games among many players. You can play the game in a 25 payline reel grid, preferably a five-by-three reel grid. The minimum amount that players can bet per spin is $0.75, making the game a penny slot. The maximum amount that a player can win is 2,400 times their stake.
Some of the bonuses that this game offers include free spins, money wheels, and pick games. Paul Rudd and Steve Carell are the game's symbols. Screen transitions from the movie accompany each triggered bonus.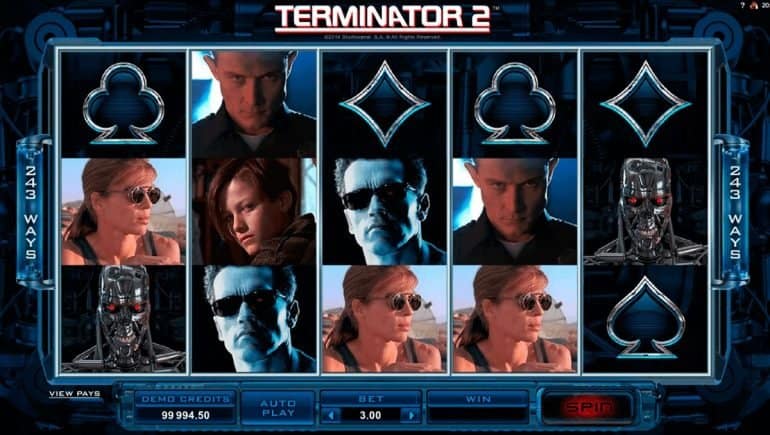 Terminator
This thrilling slot game is based on the legendary Terminator 2 movie. This game presents itself as a five-by-three slot and has 243 winning ways. Terminator 2 has a user-friendly playing interface that makes it easy to manoeuvre through the game. It also has an impressive 96.62% return-to-player (RTP). The game also features an epic soundtrack and fascinating animations that make it even more enjoyable.
The scatter symbols in this game activate free spins, the single bonus game. In this case, three scatters activate ten free spins and 1,024 paylines. A player can win a maximum of 88,000 credits as the game culminates. However, the bonus rounds in this game are limited. Terminator 2 features John, T-1000, and Sarah Conor in its gameplay, just like the original movie.
Jurassic Park
This slot game is almost as impressive as the 1993 movie it's based on. Jurassic Park includes incredible cinematic graphics, realistic characters, and famous sound effects that made the movie so popular. Players progress through different levels and take their chances on landing massive amounts of credits (up to 475,000) and bonus features with the help of famous dinosaurs and the cast.
Final Thoughts
Film-based slots allow you to experience your favourite movies more. They also come with amazing graphics and bonuses, hence making them more exciting. With more and more companies releasing movie-themed slots every year, you can never run out of games to play.