Both comic book heroes and villains have become even more popular through the release of action-packed films in recent years, such as The Dark Knight (2008) and Avengers: Endgame (2019). Fans all over the world have trekked to cinema showings wearing their latest superhero t-shirts and merchandise. When comic book fans aren't reading their favourite series, or watching the latest Marvel film, they can also enjoy a range of video games based on these characters too. Over the years there have been popular comic book games released on platforms such as Xbox and Playstation. There have even been comic books that have also inspired a range of online slots games from some of the best casino sites, including some of the best Joker themed slots.
Whether you are a fan of Spider-Man or Batman, there are many popular comic book video games that have been released over the years. Here are just some of the most exciting ones that you might like to check out:
Batman: Arkham Asylum
This is probably the best adaption of the comic book in a Batman game. Over the years, many Batman games have been released, but none could match the storyline, graphics, and background music as this one. From dealing with the villains in the original story to saving Gotham from burning into the ashes, this game has everything. The developers nailed the Arkham storyline for this game and fans even got to experience the chilling voiceover of Mark Hamill as Batman's famous nemesis, the Joker.
Telltale's The Walking Dead
If you are quite fond of the TV show, then The Walking Dead by Telltale Games is a great game for you to experience. Released in 2012, this episodic adventure video game has some incredible storylines and action-packed sequences. Gamers play as Lee Everett, a convicted murderer, who escapes from the clutches of the police when the car hits a 'walker'. Lee later comes across a little girl, Clementine, who he promises to help find her parents. Once you start playing this game, you will get so engrossed in the story and how the story changes based on your decisions in dialogue and quick-time events.
Spider-Man
One of the most iconic comic book superheroes is Spider-Man aka Peter Parker. The most recent video game starring the young web-swinging hero is the Spider-Man (2018) game that is available on Playstation 4. Many reviewers regarded this as one of the best superhero games to play, comparing it to the likes of the Batman: Arkham series. Although some fans disliked the game's open-world design, it received praise for its narrative, web-swinging mechanics, and gameplay combat.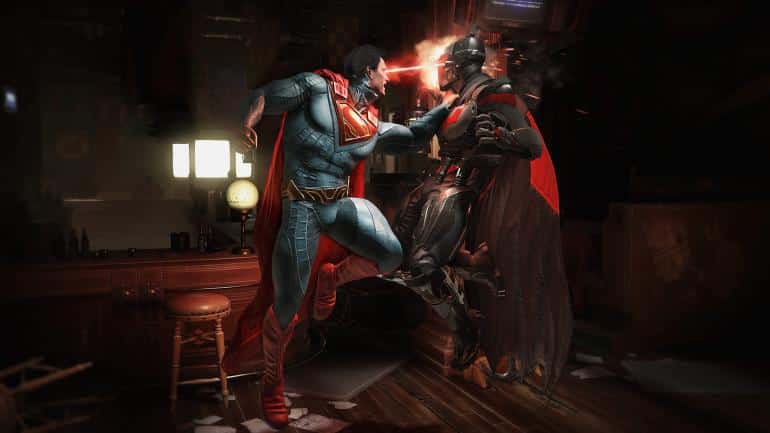 Injustice 2
Released in 2017, Injustice 2 is a fighting game where players can take part in one-on-one combat both as and against popular DC comic books characters. To defeat their opposition, players must use a mixture of special moves, attacks, and combos. Fans of the DC comics can play as some of their favourite characters including Poison Ivy, Deadshot, Scarecrow and more. Many fans loved this game and many praised the game's story, improved gameplay mechanics, and character customisation options.
Batman: Arkham City
Batman: Arkham City is the second video game released in the main Arkham series after Arkham Asylum. The game is set one year after Arkham Asylum, where Batman is incarcerated in a new super-prison enclosure in Gotham known as 'Arkham City'. In the game, players can glide around the city with Batman's cape, attach to ledges with a grapnel gun, and even use 'Detective Vision' for clues. For those who love the Batman comic books, this open-world action-adventure game is a great one for both video games and comic book fans to play.