When I first saw the Batman Who Laughs was getting his own spinoff title, I didn't think too much of it. He was a fantastic addition to Dark Nights: Metal, yet I feared that DC would overuse the villain and kill the hype. In the end, The Batman Who Laughs #1 introduced some okay stakes, with its last panel being the best part of the issue.
To be frank, I'd actually forgotten about the book until The Batman Who Laughs #2 arrived in the review pile. A fellow comic book journalist dropped me a DM right around then and told me I have to read it immediately. Well, Scott Snyder and Jock, you have my attention now. What they've done is nothing short of sensational here. It's still early days in 2019, but this is certainly a top contender for issue of the year.
…this is certainly a top contender for issue of the year.
So, where do we find ourselves in the story? Picking up from the last issue, Alfred operates on the Joker in the Batcave, per Batman's instructions. Of course, there's a moral debate about whether the Clown Prince of Crime deserves to live, but the Dark Knight is having none of it. For him, the Joker must live because they're better.
At the same time, Batman struggles with the Joker toxin within him. It's having an effect, and you can see that he's not in the right frame of mind. Matters aren't helped by the Batman Who Laughs, as he presents a compelling reason as to why the Dark Knight should break his one rule and kill.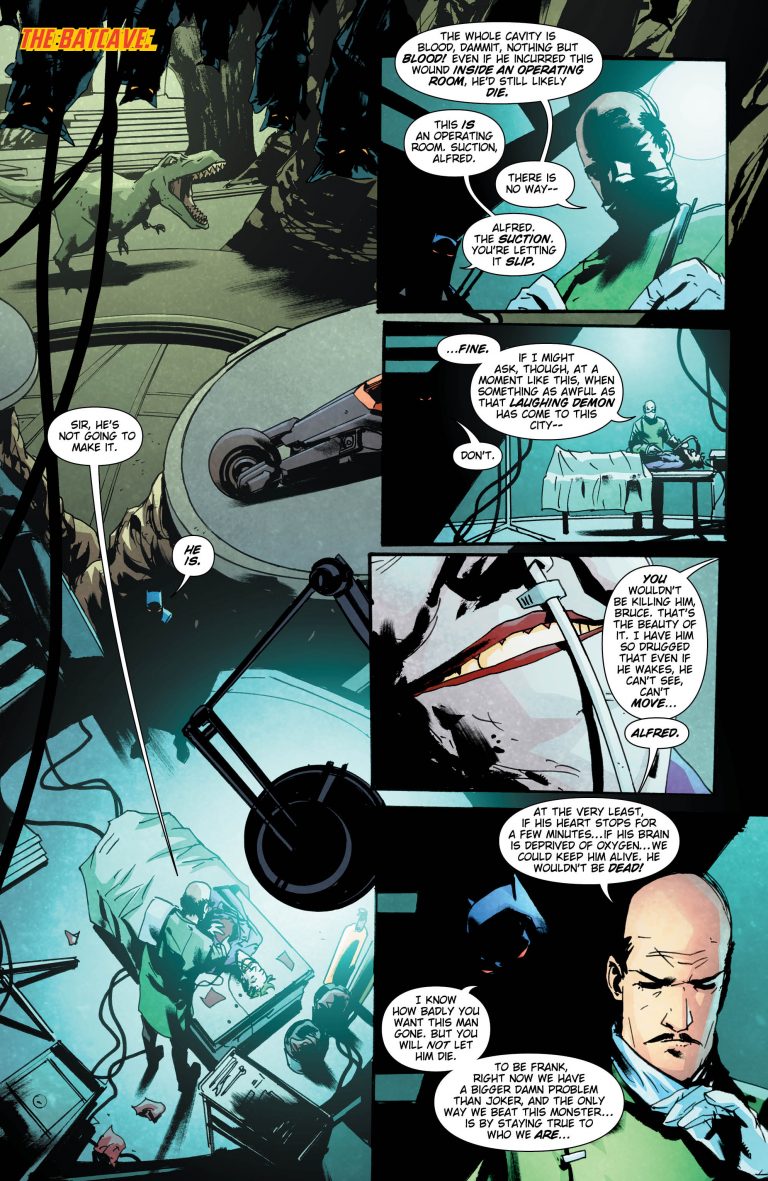 Narratively, this is Snyder at his best. He thrives at writing psychological thrillers and there are traces of Batman: The Black Mirror (which he did with Jock as well) and Batman: Death of the Family scattered throughout. He's breaking down the Caped Crusader, stomping a mudhole in him, and setting up seemingly insurmountable obstacles. Of course, the promise of the payoff is what keeps us invested in this story, as we all know that Batman will beat the odds in the end.
Like always, Jock's art complements Snyder's storytelling, as he paints a grim picture of this morbid world. While it isn't as avant-garde as Dave McKean's work on Arkham Asylum: A Serious House on Serious Earth, it has a David Fincher-like quality to it. You could easily imagine Seven's events taking place in Jock's Gotham City.
Narratively, this is Snyder at his best.
Undoubtedly, one of the biggest talking points of the issue will be the fact that Alfred and Bruce refer to each other by name in front of the Joker, and Bruce even removes the cowl in front of his mortal enemy. Snyder pulls the rug out from under us with some key throwaway lines to deny it, but it's evident that the Clown Prince has known and kept Batsy's secret since Death of the Family. It's a harrowing thought and one that makes you realise the Joker doesn't care who's under the cowl, because he wants to have fun with Batman. In a sick way, his secret is safe with his greatest foe.
There are so many comics being released on a weekly basis, so it's getting tougher to decide what to buy and what to catch up on later. But trust me on this one here: The Batman Who Laughs #2 is something you can't afford to miss out on. It's Snyder and Jock at their absolute best, and this story is about to get even hotter!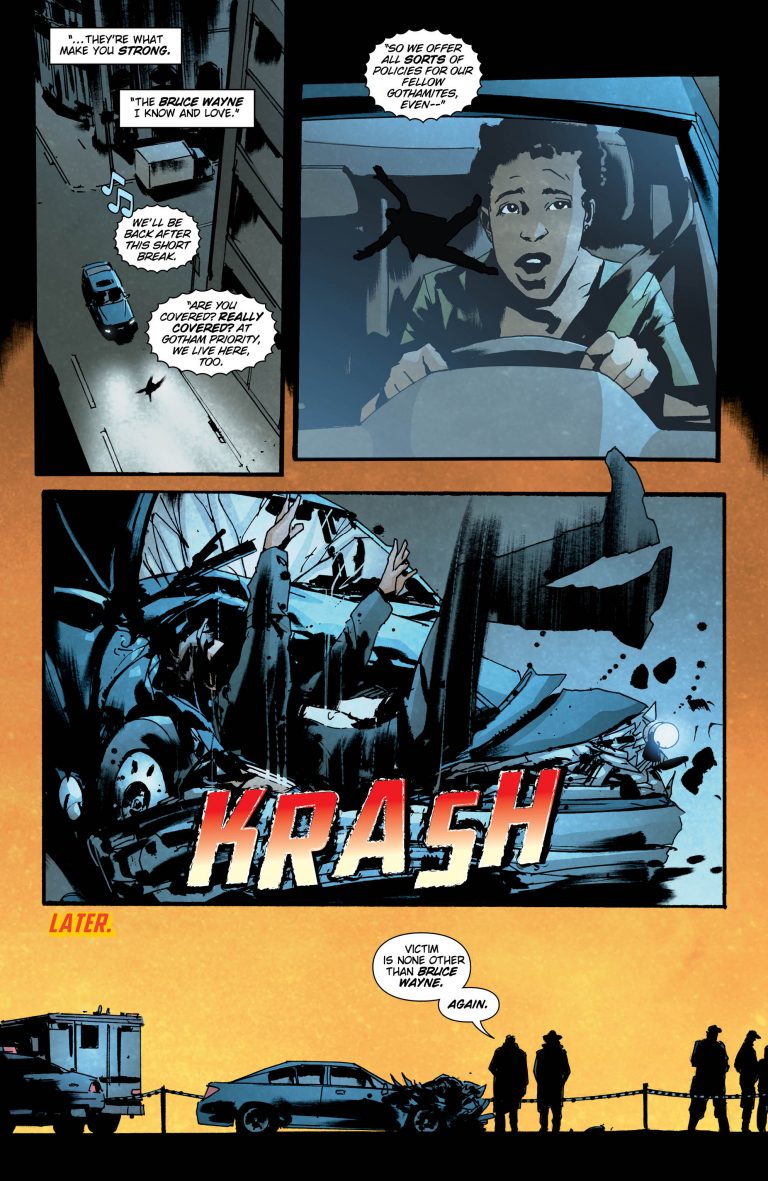 The Review
The Batman Who Laughs #2
The Batman Who Laughs #2 is the perfect mix of Death of the Family and The Black Mirror.