The Ballad of Halo Jones is about Halo Jones, the young woman who only wanted to get out of the life she found herself living, is trapped once again. Having run away as far as she can in the universe, she still hasn't gone far enough. She has no money, she has no future, and her past now lies in tatters. A chance meeting with her old friend Toy convinces her that her only move forward is to enlist in the army. There she soon learns the harsh reality of the war that is raging across the galaxy.
From basic training to being a soldier on the front lines, she finds herself increasingly entangled in the web of history – and possibly being on the wrong side of it. What is she fighting for, and can she escape once again? The more she learns about the path she's on, the more she understands of her past and the more hopeless her quest seems. But Halo is no longer the simple girl from The Hoop of so many years before, and her experiences have prepared her to make one final journey to get out…
It all ends here.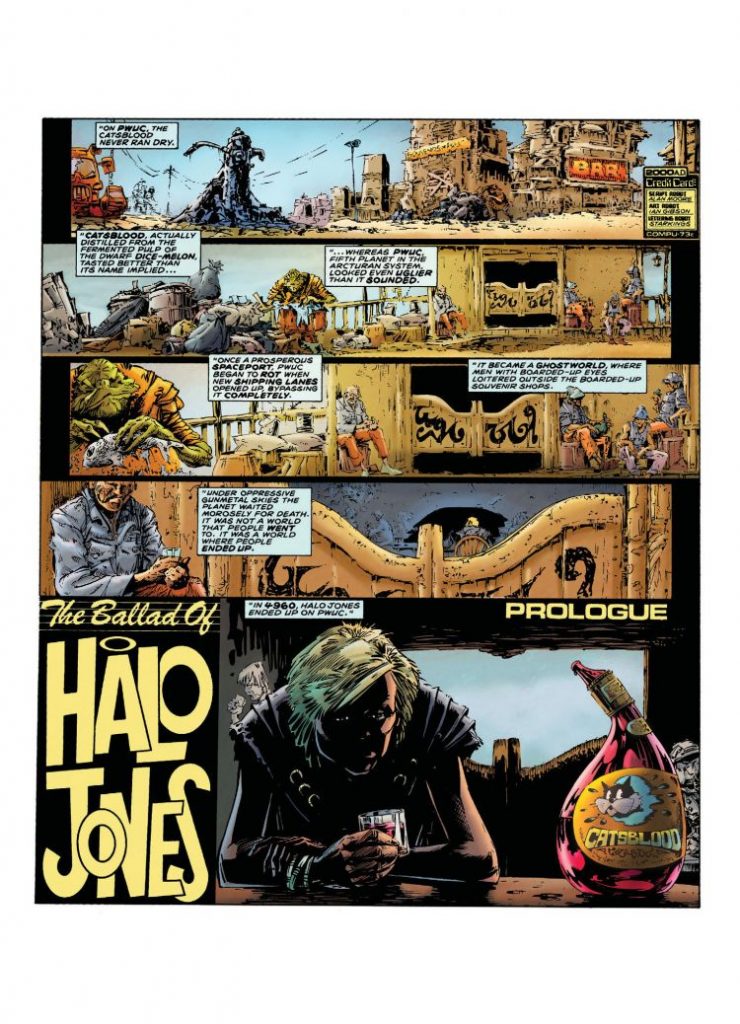 Alan Moore and Ian Gibson's incredible tale comes to its conclusion in this, the third volume of The Ballad of Halo Jones. Whatever plans were being made for a fourth series and beyond, they never came to pass – leaving Halo's entire life story sadly incomplete. It's one of the greatest tragedies in the history of comic books that her saga ended before it was truly finished. But her journey ends on a high note here, though, in one of the finest pieces of work the creators have ever achieved. On its own, it's brilliant – and all three volumes together are as perfect a comic book series as you're ever likely to read.
Wait a moment. Perfect?
A statement like that may sound ridiculous to those who have never read it or, worse, have never even heard of it. It makes it sound like some over-hyped arthouse movie which wins all the Oscars but that nobody ever bothered to watch. After all, how can it be placed in the same bracket as legendary tales like Watchmen, The Dark Knight Returns, From Hell and other greats…when so few people even know of its existence?
Well, it isn't just hype, it isn't an arthouse project, and the blame for the lack of awareness of it should be shared by fans and the industry alike. But The Ballad of Halo Jones exceeds any praise I can give it. It's a genuine work of art, and that it barely exists as a blip on the pop-culture radar is a travesty.
This series defied the usual trends of comic books but became a favourite with many 2000AD readers in spite of everything. This volume is the perfect example of why. She's a character who readers can connect with, one who evolves. Her life is a rollercoaster of events and emotions, with the readers joining her for the ride. This volume shows Halo at both her worst and best. It's funny, it's sad, it's action-packed, it's intelligent, and the narrative flows so smoothly that it all feels natural. It's easy for readers to sympathise with her, share her frustrations and celebrate her triumphs.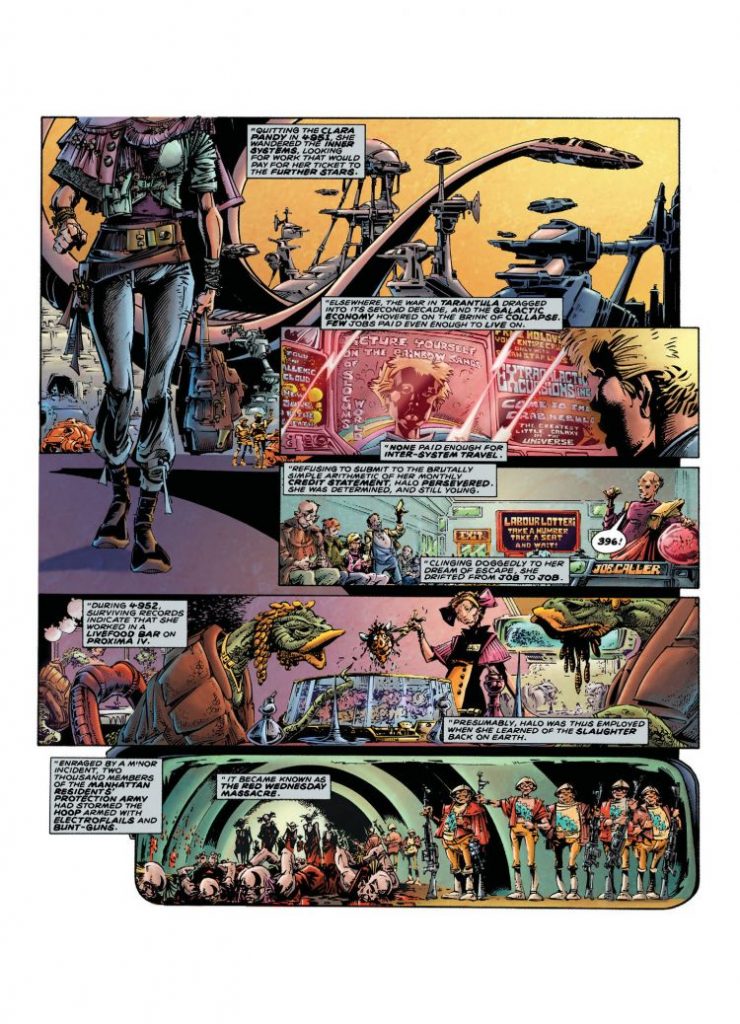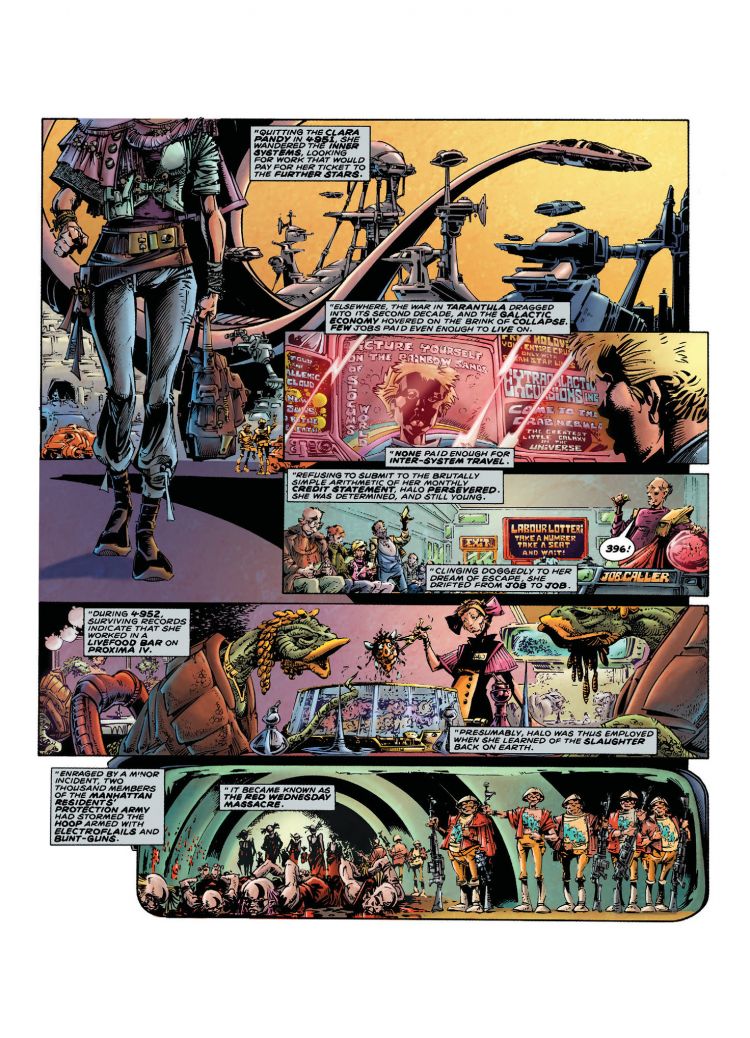 This latest release of Volume 3 follows suit from the previous two, with Barbara Nosenzo once again adding colour to Ian Gibson's magnificent art. If there's one minor drawback it's that, on a personal level, I preferred the old black-and-white look it had. But that's personal taste and those uncolourised versions exist too, and the colour doesn't detract from the work on display. Meanwhile, Alan Moore's writing is possibly the finest it's ever been. It may not be as intricately detailed as Watchmen, but it's a better tale with far more humanity shown in the characters.
If you've never read The Ballad of Halo Jones, you're missing out on one of the greatest comic books ever created. It's time you learned her story…and fell in love with her.